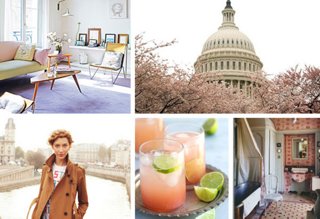 (clockwise from top left)
Style Files 
Vanessa Bruno's home in Paris is like a master class on how simplicity and loads of personality can coexist in one space. Light, airy, and filled with those "it" colors of the season, pastels, her decor is like an ode to spring.

National Cherry Blossom Festival
Spring is officially here and with it the annual cherry blossom bloom. This year marks the 100th anniversary of the National Cherry Blossom Festival in Washington, D.C.  Not in the capital? There are festivals going on nationwide through April.
The Peak of Chic
Jennifer Boles was kind enough to share a sneak peek inside the new book Magnificent Baths (Rizzoli), and the title is no understatement. These bathrooms are the stuff of fantasy, but you may just get an idea or two for your reality.
Drizzle and Dip
A cocktail called the Paloma is shaping up to be the one poured at every summer soiree this year, and it's easy to see why. Not only is it refreshing, but who could say no to something that pretty? Start practicing your mixology skills now.
Madewell Musings
If you haven't already snagged a copy of the Madewell's amazing spring catalog, you can check it out online here. This week, Madewell's blog answered the pleas of stylish women everywhere and revealed the secret behind the amazing braid featured on the cover.
(Photography by Brigitte Wolfgang Drejer, © Miller Taylor, Massimo Listri, Samantha Linsell)