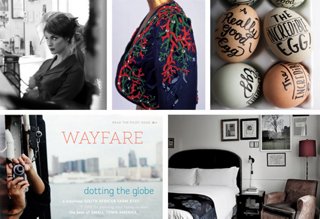 (clockwise from top left)
Rolling Stone
Like everyone else, we're all about Mad Men at the moment, but these on-set and behind-the-scenes shots bring the cast out of the '60s and into the present day.
T Magazine
When asked why the Yves Saint Laurent retrospective would be on view at the Denver Art Museum and nowhere else in the states, Pierre Bergé said, "America isn't just New York or Los Angeles or Chicago or Boston. Besides, Denver asked me. Voilà!" For everyone in those other, less lucky cities, T has a snippet of the pieces from the stunning exhibit, which opened March 25.
Bon Appétit
At long last, we can all add the perfect hard-boiled egg to our cooking repertoire with this easy, fool-proof technique.
Minty
Designer Jacques Garcia brings a bit of European grandeur to the interiors of the new NoMad Hotel in NYC. Inspired by the Parisian flats of his youth, Garcia's take has a distinctly Bohemian vibe you'll want to bring home with you.
Wayfare
Spring is the time to start firming up those summer travel plans, and Wayfare, a new online travel magazine, is all about finding inspiration for your journey, complete with guides and tips to help get you to the best spots.
(Photography by James Minchin III, Peden + Munk, Peggy Wong)