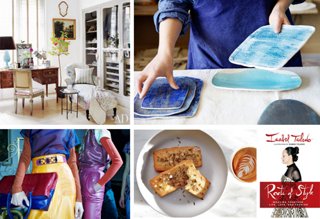 (clockwise from top left)
Architectural Digest
A former factory in Madrid is transformed into the to-die-for home of decorator Isabel López-Quesada.
The Makers
With a focus on artisan-produced products, this inspiring site lets you peek inside the workspaces of the people who are still making things the old way, by hand.
Roots of Style
Fashion designer Isabel Toledo's long-awaited memoir about her journey to becoming a style icon while retaining the individuality we all admire is available for order.
Bon Appétit
This scrumptious parmesan shortbread recipe, the perfect snack to go with Sunday's cup of joe, is from the soon-to-be-released cookbook by everyone's favorite microroasters, The Blue Bottle Craft of Coffee. 
Vogue's View
In case you missed the latest from the fall 2012 fashion shows, which wrapped up this week, get a quick primer on the collections via the best candid moments from New York, London, Milan, and of course, Paris.
(Photography by Simon Watson, Jennifer Causey, William Abranowicz, Robert Fairer)