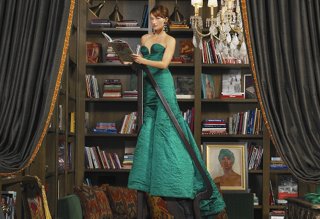 Kelly Wearstler is more than an interior designer; she's a style icon. She's designed some of the most distinctive resorts and hotels around the world, launched bold clothing and accessories collections, created fabric lines with Lee Jofa and dinnerware with Pickard, and authored three design books. Most recently, she opened a Los Angeles boutique, bringing the world of Wearstler to one stylish space.
To celebrate her special sales on One Kings Lane, we thought it only fitting to count (just some of) the ways we love Kelly>>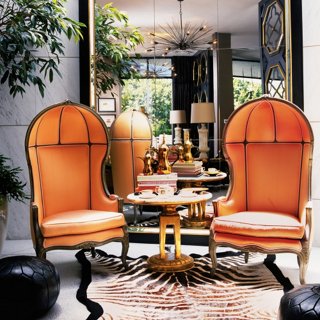 The Fabulous Porter Chair
These dramatic high-backed chairs are most recognized as the seats of power for ladies who lunch at the Wearstler-designed restaurant BG in New York's Bergdorf Goodman department store. Irresistibly feminine, the canopied chairs are a Marie Antoinette dream come true.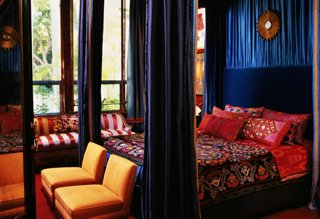 Flaunting a Jewel Tone
She's fashioned entire rooms in colors most of us wouldn't dare to use with such abundance, creating spaces that boldly declare themselves. Whether its rich sapphire, velvety burgundy, or deep marbled green, her ability to use jewel tones with reckless abandon makes us swoon.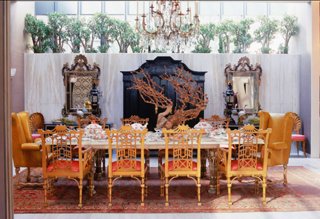 Over-the-Top Decor
A risk-taker, Wearstler pushes design to its limits, often taking a theme and building multiple layers to create serious drama. We love how the ornateness of the chairs, mirrors, table, and china in this room crescendo into one striking scene, yet the design pulls back just enough to avoid being garish.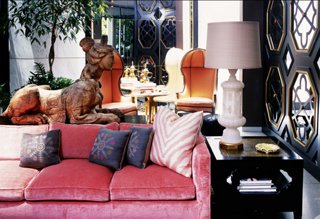 Animal Attraction
"Animal accessories call out to me every time I go shopping," Wearstler said in her best-selling book Modern Glamour. Using animal objects to add a surprising element to a room, she takes the concept of decorative accessory to outrageous levels that grab our attention every time.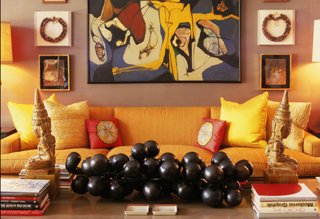 Vivid Contrasts
Sculptural shapes and supersized decorative objects are a hallmark of Wearstler's decorating style. Fashioning rooms with vivid contrasts (a favorite being yellow and black), she juxtaposes light and dark, always keeping color in balance.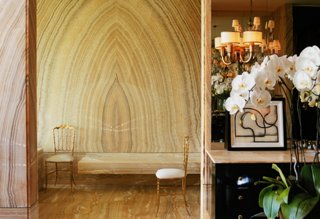 Stone-Cold Style
What could be more decadent than entire walls made of marble? It's a take on texture that makes Wearstler's designs feel both Old World and modern. Experimenting with wall and floor surfaces, she makes them as intriguing as the items that live within.
Decadent Decorative Accessories
Wearstler is without a doubt a collector obsessed with detail. Choosing the most luxurious of textures and patterns, she uses materials like malachite to heighten decor and fulfill her passion for collecting.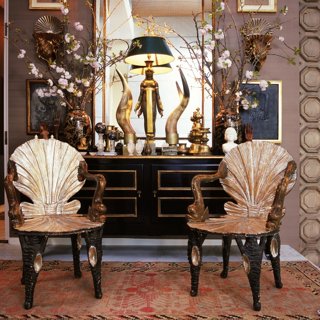 Sparkle and Shine
From mirrored surfaces to iridescent shell, Wearstler's love of bright and shiny objects naturally appeals to our visceral side. We also adore how all that glimmer adds so much glamour.
"Each room deserves dignity, respect, and a healthy does of laughter."
—Kelly Wearstler