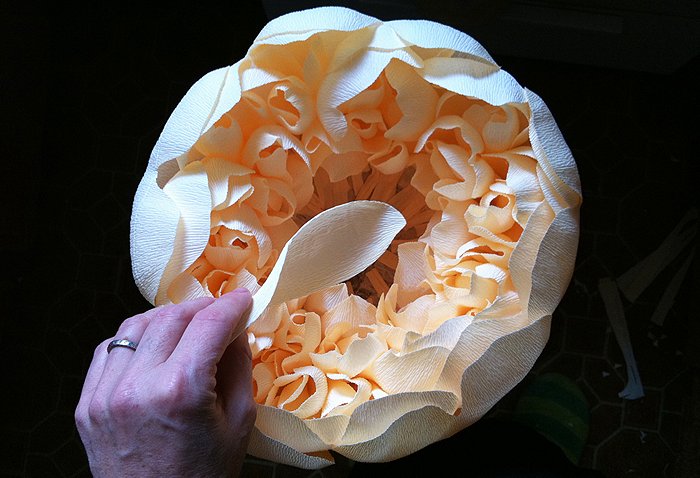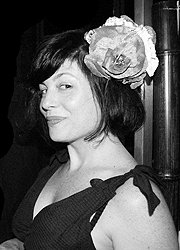 MAKER: Tiffanie Turner of Papel SF CRAFT: Incredible blooms made from hundreds of the most delicate hand-cut Italian crepe-paper petals  INSPIRATION: Botany! Flowers, of course, but also other objects in nature she can't wait to explore with her technique such as milkweekd pods and thistle  FUN FACT: Each of her flowers takes between 35 and 80 hours to make

Her SF Picks
Favorite eatery? Bar Crudo, hands down. Because I can walk to it, because the crudo is outstanding, and because I am from New England and the chowder is unlike anything I've ever tasted. I sometimes order it twice in one meal.
Festival worth the crowds? The Hardly Strictly Bluegrass Festival is the only festival we drag the kids to, and we always have a great time. Plus it's free!
Spot with blow-your-mind interior design? So many! The Mill, the new Heath Ceramics store and factory, Mission Cheese, and my favorite hidden gem, the Helen Crocker Russell Library, tucked inside the San Francisco Botanical Gardens. It's a peaceful building built in the '70s filled with botanical art and publications.
Best place to spend a Sunday afternoon? Hiking in Glen Park Canyon is a favorite escape, especially during the summer when the blackberries are plentiful.
First thing you'd do if you moved away and came back to visit? Walk up and down the Panhandle. There are hundreds of types of trees in it, and I just love it. Also, I'd get a tombo tuna sandwich from Bi-Rite. I think about them all the time.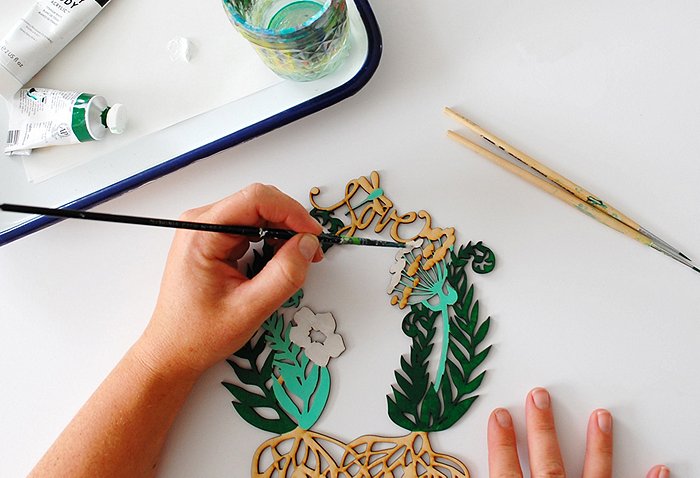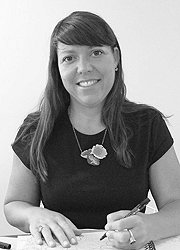 MAKER: Madeline Trait of By Madeline Trait CRAFT: Fantastical cake toppers that are laser-cut from wood and hand-painted INSPIRATION: Celebrations of all stripes  FUN FACT: All her toppers begin life as intricate illustrations
Her SF Picks
Most memorable meal? Dinner parties with friends! A few favorite spots for supplies: 24th Street Cheese Co. for cheese and accompaniments. Lucca Ravioli Co. for crowd-pleasing fresh pastas and cured meats. Cask for a fantastic selection of artisanal liquors. And Knead Patisserie for satisfying the sweet tooth in the crowd. My favorite is their pomme d'amore—crème brûlée in a puff pastry.
City's coolest shop? Paxton Gate, which is full of odd and unusual natural artifacts and curiosities. I've never encountered another store like it.
Museum you're partial to? I love the Museum of Craft and Design. Their exhibits change frequently and are always interesting, and they also host workshops and an Etsy night.
Opening you can't wait for? The Gray Area Foundation for the Arts' new location in the Grand Cinema on Mission Street. I can't wait to see what they do with the space and what kind of programs they'll have for the community.
Best neighborhood for strolling? I'm partial to the Mission because I live here and walk my dog a lot. Some of my favorite shops include Love & Luxe, a fantastic jewelry atelier. Fayes Video & Espresso Bar is a local favorite for a cup of coffee and a DVD rental. Aldea Home always has a fun selection of home goods to check out. And if you need a new pair of shoes, Shoe Biz is amazing. They carry Sutro, a local brand I love.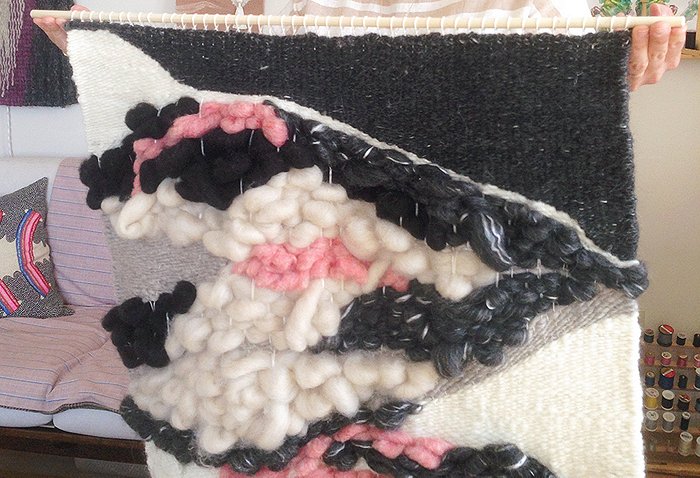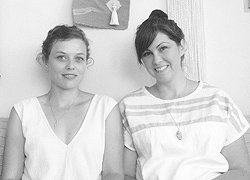 MAKERS: Ama Wertz and Meghan Shimek of Woolgathering  CRAFT: Woven wall hangings that evoke mountain passes, easy-breezy seashores, and dusky desert nights  INSPIRATION: Local exhibitions (especially at Ogaard Textile Work), workshops, and the wool itself, whether soft or coarse, smooth or fuzzy  FUN FACT: They hand-dye some wool in their kitchens
Their SF Picks
Where could you eat again and again? Una Pizza Napoletana! The margherita pizza here will ruin all others for you.
Coffee shop you adore? SF is known for its coffee shops and roasters—you have Ritual, Sightglass, Fourbarrel, and Philz—but we love Blue Bottle. One word: affogato!
Best neighborhood block for shopping? Just over the Bay Bridge is our very favorite: Temescal Alleys in Oakland.
Best place for people-watching—and why? Dolores Park, hands down. Colorful, unexpected, and endlessly entertaining. Watch for the trained parrots! Great for dog-watching too.
Spot that's touristy but worth it? The Ferry Building is a place where you see people experiencing San Francisco for the very first time. We love watching the streetcars and ferry boats while drinking a Blue Bottle coffee and eating a Pepples donut.
Where to day-trip out of the city? North across the Golden Gate Bridge and up to Point Reyes. It has very best bakery—Bovine Bakery—with incredible scones and the best cheese sticks and pizza! You can also visit the Cowgirl Creamery processing plant and try lots of cheese! And Point Reyes has one of our favorite yarn shops: Black Mountain Artisans. If you go on a Saturday in the summer there's a wonderful farmers' market with North Bay vendors. Drive a little farther and you end up at one of the best beaches, Limantour. Often you can see whales!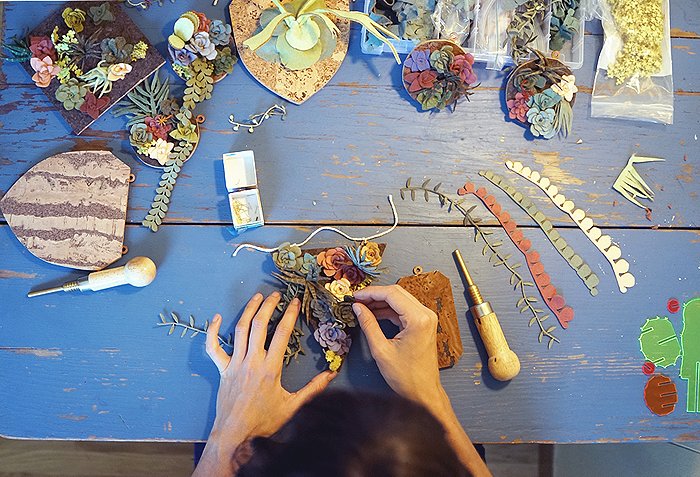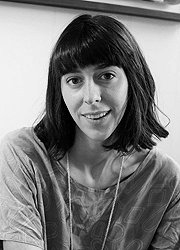 MAKER: C. Ginger of Ginger Anyhow  CRAFT: Whimsical versions of day-to-day objects from neon acrylic cacti to felt succulent gardens  INSPIRATION: Artists like Debbie Millman and Beci Orpin whose work is more about personality than polish  FUN FACT: Ginger calls herself "material agnostic" and works with everything from paper to felt, acrylic to wood

Her SF Picks
Restaurant you can't get enough of? Roosevelt Tamale Parlor on 24th—nice people, delicious food for both vegetarians and meat-eaters, an excellent michelada, and it's open late! I love their butternut squash and goat cheese tamale.
Best city blocks for shopping? 24th Street between Mission and Potrero. There's just so much to see. I love browsing for vintage California craft books at Press.
Where you take all your guests? To the Japanese Tea Garden in Golden Gate Park (ideally during the week to beat the crowds). It's a beautiful space to take a walk and then share a pot of tea. Plus the garden goes through really lovely changes throughout the seasons, so I can come several times a year without it feeling repetitive.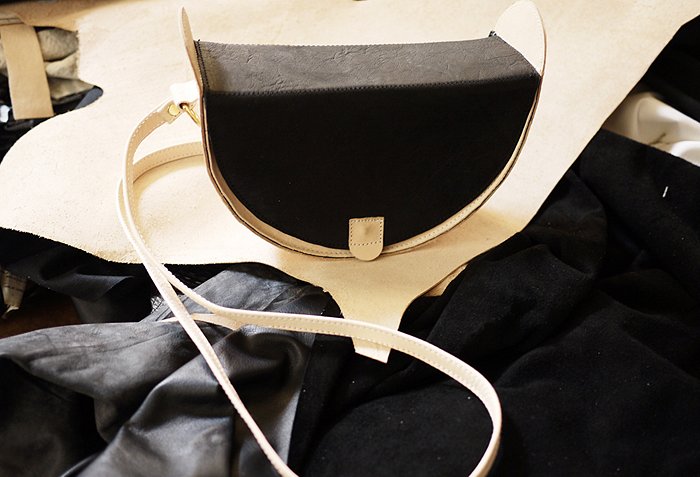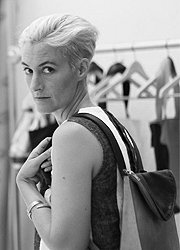 MAKER: Brook Lane of Job & Boss  CRAFT: Chic cotton and leather totes, clutches, and backpacks destined to be your next It bag  INSPIRATION: Everyone from the Bay Area's movers and makers—Atelier Dion, Micaela Greg, and Object & Totem—to widely known, cutting-edge creatives and brands—Kenzo, Terunobu Fujimori, and Maison Margiela  FUN FACT: The company started around an indigo vat—and they continue to hand-dye all their linings
Her SF Picks
Best meal you've had in the city? It's a toss-up between Piccino for classic California goodness; Nopalito for their carnitas with escabeche; or the braised octopus, cocktails, and everything else at Outerlands.
Favorite bar? I do appreciate a tequila cocktail at the Hideout or Rock Bar, but my preference is a bottle of rosé with friends in a park or on a rooftop on a sunny day.
One popular spot that's worth the crowds? Braving the wait at Anchor Oyster Bar in the Castro. A delightful mix of kitsch and classy—they really do it right.
Any favorite under-the-radar spots? Oooh, secret spots! This town is a gold mine of breathtaking views—the swing on top of Billy Goat Hill, the rock at the top of Corona Heights, or just walking around the trails at the Legion of Honor.
Quick and easy day trip? The Russian River in Monte Rio is a great swimming spot. I hit the road early in the morning and beeline straight to my favorite swimming hole. Unpack a good book and snack, and it's the perfect way to spend the day.