We all know that a well-placed piece of art can make a space. However, the expense or time required to have a print framed has stopped me in my tracks on more than one occasion. Until now… I hung this print in about 15 minuets using gold thumbtacks evenly spaced around the edges. This project is obviously not suited to priceless works of art, but we think it makes a memorial moment out of a humble print or poster.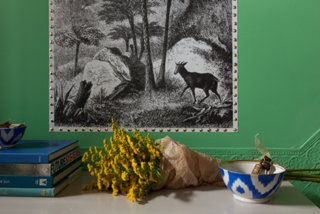 Here's the Deal
I used a ruler and a pencil to lightly mark the positioning of the tacks on the print before securing it to the wall; my tacks were spaced about one inch apart. Next I secured the print to the wall placing one tack through each of my premarked spots. Depending on how hard your wall is you might want to use a hammer to tap the thumbtacks in place. If you have plaster walls like mine, a hammer will keep your thumb from getting sore.
All You'll Need Is:
Ruler
Pencil
Gold thumbtacks
Hammer (optional)
Would you try this in your own home? I think it would also look great in a kid's room or a dorm room. Let me know what you think by commenting below!