I know what you're thinking, and the answer is yes, you can totally paint a tile backsplash. It's all about planning your design and having the right materials. Inspired by the graphic look of Moroccan tiles, I added a geometric pattern to a standard-issue white backsplash, and the result contributed a ton of style to a formerly drab kitchen.  Keep reading for my step-by-step guide to this simple weekend project.
Here's What You'll Need:
1 quart of latex house paint (I used Ralph Lauren's Gray Coat RL1133S)
1 quart of Zinsser shellac-base primer
1 quart of oil-based polyurethane
1-inch-wide painter's tape
1 X-Acto knife
1.5-inch soft-bristle paintbrush
Step 1: Tape
To begin, use a sponge to clean the tile with soap and water, and dry it well using a lint-free rag. It's important that the tile is lint free so that the paint goes on smoothly. Next, use the painter's tape to mask out your pattern on the tile wall. I chose this off-set triangle pattern because the straight lines made it easy to use the existing tiles as a grid to build off.
Step 2: Trim
Once you have your pattern taped, use the X-Acto knife (or scissors) to trim the ends of the tape. The key is to make sure your lines and corners are neat so that you end up with a crisp-looking design.
Step 3: Prime
Once the tape is in place you're ready to apply the primer coat. In my experience, picking the right primer makes all the difference. I used Zinsser shellac-based primer because of its excellent adhesion. It's important to let the primer fully cure (it takes about 45 minutes) before moving on to the next step.
Step 4: Paint
Once the primer is dry you're ready to apply the paint. I used a small paintbrush for this step because it gave me more control, but depending on the complexity of your pattern you can use a brush that's a bit bigger or a bit smaller. Apply paint in thin coats. I used two coats total, for a smooth end result.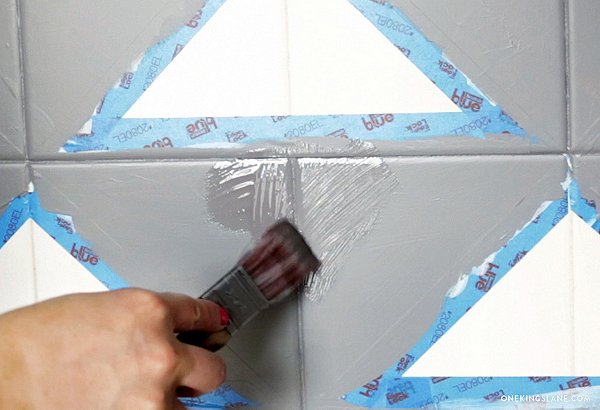 Step 5: Finish Up
Once the paint is dry, apply a thin coat of oil-based polyurethane to protect it against moisture and scratching. Oil-based finishes take longer to dry but are much more durable. Once that final protective coat is dry (it typically takes about four hours), you're safe to remove the tape and admire your work.
Tip: You can use your X-Acto knife to scrape of any bits of paint that might have seeped under your taped edge. 
Want to see this project come together in real time? Don't miss my how-to video posted over on Design*Sponge.
For more fun projects check out my Weekend Decorator page, and for a behind-the-scenes look at the making of this and past stories follow me on Instagram (@mepflug).
Complete Your Kitchen Update!