It's the height of summer, so we're craving warm flakey breads and an abundance of fresh fruits and veggies. This scrumptious tomato, feta, and thyme pastry recipe is exactly what we need to fill our bellies and hearts. We'll show you how to do it with this easy-to-make recipe.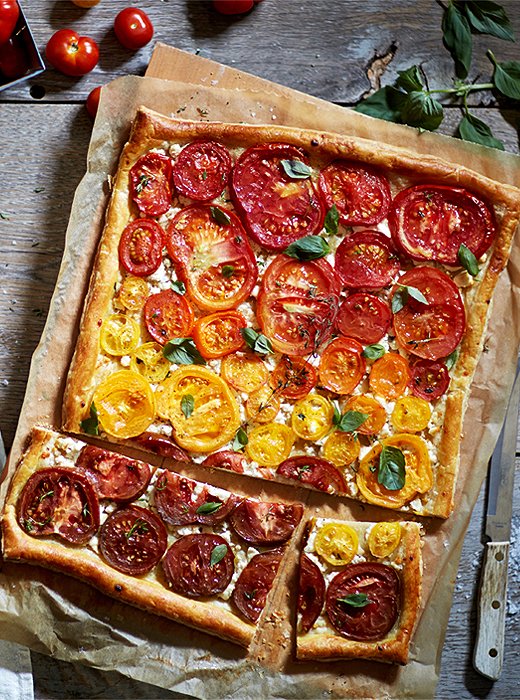 INGREDIENTS
1 sheet frozen puff pastry (half of a 17-ounce package), thawed
All-purpose flour, for dusting
1/2 cup crumbled feta cheese
5 medium tomatoes sliced
3 sprigs of thyme
Kosher salt and freshly ground pepper
Egg wash: 1 egg, 1 tbsp of water, beaten
 DIRECTIONS
1. Preheat the oven to 400 degrees F.
2. Unfold the defrosted puff pastry onto a floured piece of parchment paper and roll out into a 9-by-11-inch rectangle.
3. Score 1/2 inch in from the edge, all the way around, using a paring knife. Slide the pastry (on the parchment) onto a baking sheet. Poke the middle area all over with a fork.
4. Sprinkle crumbled feta in the middle area and arrange sliced tomatoes.
5. Drizzle with olive oil, thyme, kosher salt & pepper.
Tip: Brush the 1/2 inch edge with an egg wash (1 egg + 1 tbsp water, beaten) to make the edges a lovely golden brown.
6. Bake until golden brown, 20 to 25 minutes. Transfer to a rack and let cool completely.