Palm Beach has rightly earned the reputation of America's playground for the well-dressed and well-off. A favorite vacation spot of the likes of Vanderbilts and Kennedys, this quaint but oh-so glamorous city has also become known for flamboyant takes on traditional design.
At the heart of the Palm Beach design scene lies the iconic Colony Hotel. Built during the post-war boom of the late 1940s, the hotel has long stood for the sort of time-honored glamour that draws so many people to the city. That's what owner Sarah Wetenhall focused on when she decided to give the hotel lobby, now dubbed the Living Room, a facelift. Her source of inspiration was a postcard of the original 1947 lobby. To bring her vision to life, she enlisted the help of famed designer and Palm Beach native Mimi McMakin of Kemble Interiors.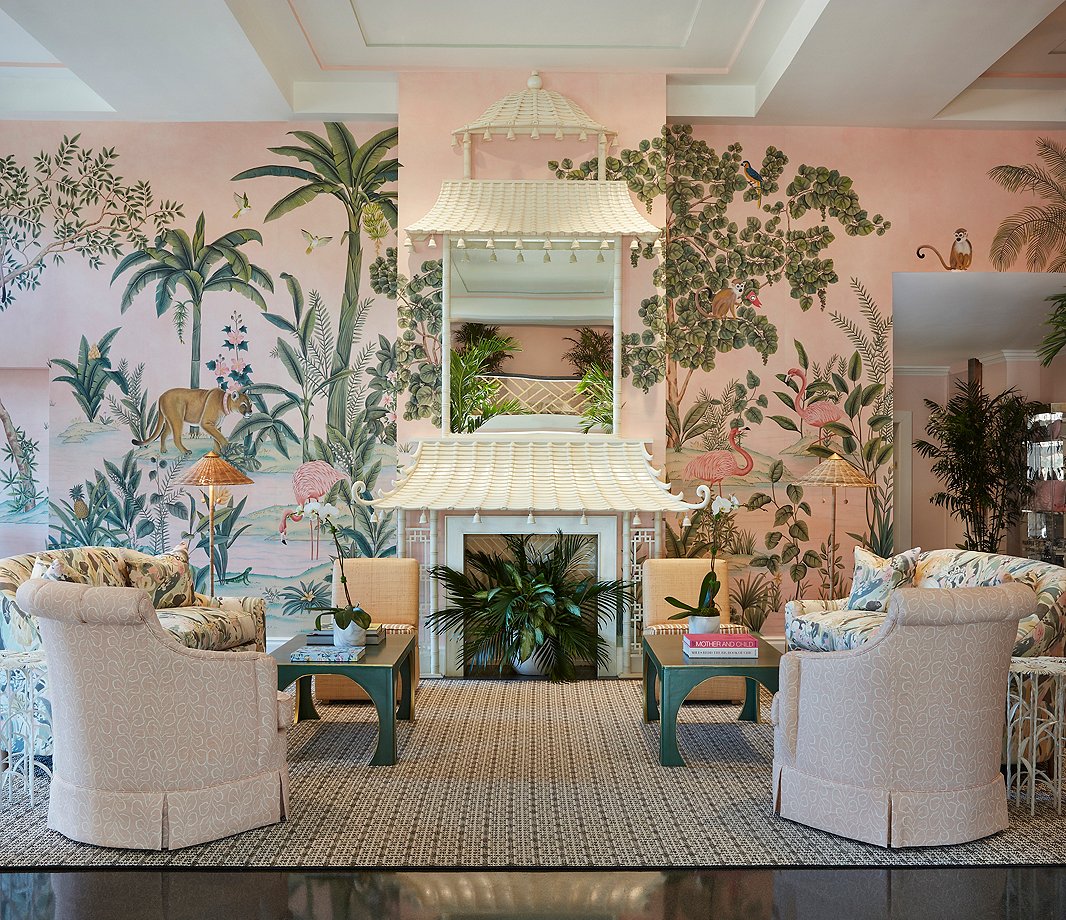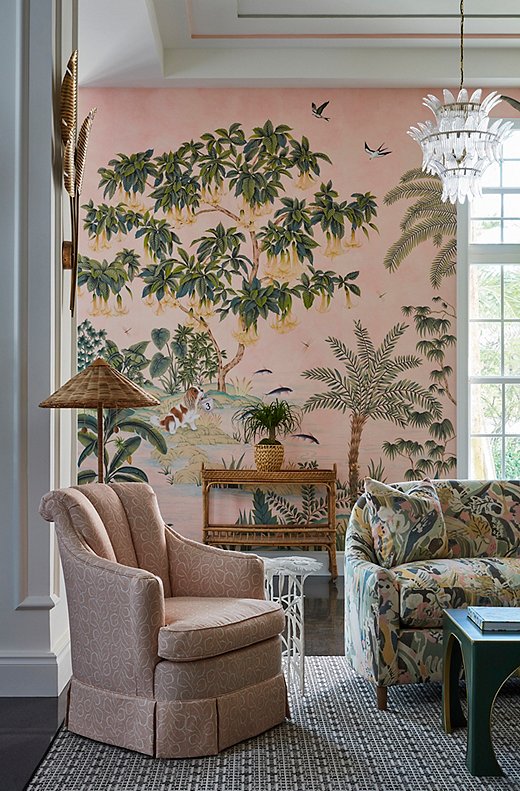 Together, Sarah and Kemble Interiors turned to the family behind de Gournay, the renowned wall covering house, to bring their vision of a modern mural to life. "We worked hand in hand with de Gournay to create this unique love letter to the Colony and Palm Beach," Sarah says. "It was our mission to embody the whimsy and humor of our beloved hotel." The wall covering is an exclusive hand-painted design that features indigenous flora and fauna. Close studies of the wallpaper reveal creeping alligators and panthers wearing diamond necklaces. The Colony's mascot, a monkey named Johnnie Brown after the pet of famous architect Addison Mizner, can be seen sitting high in a palm tree waving a pennant. "While the plants and animals could be found in a nonfiction catalog of local botany, we veered deep into the fictitious realm of our imagination," Mimi says.
With the wallpaper set, Mimi began outfitting the space with the help of designers Cece Bowman and Mackenzie Hodgson. Sarah wanted the space to feel more like a living room than a lobby. "I hardly know a better furniture plan for a living room than two comfortable sofas that flank a central fireplace," says Mimi. "Add in a few slipper chairs to pull up for conversation, and the only things missing are good company and a good cocktail."
The Kemble Interiors team added an oversize pagoda-style mantel surround to the fireplace. They played off the whimsical design of the mural with a pair of a wild set of sofas complemented by soft blush slipper chairs. They also outfitted the room with pieces from Mimi's daughter's lighting collection, Celerie Kemble for Arteriors.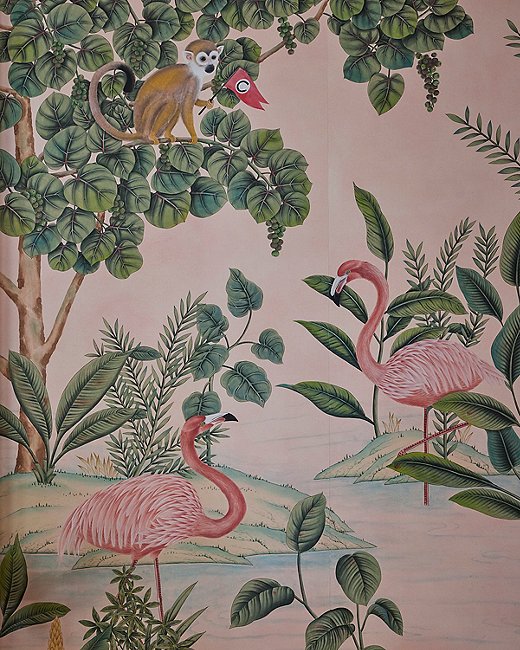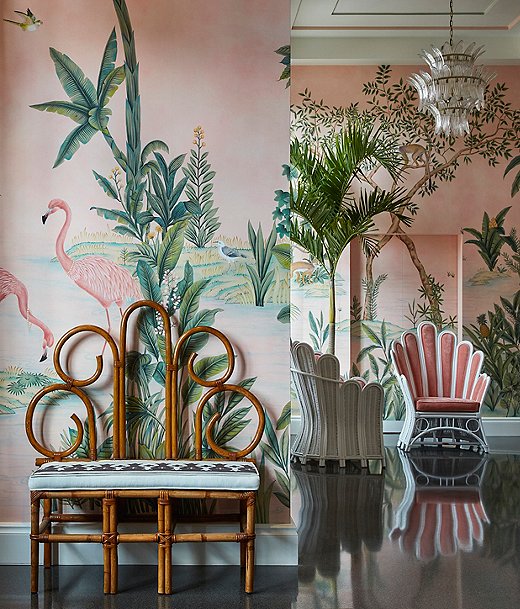 "Palm Beach is a town of people who appreciate beauty and who greatly value the preservation of the past," says Mimi. "Whenever we get the chance and honor to work on a beloved place, we always come to the project from the underlying thought 'Don't make it unrecognizable to those who have many cherished memories of it from the past.'" By sticking to the whimsical spirit of Palm Beach, the Kemble Interiors team left a lasting legacy on the city's landmark. "It was a wonderful collaboration for us," Mimi says, "because after decades of working in Palm Beach, we want our work to feel like it could have been there for years but feel fresh for today."