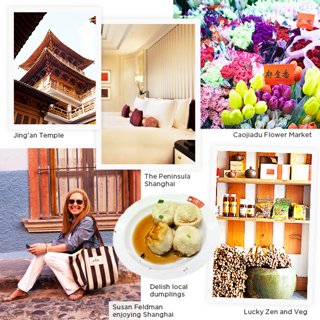 One Kings Lane co-founder Susan Feldman recently returned from a trip to this buzzy metropolis, China's most populous. Not only did she bring back unique and eye-catching furniture and accents (think ginger jars, cypress storage barrels, and loads of antique chests), but she also returned with a long list of discoveries she couldn't wait to share.
From rooftop restaurants (the city is renowned for its views) to secret back-alley shops and food stands worthy of any Zagat guide, she's got your Shanghai surprises right here. Xiǎngshòu! (Enjoy!)
SHOP
Hong Merchant Gallery
Susan adored looking around this collectors' paradise of contemporary art and antique furnishings, which fills a restored 1920s mansion in the French Concession neighborhood. "It's a fun stop whether you're in the mood to browse or to buy," she says.
Dongtai Road Antique Market
Though most of the so-called antiques aren't actually antique, Susan thinks this "open-air market, with tons of vendors," is definitely worth a stroll. You may dig up something authentic, but there are scads of souvenir-worthy wares you can haggle over—and haggling has, jokingly, been called the city's most beloved amateur sport.
Chinese Hand-Printed Blue Nankeen Exhibition Hall
"To get here, you walk down little alleys and wind your way around buildings," says Susan. The destination is part shop, part museum, both dedicated to traditional indigo-dyed fabric (nankeen is the dyeing technique). Admire lengths of drying cloth strung across the courtyard, and check out the samples dating back to the 1890s. Then pick up some napkins or a tablecloth to bring home.
South Bund Fabric Market
Per Susan, this is "the place to go for custom-made clothes," from a trim suit for a man to an "Is that Chanel?" jacket for a woman. Drop by on one of your first days in the city, because turnaround can take up to a week, though an extra fee can speed up the process considerably.
Spin Ceramics
This shop is as artfully arranged as a museum, but the good news is that everything's for sale, and even better, it's reasonably priced. Plus, "they ship to the U.S.," says Susan. Select vases, mugs, serving platters, or tea sets, all handcrafted and sublime in their simplicity.
Xintiandi
Lose an afternoon to this picturesque open-air shopping mall. Restored 1920s shikumen (brick row houses) hold unique specialty stores and cafés (there's even a Starbucks) with tables spilling out onto the cobblestone streets. "Going there is like stepping back in time, only there's all this very modern retail," says Susan. "It's the ultimate mix of old and new."
EAT
M on the Bund
Susan calls this restaurant "a contender for the city's best dining room with a view." There are vistas of the Huangpu River on one side and business-district Pudong's futuristic skyscrapers on the other. The upscale Continental menu wows with items such as gorgonzola gnocchi and salt-encased leg of lamb—no surprise it's been a city staple for more than a decade. Be sure to end the meal with M's Very Famous Pavlova (as it's named on the menu), a stellar concoction of meringue and tropical fruit.
Lucky Zen and Veg
This vegan eatery is so good, even confirmed carnivores will tear through deep-fried shiitake mushrooms, taro-and-potato curry, and steamed lotus root. "You'll never once miss the meat," says Susan. The ambience is cozy and calm, and a cute little shop downstairs sells lovely teapots, books, veggie snacks, and other goodies.
Din Tai Fung
Two words: soup dumplings. "They're sold everywhere—both on street corners and in fancy restaurants—but these are consistently amazing," says Susan. Din Tai Fung's dumplings consist of a thin, delicate skin wrapped around fillings like savory pork and truffles, accompanied by a small, hot shot of rich broth. There are also other enticing offerings like pot stickers and bowls of spicy noodles.
Jean–Georges Shanghai
The romance factor is high in this sexy, dimly lit dining room serving up some of Shanghai's best food: a persuasive French-meets-Asian mix that results in dishes like lobster tartine with lemongrass and beef tenderloin in a miso-red wine sauce. "Reserve one of the cozy banquettes or a table by the window," recommends Susan.
STAY
The Waterhouse at South Bund
This industrial-chic boutique hotel in a 1930s warehouse on the Huangpu River looks coolly unfinished in places (bricks peek through concrete walls in the lobby) and swanky-sleek in others (the tranquil rooms boast cloudlike beds). Even if you don't catch your z's here, "get drinks one night at its amazing rooftop bar," says Susan.
The Peninsula Shanghai
"Right on the Bund, the location couldn't get any better," says Susan of this Art Deco beauty fronting the city's picturesque waterfront. Accommodations—Shanghai's most spacious—are cushy cocoons and many have fun extras like a walk-in closet and nail-polish dryer. The basement-level drinking den, Salon de Ning, has one room where furnishings are bolted upside-down to the ceiling. Bottoms up!
The PuLi Hotel and Spa
Tucked behind a reclaimed-brick wall and surrounded by a shallow reflection pool edged with bamboo, this modern yet richly appointed property is an escape in the city's center. "It's near the French Concession neighborhood, a great walking area," says Susan. After a long day of exploring, retreat to your room, "divided up by delicate screens," and relax under the rain shower.
EXPLORE
Yuyuan Garden and Bazaar
"Touristy but worth it," says Susan of this lush 16th-century expanse of pavilions, ponds, bridges, and brilliant landscaping. Adjacent is a bazaar lined with stalls selling a grab bag of tchotchkes. Go with low expectations and you might be able to unearth some fun finds.
Vue Bar
From up here you can see everything—or just about. Perched on the 32nd and 33rd floors of the Hyatt on the Bund hotel, this restaurant-slash-club has incredible 270-degree views of the city and is centered, interestingly enough, around a hot tub, so stow your swimsuit in your purse in case you want to take a dip. "The people-watching, as you can imagine, can't be beat," says Susan.
Caojiadu Flower Market
Floors upon floors are packed with flowers of all shapes and sorts—roses, lilies, orchids, tulips, and on and on. "There's even a whole floor dedicated to fake flowers and plants," says Susan, "some of which are uncannily realistic." Not in the market for a bouquet? Stroll through just for the sensory experience and some great ideas.
Jing'an Temple
This storied Buddhist temple, which has been built, moved, rebuilt, and repurposed many times since the third century, is a great place to "duck into and temporarily escape the hustle and bustle of downtown Shanghai," says Susan. It might be surrounded by high-rises, but inside worshipers light incense, sing, and pray.
Shanghai Museum
Set aside a day to get schooled in ancient Chinese art, from bronze musical instruments to delicate scrolls of calligraphy. This fabulous museum, which holds more than a million objects, looks a like a huge UFO. "It's a wonderful place to be inspired," says Susan.
Insider Tip
"Hire a guide," says Susan. "The city can feel crazy and confusing, and many cab drivers don't speak English. Talk to the concierge at your hotel; they can set you up with someone who specializes in your interests, whether art, architecture, or shopping."