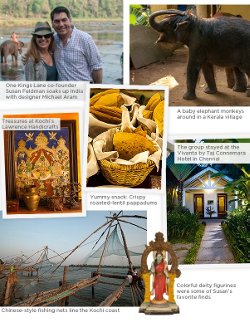 For our latest overseas shopping escapade, One Kings Lane headed to the South Indian cities of Kochi and Chennai with home-decor guru and part-time Delhi resident Michael Aram who, by his calculations, has spent 80% of the last 25 years in India. Here he shares his South India hit list from digging through hidden-away shops to cruising down canals in a luxe, converted rice barge. As he puts it, "exploring, wandering, and getting lost in new places is one of my favorite things to do."
SHOP
For a showroom with a view
In Kochi, Lawrence Handicrafts is one very special antique shop that Aram has frequented for the past 20 years. The store, a series of beautiful old warehouses that lead one after another out to the water, is "crammed with great stuff," says Aram. "You're shopping and shopping, and then at the end is this amazing view. On this trip I bought myself this fabulously gorgeous pair of antique church candlesticks."
For a wonderland of saris
"There's a huge textile tradition here," says Aram of Chennai, the city formerly named Madras (yes, it's where the fabric takes its name). And one of the best places to find some of the country's most famous textiles—those rainbow-bright saris—is an elegant boutique called The Sarangi Store. Doubt you'd ever wear one? Just imagine what a lovely throw or table runner it would make.
For collector-quality goods
An hour south of Chennai in Mahabalipuram (more on this historic town later), Southern Arts & Crafts houses a beautifully curated collection behind its glass storefront on the main drag. This was actually Aram's first trip to the shop, and he couldn't get enough. "Because it's fairly remote, it felt like such a find," he says. "The owner had antique statues and figurines that were like nothing we see up north."
STAY
For artful, soulful serenity
A pair of colonial mansions converted into darling boutique hotel, the 258-years-young Malabar House is awash with vibrant colors and Indian art. Rooms, some of which have private rooftop gardens, feature "a great mix of Portuguese and Dutch-colonial furniture," says Aram. "It's a simply beautiful aesthetic." No surprise, it's a member of the exclusive Relais & Chateaux collection.
For insane water vistas
"Imagine an old Victorian shipyard, converted into a luxury hotel," says Aram of the Brunton Boatyard across from Fort Kochi's boat channel. Each of the property's 22 rooms looks straight out onto the bustling sea-and-ship-scape. But the best views of the water are had from the water: either from the warm depths of your room's private bathtub (just throw open those wood shutters to see the sea) or whilst bobbing in the lovely channel-facing pool.
For total seclusion
Just outside Kochi you'll find the Malabar House's sister property, the Privacy at Sanctuary Bay, a pair of art-filled historical bungalows that sit like a mirage on Lake Vembanad. Days are spent floating in the shimmering pool and canoeing around the placid lake, while nights are dedicated to fish curries and Kingfisher beers on the private veranda. "I was here once," recalls Aram, "and I could hear drums playing, so I followed my ears and stumbled across the most incredible religious procession I've ever seen. It's a magical place."
For a city-center retreat
Hands down, Aram's favorite hotel in Chennai is the gracious Vivanta by Taj Connemara, an oasis with a palm-edged pool area that'll make you forget you're in the middle of the city. "It's very well located," says Aram. "And the rooms are gigantic; they feel like apartments." The property dates to 1854, but thanks to a major remodel in 1937 at the height of the Deco decades it sports a very cool British colonial meets Art Deco look.
EAT
For dining under the stars
"There's a magicalness to sitting outside and soaking up the sights, smells, sounds of India," says Aram of supping at the Malabar Junction in Kochi, where the courtyard is decorated with strands of twinkling lights and the seafood is so fresh it needs a talking to.
For a cheap bite on the go
"Dosas are a staple here and you can get them everywhere from restaurants to roadside stands," says Aram. "They're essentially south Indian fast food." Made from rice and lentils, these crispy, savory snacks walk the line between crepes and pancakes and are at their best when piping hot, filled with a mishmash of potatoes and onions, and dipped in chutney.
For scenery, setting, and seafood
"Just fabulous" is how Aram characterizes The Rice Boat restaurant at the Taj Malabar in Kochi, "not to be confused with the Malabar House," he notes. "We had a great dinner there of seafood curries served on appams, these slightly sweet rice crepes that balance out the spicy curry so deliciously." True to its name, the eatery is styled like a rice boat (complete with full-scale prow) and hovers right over the water so all dishes come with a side of ocean views.
PLAY
For cruising down picturesque canals
The same couple who owns Malabar and Privacy also owns the beyond-gorgeous Discovery, a rice barge converted into a "houseboat" that's essentially a chic, floating boutique hotel. "Spend a couple of nights on it sailing up and down the Kerala backwaters past rice fields and little villages," says Aram, "and you'll get a window into daily life." Not to mention that sweet dreams are sure to be had as the boat gently rocks you to sleep.
For modern art in a historic setting
The One Kings Lane trip happily coincided with Kochi's first art biennale. Says Aram: "They'd used maybe 20 historical buildings around the city as venues. One exhibition we stumbled across was in an old, abandoned house in the old Jewish quarter that had badly crumbling walls covered in vines. The artist had run bright red fabric through the backyard like a river, and it strangely looked as if it belonged there. It's not unusual to see thousands of red prayer threads wrapped around trees here, which is what it reminded me of. The blurring of what's art and what's not throughout the biennale was amazing."
For a worth-it day-trip from Chennai
"Mahabalipuram is a wonderful, ancient town with Hindu temples and early-Christian cairns I'd never been to before, and was thrilled to discover," says Aram. "To get there we had to drive about an hour from Chennai down the coast, so you're bopping along the ocean on this funny slow road, and it feels unbelievably remote."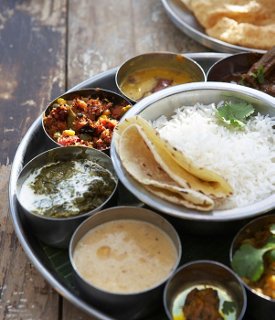 Thali Time
We break down this traditional Indian meal.
What: If you order a thali, you'll get lots of little bowls, known as katori, each filled with something delicious and arranged like a mini buffet on a round platter called a thali. As for what goodness goes in those bowls, it could be anything from dal, a lentil stew, to chutnies and veggie or meat curries. "Typically south Indian thalis are vegetarian," says Aram, though upscale restaurants often offer them both ways to appease the meat lovers.
Where: Pop into any restaurant on the street, and they're likely to serve them (they're often called, simply, "meals"), but Aram and crew had a great, traditional one at the Raintree in Chennai. "I loved those little thali lunches we got," he says.
Why: "Thalis are such an inexpensive way to eat," says Aram. Plus they fill you up, with restaurants often offering a little more of this or that until you've eaten your fill.
"In India, you always have to be ready for a surprise. A monkey might hop into your bedroom window. The electricity might go off in the middle of your dinner party. You never know what to expect, but that's part of its beauty."
—Michael Aram