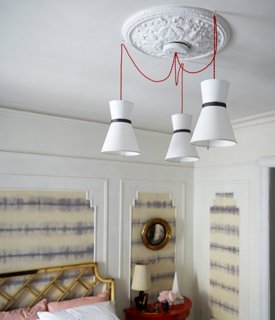 As someone who enjoys adding customized elements to my home, I often find myself experimenting with utilitarian items, like a simple white paper shade, to see if I can come up with something new and interesting. Recently I tried combining a couple of lampshades to create a new, more modern-feeling shape. The result of my tinkering was a combination that resembles a midcentury fixture in its simplicity but at a fraction of the cost. Keep reading for my step-by-step guide to this pendant project.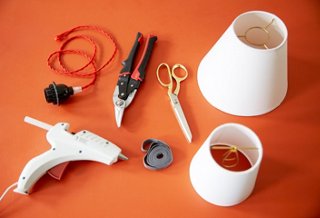 Here's What You'll Need:
Wire snippers
Scissors
Glue gun and glue sticks
Ribbon
Pendant kit (mine had a 4-foot cord)
A large white paper coolie shade with European hardware (4″ x 8″ x 6.6″)
A small white paper coolie shade with clip hardware (3.5″ x 5″ x 5″)
3 cup hooks (not pictured)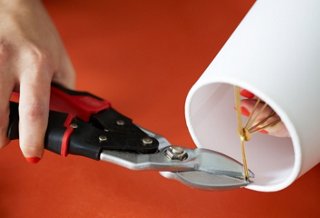 Step 1: Snip
Using your wires snippers, clip hardware off the top of the smaller shade. Try to trim the wires as close to the shade as possible.

Step 2: Place
With the larger shade resting right side up on the table, place the smaller shade upside down on top of the larger shade. The small shade will rest on the hardware of the bigger shade.
Tip: Although you can do this with a wide range of shades, it's important to to find 2 shades that have similar-sized top openings so that they fit together well.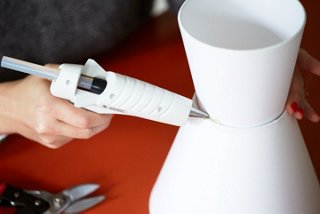 Step 3: Glue
Next, run a bead of glue on the outside seam where the two shades meet. This will help hold the shades together.
Step 4: Cover
The ribbon is just the thing to cover the glue seam. To attach the ribbon, I placed a small dot of glue on the end of the ribbon and affixed it to the shade. Next, I wrapped the ribbon tightly around the shade and trimmed it to length. For a clean edge I folded the cut end of the ribbon under and then glued it in place.
Tip: Use an elastic ribbon; the stretch helps it lie flat around the curves and angles of the shade.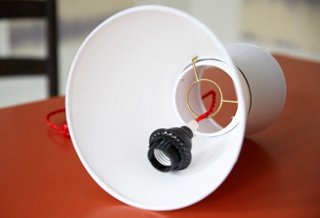 Step 5: Finish
To finish the pendant, thread the prewired socket through the center of the shade. The pendant socket should be slightly larger than the central ring of the shade so that it will stay in place. To hard-wire the light in place it's best to hire a pro. I chose to hang three pendants, but one would look great in a smaller space. Once that's done, you can create a cool draped look with the cords using small hooks attached to the ceiling.
Pendant resource: Color Cord / Shade resource: Just Shades
I'd love to see what you're making! Share your weekend projects on Instagram using #WeekendDecorator or follow me @mepflug to see more projects.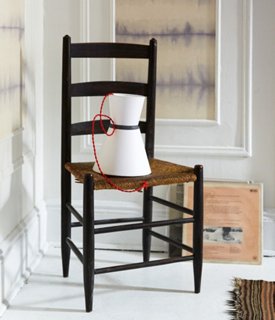 Photography by Manuel Rodriguez