Love wallpaper? You're not the only one. Decorating rooms by adhering patterned, colored, or textured paper to walls dates back to third-century BC China. While wallpaper has never gone completely out of style since then, it's definitely enjoying a well-deserved resurgence today. 
But wallpaper's not just for entire walls anymore. "If you don't want to commit to covering an entire room, there are plenty of other ways to use wallpaper to breathe life into a space," says professional organizer and home stylist Pamela Thomas, the founder of Home Space Harmony. Below are nine of them.
• On the ceiling. "When a wild print might be too much for four walls, papering the room's fifth wall is a great compromise," Pamela says.
• As artwork. Framing pieces of wallpaper can be a cost-effective way to get the look of bespoke art. "It also allows you to tie colors and themes from central spaces into the decor," Pamela adds. (If you'd prefer to have favorite artworks translated into wallpaper, we've got you covered there too. We've created exclusive wallpapers based on works by several of our most popular artists, including Mary H. Case, Vikki Chu, and Gabby Malpas.)
• On stair risers. Because utilitarian doesn't have to mean boring.
• In a closet. "Even if no one else sees the inside of your linen or bedroom closets, it will make you happy every time you open the door," Pamela says. "Or make a great first impression by adding wallpaper to the backdrop in a hall or entrance closet."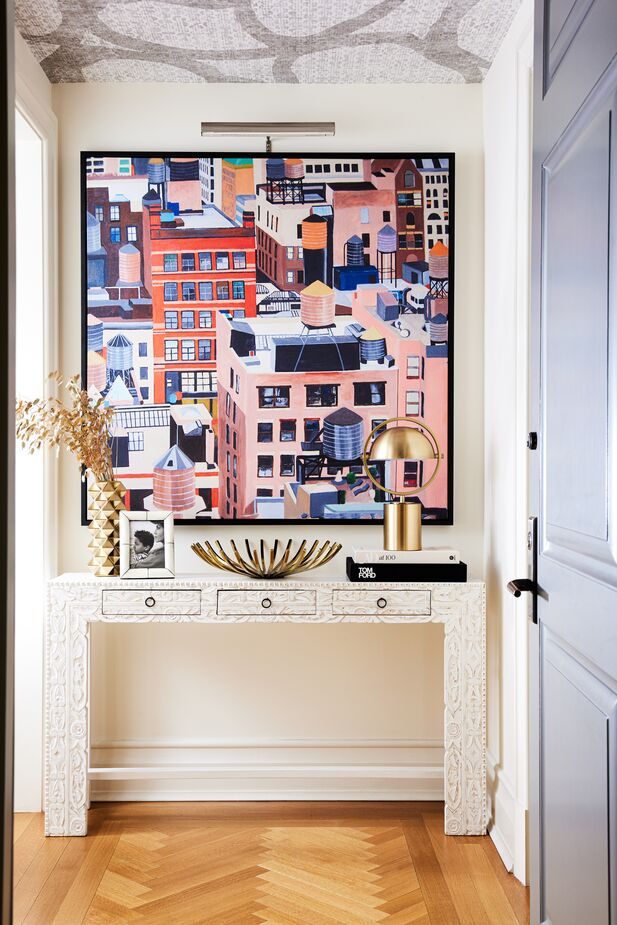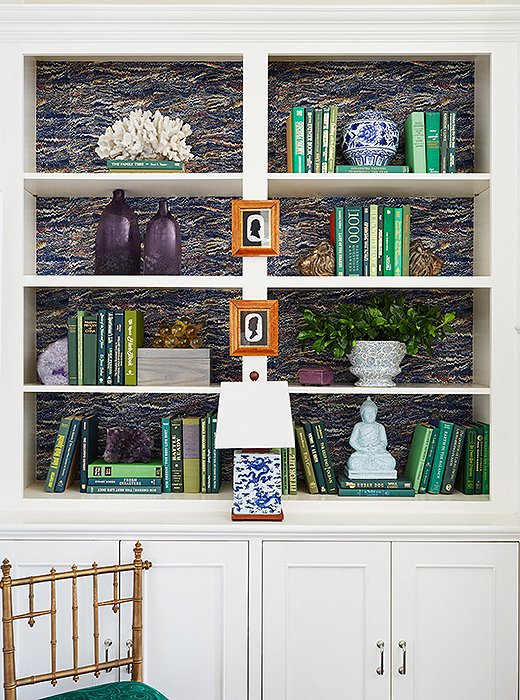 • On the inside back of a bookcase or cabinet. It's an easy way to make even the most basic shelving feel one of a kind, and it can draw attention to china or other items you want to showcase.
• On furniture or even appliances. "Wallpaper is a great way to breathe new life into older pieces of furniture," says Pamela. "You can wallpaper a headboard, the fronts of nightstand drawers, or the inside of desk drawers. You can even paper an old washing machine or refrigerator to give it a fun update."
• As a backsplash in the kitchen or the bathroom. It's eye-catching and less expensive than tile. In spaces that are especially prone to getting splashed by liquids or grease, protect the paper with varnish or a sheet of plexiglass.
• On the base of a kitchen island or a bar. Bye-bye, builders' basic. "This is a great way to add a lot of personality and character to a very public and central location," Pamela says. "And it can be easily updated whenever needed." 
• In a nook, an alcove, or any other unique space. Adding wallpaper makes a feature out of a space that might have been overlooked at best or awkward at worst. 
Still afraid of committing to wallpaper? Consider easily removable styles.