With spring rapidly approaching, I've decided to tackle a few quick but transformative projects to refresh my home for the new season. One I've been meaning to try ever since I spotted it on this table in Tory Burch's home (pictured above) and on Liv Tyler's sofa is adding an ornamental trim, namely a bit of bullion fringe, to my simple slipper chair.
Trims are definitely shaking off their staid reputation and looking newly modern these days. With just a little glue and a few yards of fringe, you can give anything from upholstered pieces to tablecloths a fresh look—and it requires much less time (and skill) than you might think. Keep reading for how to introduce a bit of fringe into your decor.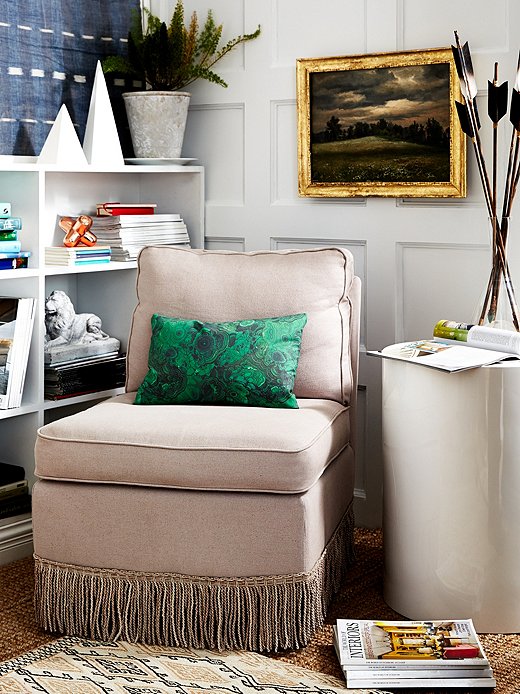 A Bit About Bullion
Never heard of bullion fringe? Don't worry, you're not alone. Basically it's a decorative trim made with twists of thread, and it's available in various lengths, colors, and thicknesses. It's great for adding a bit of drama to a simple sofa, chair, ottoman, or even tablecloth. You can order it online or buy it at your local trimmings store.
Here's What You'll Need
 Tack It On
To begin, apply a thin bead of glue to the back of the trim, and secure it to the bottom edge of the chair. It's a good idea to start in an inconspicuous place like the back of the chair. To help hold your fringe in place while the glue is wet, use a few straight pins along the way.
Finishing Touch
Once you have worked your way around the piece, cut off any excess trim, then finish the edge by folding it under and gluing it in place. When the glue has set, carefully remove the pins. Done and done!
Tip: Trim is a great way to hide less-than-ideal furniture legs.