As much as we're drawn to the luxe simplicity of a high-end hotel room and the carefully strategized floor plans of staged houses on the market, it's our creature comforts that truly bring our homes to life. The cherished pieces inherited from family members, the accents collected spontaneously over time, the art you cared enough about to invest in, all these items band together to tell the story of who you are. There's a fine line between beautifully collected and cluttered, however, and there may still be a need for new furniture or a desire for trendier accents in your home.
The homes that get it right find a balance, harmoniously mixing eras—vintage, antique, and brand-spankin'-new—and styles from Federalist to mod. Today we're taking a look back at some of the most beautifully collected rooms we've seen to learn a lesson or two. Read on.
THE VIBE: Granny gone wild.
The Pacific Heights home of San Francisco dress designer Kim Bachmann is one part Sgt. Pepper's Lonely Hearts Club Band, one part How to Steal a Million. The intricate Beaux Arts architectural details create formality, while vivid yellow walls instill a sense of irreverence. Bachmann married midcentury pieces, such as the starburst mirror and the pair of armchairs, with antiques and reupholstered furniture.
IDEAS TO STEAL: Upgrade your fabrics. By reupholstering her midcentury chairs in a flocked plum damask fabric, the designer gave them a bit more femininity and made them more suitable to the space. Find strength in numbers. Bachmann's collection of turquoise glassware is one of the most captivating elements in the space. Repeated enough times, any small collectibles can have impact.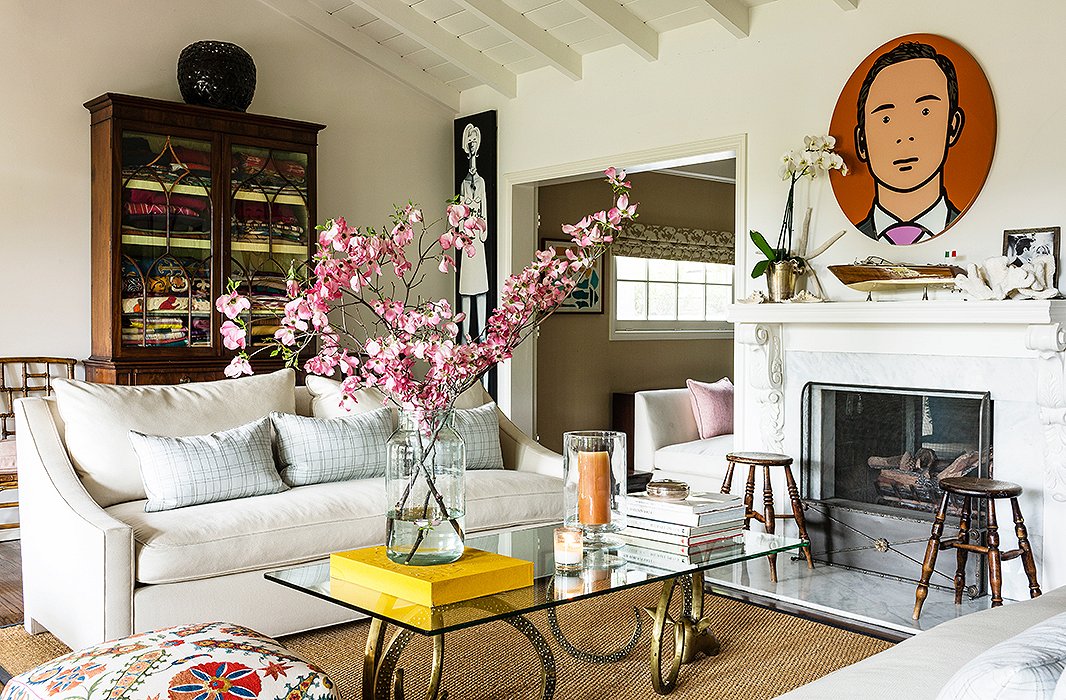 THE VIBE: Cool, calm, and collected.
An airier take on New England style, the L.A. home of textiles designer Lulu deKwiatkowski has a neutral base, which makes mixing and matching aesthetics and eras of decor pretty turnkey. The space is a potpourri of styles: A midcentury brass ram's-antler coffee table, contemporary art, an exotic Suzani ottoman, and an antique china cabinet all live harmoniously together.
IDEAS TO STEAL: Start with neutrals. Keeping the palette simple with off-white, brass, and wood tones allows Lulu to mix shapes and styles liberally. Don't overdo it. No style is too heavily represented in this space, which is an easy algorithm for balance.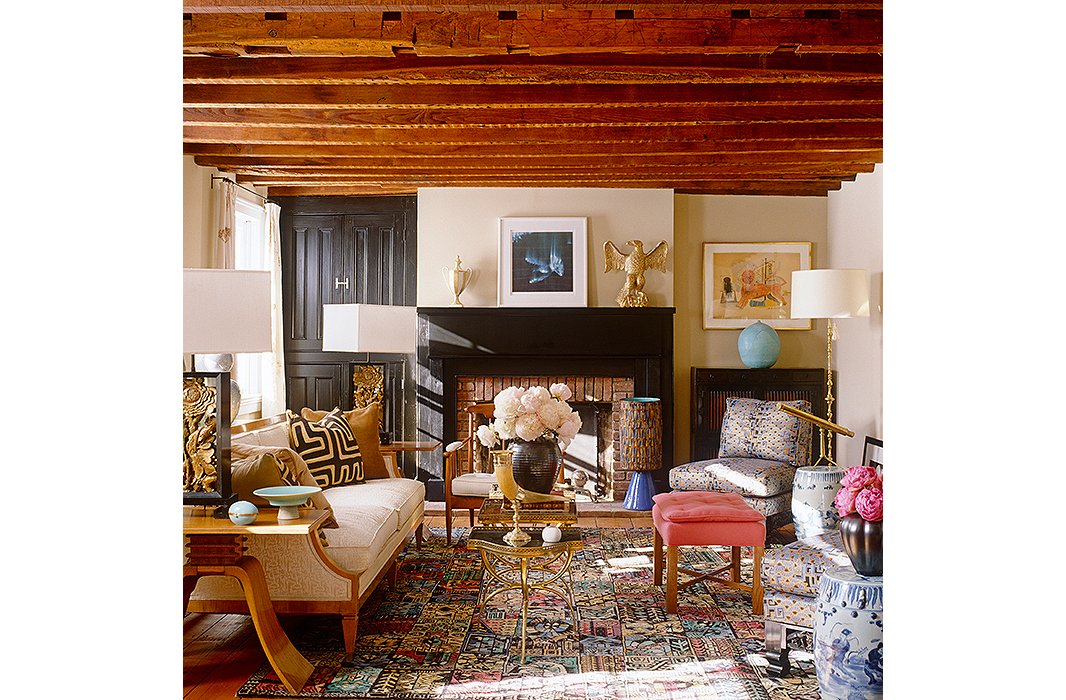 THE VIBE: International affair.
Looking at this cozy, light-filled sitting room, we get an immediate sense that its owner is well traveled. From the African kuba-cloth pillows on the sofa to the chinoiserie garden stools flanking the slipper chairs to the Federalist bald eagle guarding the mantel, the room's accents span the globe.
IDEAS TO STEAL: Mix large- and small-scale prints. A number of the worldly finds in this space are patterned, which could be overwhelming to the eye. However, thanks to its mix of small-, medium-, and large-scale prints with a few solid moments, it's not too busy. Focus your finishes. The metallic accents in this space span a range of styles, but since they're all gilded, they feel cohesive.
THE VIBE: Eclectic English rose.
Though this living room is in a rental on the Upper East Side of Manhattan, it has the quiet allure of the English countryside. Funkier moments such as a leopard-print bench piped in orange and am Hèrmes blanket give the space its eclectic vibe, despite a number of very traditional furnishings.
IDEAS TO STEAL: Find a theme. There's a lot going on in this Manhattan living room, but a couple of themes—leopard print and dark wood—provide a bit of continuity. Be playful with accents. Aside from the leopard bench, all the furniture in this room is traditional and simple; this creates a base that allows for more-playful accessories.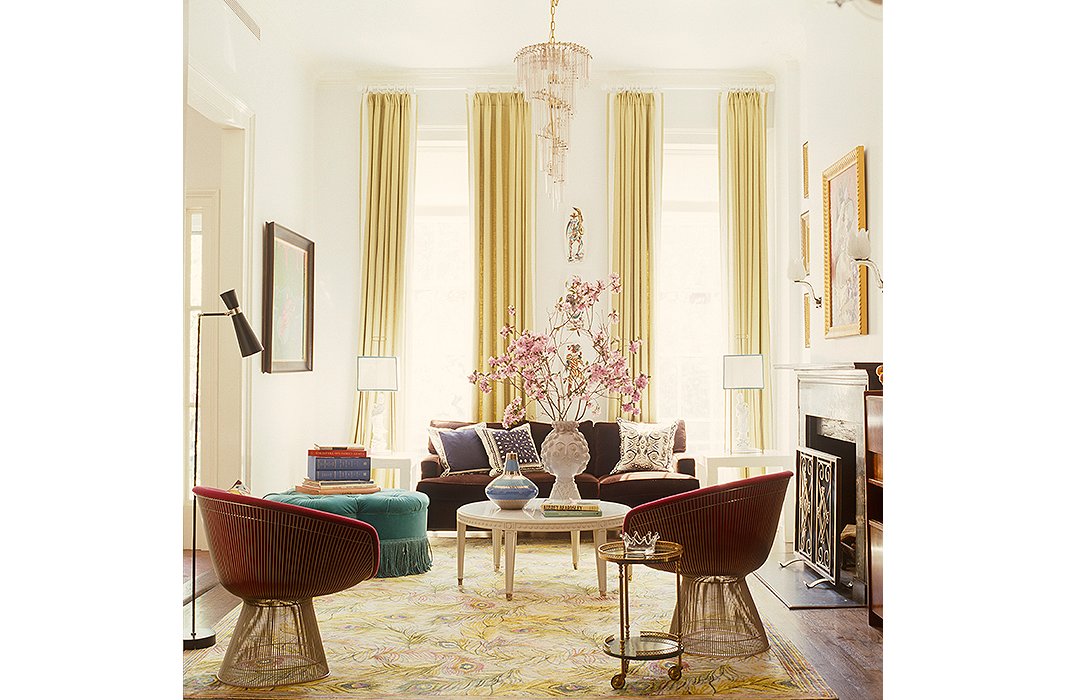 THE VIBE: Regal with a twist.
Acres of gold drapes, a spiral Lucite chandelier, and an emerald ottoman with bullion fringe give this living room real drama; it looks like something out of a Vogue shoot. But the formality of its Elizabethan-style furnishings is flipped on its head by sexy, mod moments such as the wire Platner armchairs and a midcentury cone-shape floor lamp.
IDEAS TO STEAL: Stick with solids. There's a lot going on here in terms of form and style, so the designer of this space was wise to stick with solid velvet upholstery—patterned materials may have been a bit overbearing. Keep accents to a minimum. Unlike other rooms we've looked at, this room is light on the number of accessories. When you're going big with statement furniture, keep your accents quiet.
THE VIBE: Literary lady.
The furniture in this New York living room spans quite a few eras; we have an Early American dresser, a pair of '70s Lucite armchairs, a '50s lacquered cabinet, and a contemporary gilded armchair. Yet there's one thing true of all of them: They're quite feminine. Here lives a woman who knows what she likes.
IDEAS TO STEAL: Stack your books. One of the greatest collections anyone can have is books! We love how books are stacked on nearly every surface in this space; it instantly provides insight into the owner's mind. Be in the clear. This small space is brimming with well-collected furnishings, but clear glass and Lucite pieces provide a visual breather.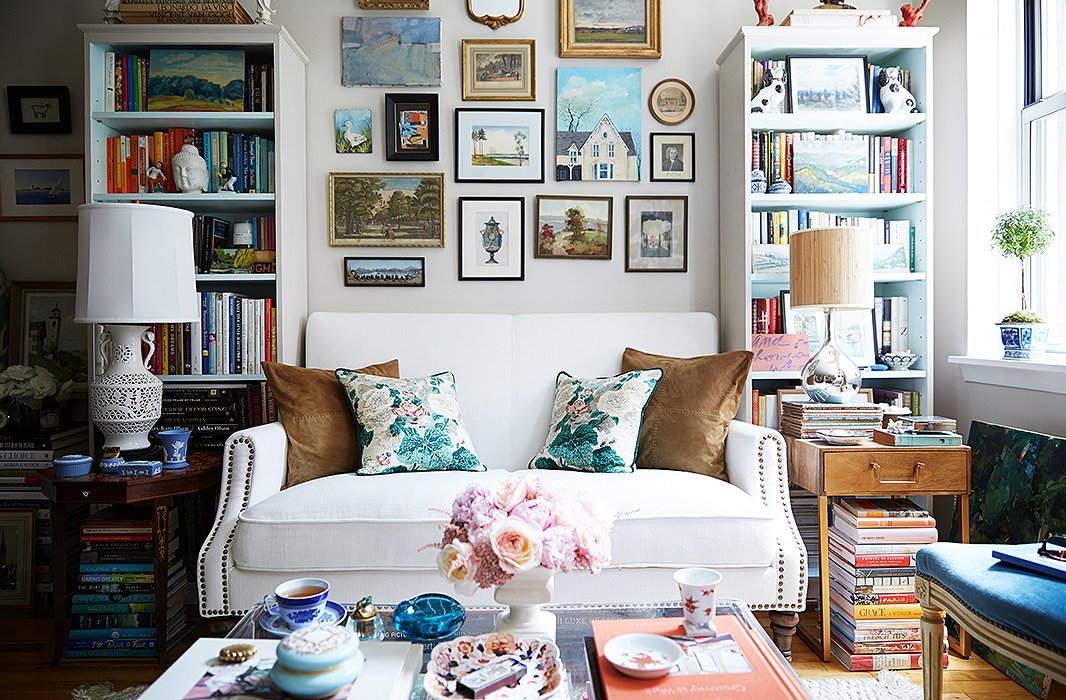 THE VIBE: New chintz.
Heather Clawson, the blogger behind Habitually Chic and the owner of this fine home, has a decided taste for the traditional and is a collector at heart. Her little living room is bursting with books, small accents, and original pieces of art. Despite the very collected quality of her home, she's stayed true to her traditional design roots, allowing herself a few fresher moments such as suede pillows and a chrome table lamp.
IDEAS TO STEAL: Create a gallery wall. If you find yourself drawn to small pieces of art, create a gallery wall, where they'll have a bigger impact together. Clear the way where it matters. It's okay to be a maximalist if that's who you are, but make sure it doesn't get in the way of functionality. Heather's sofa, where she no doubt spends a lot of time, isn't too overwhelmed with pillows.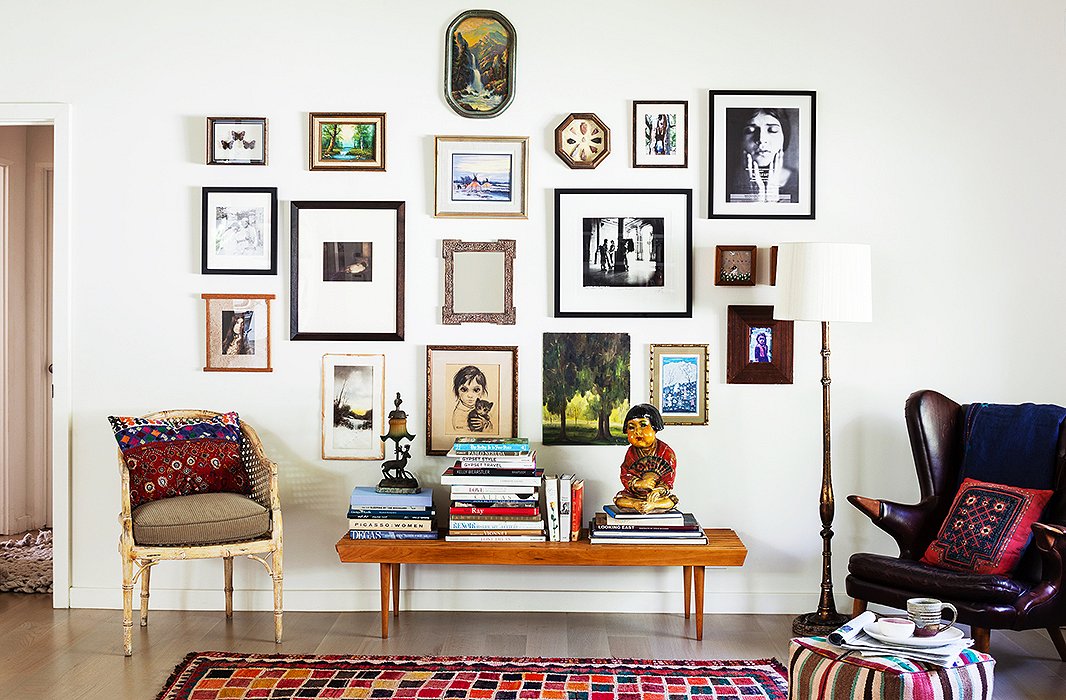 THE VIBE: Quiet spirit.
One look at this living room vignette and we instantly get a spiritual, back-to-nature vibe. As it turns out, it's the home of earth mama Shiva Rose, who's known for her natural beauty line and holistic website. There's no doubt that there's meaning behind all the works of art in Shiva's gallery wall and that she's read every book on her bench.
IDEAS TO STEAL: Collect only what you love. Considering bringing home a souvenir from your travels? Bring home only pieces you truly fall for. Use your storage. You don't have to showcase your entire collection at once; change things up intermittently to prevent a cluttered feeling.