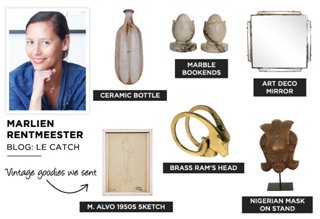 For our Vintage Makeover Challenge series, a few of our favorite bloggers received a box of one-of-a-kind goodies from us, all plucked from our amazing Vintage & Market Finds marketplace. The task? To give a small area of their home a vintage overhaul. In case you missed them, check out the results of our first two challenges, with La Dolce Vita and Material Girls.
This week we're thrilled to share the makeover done by Marlien Rentmeester, the gal behind one of our favorite fashion blogs, Le Catch, not to mention West Coast editor for Lucky.

What do you think vintage pieces add to a space?
"I view them as a room's punctuation marks, standing out because they're original, maybe even one of a kind, and of course, hand-chosen. Each one often has its own personal story to tell. They reflect who you are and where you've been."
What spot in your home did you decide could use a vintage makeover?
"My living room fireplace mantel. It's basically the first thing you see when you walk into my house, and in a way it defines the house and sets the aesthetic. I have to say it wasn't terrible, but I felt it could be improved upon, and I thought it would be fun to have One Kings Lane help me do that."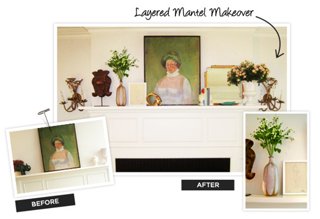 Can you break down for us what you used where and why?
Nigerian Mask on Stand
"I love this sort of exotic accent. I grew up with a lot of pieces like this—my dad collected tribal art—so it's something that feels familiar to me. The raw wood really tempers the preciousness of the mantel. I put it on the end because it's just a nice exclamation point."
Ceramic Bottle
"Truth be told, this is not something I would pick out myself, but that's what I was hoping for, things to break up my typical look. I like its modern lines, its dripped paint, and the organic, earthy quality of it next to the mask."
M. Alvo 1950s Sketch
"I collect sketches like this and have them all over my house, so it was great to have one to lean on my mantel as well. I work in fashion, so it's very appropriate. I thought it was the perfect touch to mix with the other elements, but you could really put it anywhere in the house."

Brass Ram's Head
"I love this piece! It's funny because my twin sister came over and saw it and said she had to have one. I just love the sheen and think it adds the right amount of glint to the mantel. The more-fluid lines are also great to break things up a bit."
Marble Bookends
"These marble bookends are just so elegant, and the acorn shape is classic. They're just the type of thing you want on your bookshelf. The heft of them is also great, and I like that I can put different-color books in between to change the whole look and feel of the mantel."
Art Deco Mirror
Honestly I feel like this was too small to be the main point of focus for my mantel, but it worked really well as a layering element. It's a nice counterpoint to the oil painting because it's much more modern, and somehow they just play off each other nicely."
Thanks to Marlien for taking on our Vintage Makeover Challenge! To read more about her vintage revamp, or just score some great fashion inspiration, be sure to check out Le Catch.
We'll be debuting more challenges in the weeks to come, so stay tuned! Best of all? Our buyers combed the world of vintage to source products similar to the ones we shipped to each blogger, so if you love the look it's just a click away.