Lately we've been spying vintage portraits popping up in tons of our favorite projects, from the Roman & Williams-designed High Line Hotel to the new Hotel Covell in L.A. to this kitchen-storage revamp masterminded by our own darling of DIY, Megan Pflug. When used right, these portraits strike the perfect balance of chic and classic, so we wanted to share three design-forward ways you can work this picture-perfect trend too.
As a Focal Point
Thanks to its saturated color and serious subject matter, a sizable portrait has enough gravitas to hold its own on a nearly empty wall. Displayed in a classic manner—in a gilt frame, hung as opposed to casually leaned against a wall—a painting of a stately gent can dignify an eclectic mix, grounding out-there elements such as Lucite and animal print. And its dark tones work well against a pared-down palette of blacks, creams, and metallics.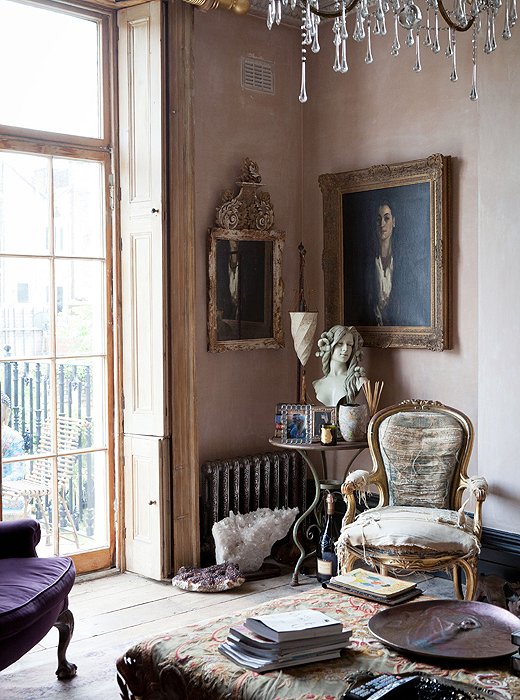 To Define a Nook
Hang a portrait or two in a corner of the room above a comfy armchair or in the center of an empty wall above a console, and, voilà, you've created a photo-worthy moment out of thin air. To create a visually balanced vignette, riff off the stately portrait with a mix of modern and fun accents below it. Designers are wild for this kind of layering because it instantly makes each disparate element feel 10 times more special.
As Part of a Gallery Wall
Smaller portraits are stellar as part of an art array. They can buddy up to landscapes, abstracts, and lushly romantic still lives. That said, there are two tricks to pulling this off. The first is placement: Orient all your art around a piece of furniture—above a couch or a sideboard, say—as opposed to centering it on the wall. The second is palette: A cohesive color scheme, starting with the hues in your portrait of choice, should guide every other work that gets pulled into the mix.