City living has its perks, but square footage is not one of them. So what did I do when confronted with my apartment's tiny kitchen? I turned it into a jewel box, topped off with a wallpapered ceiling. The coolest thing about an embellished ceiling is that you don't notice it right off the bat, but once you do, it brings real sparkle to the space. Start scrolling to see how I took my ceiling from drab to rental-friendly fab.
What You'll Need:
A few rolls of temporary wallpaper
Ladder
Long ruler or other straight edge
Mat knife
A buddy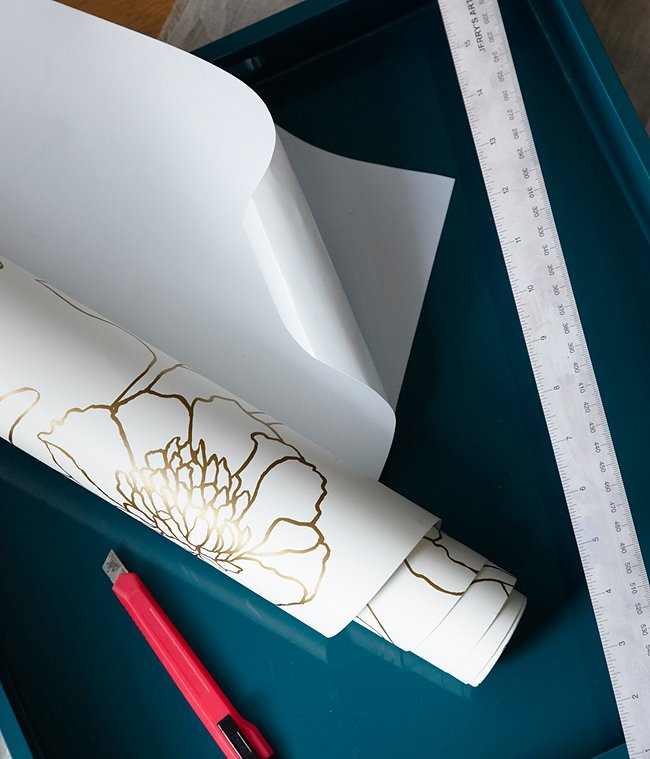 Step 1: Measure Your Ceiling
Start by choosing the orientation of your wallpaper pattern. Next, measure your ceiling's length, to decide how long a piece of wallpaper you'll need, and the width so see how many lengths of wallpaper it'll take to cover the entire surface area. Once you have your measurements, cut lengths of paper that are about 12-inches longer than the ceiling's length.
When hanging any wallpaper, its a good idea to leave a few inches of extra paper on each end so that you can be sure to have enough to match up the paper's repeat pattern.
Step 2: Apply Your Paper
At one end of the length of paper, peel away a few inches of the backing to expose the sticky surface. To make sure you get the first piece on straight, use the edge where the ceiling and the wall meet as a guide. Once you have your first piece in place, work your way across the ceiling—matching the pattern at the seams and peeling and sticking as you go.
When your ceiling is covered, trim away the excess paper using a mat knife and a straight edge. Now step back, look up, and admire your work because you're done!
Tip: Papering a ceiling by yourself is possible but an extra pair of hands is always a big help, so buddy up!
Resources: Tempaper Peonies Gold Leaf (PE042)