We can't get enough of Wayne Pate's art—and really, his entire aesthetic. Raised in Texas, Pate moved to New York in the early 1990s and dove into DJ'ing and graphic design—the latter, he says, helped tame and channel his deeply visual nature. Nowadays the artist's focus centers on rendering objects and interiors in his signature simplistic yet sophisticated style. His studio, located in the light-filled Brooklyn brownstone that he shares with his wife, fashion designer Rebecca Taylor, and their three children, is the ideal backdrop for his stunning artwork.
Interior World
Never formally trained in art, Pate taught himself the finer points of drawing, painting, and printmaking. He also took the reigns in decorating his home's turn-of-the-century interiors, and one gets the sense that his art and his home are in constant dialogue. He fills his living room with graceful white furnishings and pops of black and then uses the space for his own artistic studies in black and white.
Collected View
During his travels, Pate amasses Chinese ginger jars, clay urns from Florence, and other interesting objects, which often turn up in his elegant line drawings and illustrations. "I'm obsessed with the shape of urns, the simplicity of their silhouette," says Pate. "I love looking at how they've changed over the centuries."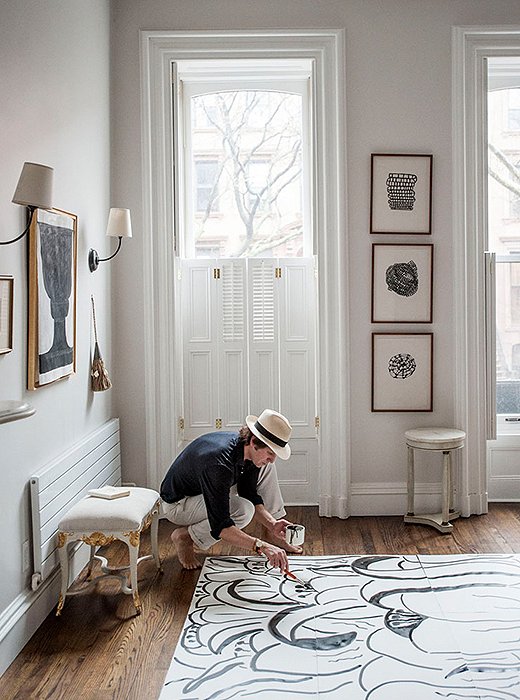 Art Imitates Life
Yes, Pate has an impeccable eye, but his art still leaves room for playfulness. He draws in looping, charming shapes and his lack of formal training means that he doesn't take the rules of perspective too seriously. He even embeds little pieces of wit in his drawings—the leaves of a potted topiary, for example, are actually made up of digital scans of tiny boxwood leaves.
I'd be lying if I said Matisse wasn't an influence. For him, every waking moment was about beauty. Matisse's work was a true embodiment of the life he lived.