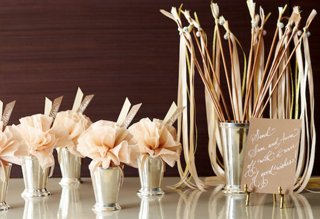 These beautiful streamers decorate the favor table and send off the happy couple in style.
What You'll Need:
12- to 14-inch dowel rod
Spray paint; we used metallic copper for the ones above
Ribbon; we used a combination of satin and woven metallic ribbons
A jingle bell
Scissors
How-To: 
Spray paint each dowel rod the desired color.
Cut four lengths of ribbon about 14 inches long. (We used three lengths of satin and one length of metallic.)
String the jingle bell onto the ribbon (we strung it onto the metallic ribbon) and position it about 4 inches down from the top of the dowel rod.
Attach all four ribbon strands to the top of the dowel with a simple knot. Be careful to position the bell so that it is secured in the knot.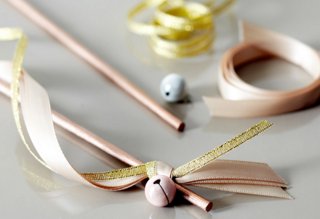 Tip: An elegant sign can help guests know when and how to use the streamers.
Calligraphy by Anna Beckman
"The bells on the wands chime a festive song while the ribbons wave."
—Megan Pflug, Special Projects Editor