Nestled along Highway 1 in a narrow sliver between the Pacific's rocky cliffs and the soaring redwoods of the Santa Lucia Mountains, Big Sur has long attracted creative types looking to lose themselves in one way or another. Jack Kerouac came to dry out. Hunter S. Thompson came to be a caretaker. You'll want to come and see why hippies and hipsters alike flock to this California town for its magical, mythical vibe. We love it for its breathtaking views, quirky lodging, and chill scene—and it's just a short drive from San Francisco.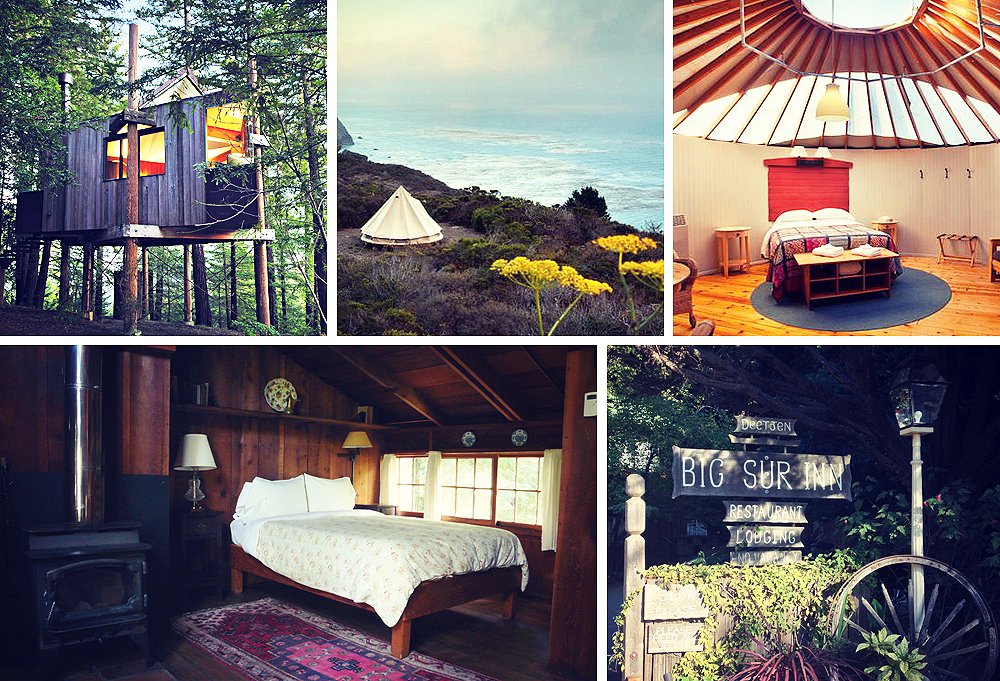 Hotels
Drop your bags…
… at a landmark string of cabins with names like Grandpa's Room and Top Antique. Deetjen's Big Sur Inn is the perfect mix of rustic and romantic. We found it rather hard not to lift some of the amazing vintage pieces in each room. The restaurant is great too.
… smack dab in the earthy-chic oasis that is Post Ranch Inn. We think of it as a tree house if built for George Soros. With luxe rooms set atop cliffs on the ocean, a sumptuous spa, and a glassed-in restaurant, there's a reason this place is tops in Big Sur.
… on the grounds of a family-friendly glamping destination. Choose one of Treebones' 16 yurts, or pitch your own camp at this unique resort, which boasts a heated pool, a hot tub, an outdoor sushi bar, and an organic garde
Shop the Look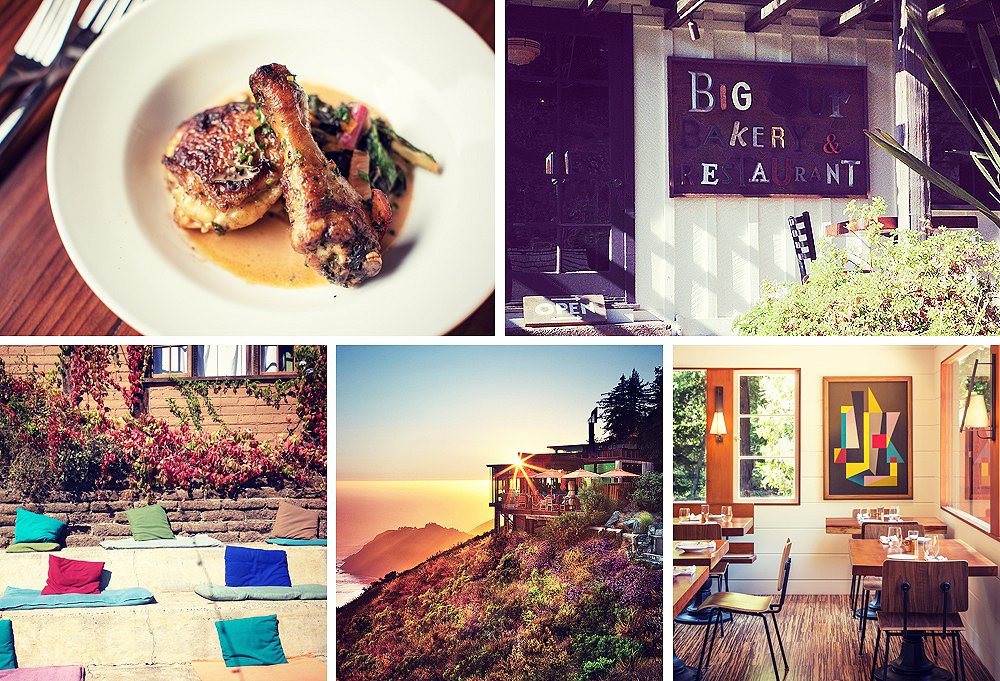 Eateries
Where to head for…
… just-got-here cocktails? Stretch your driving legs by making the climb up to Nepenthe's open-air dining room with killer views. If there's a wait, grab a pint and stretch out on its massive built-in steps propped with bright pillows. Just don't forget the sunglasses.
…breakfast? Big Sur Bakery often has two long lines outside its cozy cabin doors. One is for a table to enjoy its wood-fired breakfast pizza. The other? To pick up dreamy baked goods like lemon-rosemary scones for a prehike carb load.
… a chill midday meal? Big Sur Roadhouse is a rarity in the town in that it hasn't been around for decades. But the newcomer is a standout and not just for its modern dining room. The chef puts a California spin on his native New Orleans dishes.
… dinner above the clouds? A table at the glass-walled Sierra Mar (part of Post Ranch Inn) gets you more than the four-course prix fixe meal. If you arrive before sunset, you'll be treated to one spectacular show as the light sinks into the Pacific.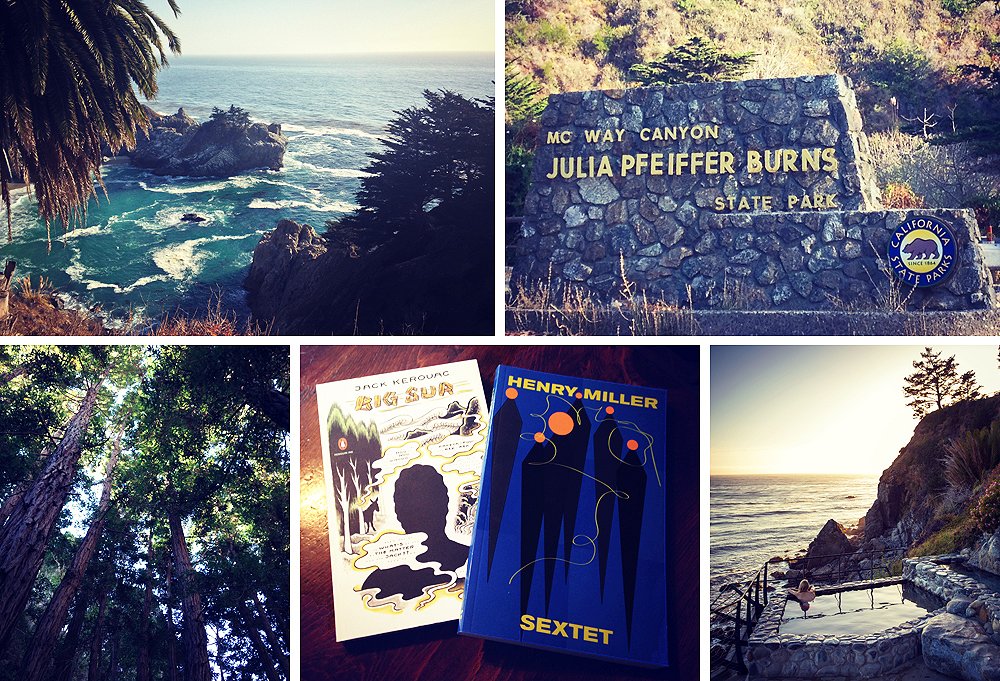 Activities
Don't miss…
… a massage and hot mineral baths at Esalen Institute. Whether you try its clothing-optional policy or not, a visit is an experience you'll never forget. Feeling adventurous? The baths are open from 1 a.m to 3 a.m. Sunday through Thursdays. Reservations and lack of inhibitions required.
… an impromptu concert, screening, or reading at the Henry Miller Memorial Library. Tucked into a scrap of woods just off Highway 1, this cultural hot spot, dedicated to the influential author and one-time local, has a full calendar of events plus a tiny store to pick up your copy of Tropic of Cancer.
… the nearly impossible to find Partington Cove. It's about 5.4 miles south of Deetjen's, just past a row of bright-colored mailboxes. Park at the turnout, and wind your way down a path, over a footbridge, and through a tunnel to find an amazing blue lagoon (bench included).
… Bixby Creek Bridge, north of town on Highway 1. This concrete open-spandrel arch bridge seems to float over Bixby Creek. If there is one must-have pull-over photo op moment along the winding stretch of the Pacific Highway, this is it.
Shop the Look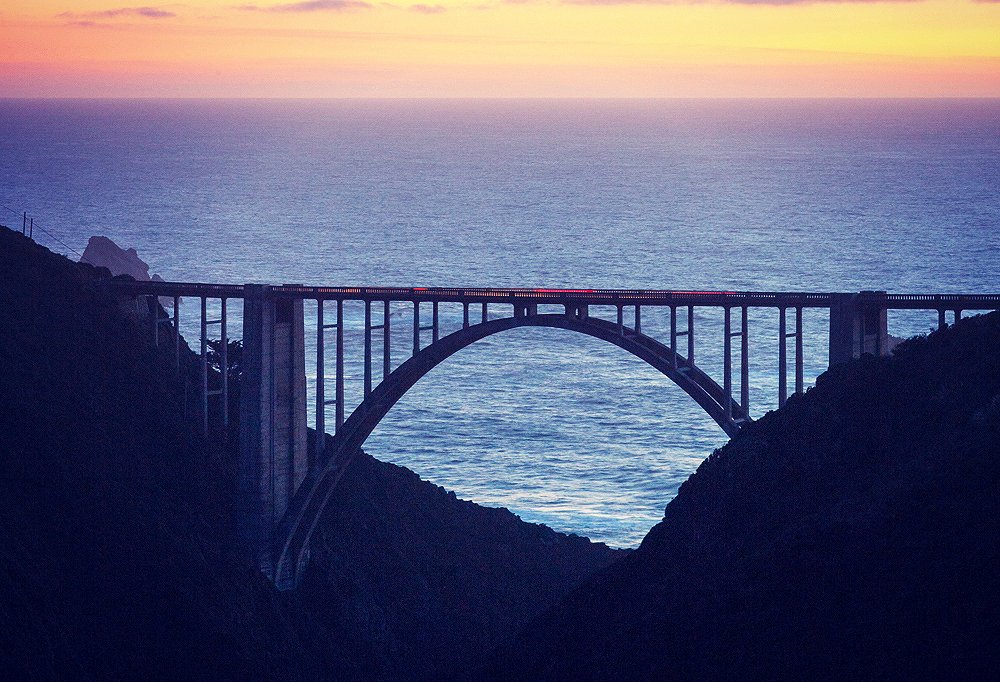 Getting There Is All the Fun
Yes, you can take a faster route via the 101 to Big Sur and arrive from San Francisco in a little more than two hours. But we suggest you take the advice that we did: Build in some extra time and take the long and winding Highway 1. You'll never find a more scenic and unspoiled drive. Take the 17-mile drive through Pebble Beach for an extra treat.
Shop the Look