What We Loved from Around the Web…
Inside an art- and light-filled Parisian apartment—need we say more?
An age-old trick for bringing balance to your home.
For fans of Netflix's The Crown: Here's exactly how all those gorgeous historical sets come to life.
A photographer's guide to endlessly elegant Savannah, GA.
Start off the year with 10 simple ways to create less daily waste in your home.
What We've Been Up To…
For us, the new year is all about fostering a sense of serenity in the home. No need to do a full makeover of your space—in fact, a few simple updates can make just as big an impact. If you're not sure where to start, consider this your guide to bringing a refreshing new calm to your space.
It only makes sense to begin with the entry, which is the first and last place guests will see in your home. How we'd renew ours for the new year? With a new ceiling fixture or a fresh piece of art—both easy updates that make a major impact. If you'll be working from home this year, the office is another logical spot to spruce up, and our collection of functional (but chic!) accessories is just the thing to bring your productivity to the next level. Because hosting never goes out of season, this mix of entertaining essentials will help you cook and serve up your coziest and most stylish dinner parties yet. And finally, those resolving to sleep better in 2018 can take inspiration from this calming bedroom, which is certain to foster the sweetest of dreams.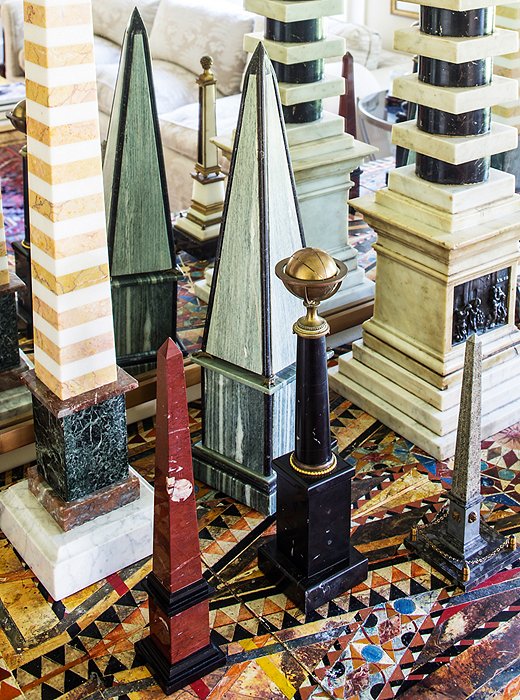 A Parting Piece of Knowledge…
Of all the objets that can grace surfaces in the home, the obelisk is one of our favorites. Its four-sided form, which features a pyramid at the top, originated in ancient Egyptian architecture, though it has since been adopted by cultures around the world (including in our very own Washington Monument). It's a shape that translates well to the smaller scale of interiors, adding a pleasing mix of height and geometry to whatever mantel, tabletop, or bookshelf it occupies.