What We've Been Up To…
Feeling in tune with nature this week, we've turned our gaze to the lushness of the season, from botanical prints all the way to buildings in bloom and dreamy conservatories. Closer to home, we're stepping out and stepping up our outdoor spaces for afternoon meals alfresco with friends. But our secret spring project of the moment? Finding a quiet corner on the porch or in the backyard to hang a hammock for lazy weekend mornings—it's never too early to give into our wanderlust and fantasize about life along the coasts of California and France, right?
We Caught Up With…
Interior designer Kate Driver
One of our favorite designers on the Left Coast, Kate Driver is Hollywood's design darling and best-kept secret. Having outfitted homes for some of Tinseltown's biggest directors and screenwriters, it's easy to see why she was recently named a Star on the Rise by L.A.'s Pacific Design Center. But beyond the spotlight, she's known for her masterful decorator's touch, mixing modern with old, such as cool leather chairs with gorgeous worldly finds and textiles. We caught up with Kate, who lets us in on a few of her vintage shopping secrets.
Q: As a designer, what do you feel vintage and antique pieces add to the home?
A: When an antique piece has a nice patina, it allows you to feel that nothing is too precious in a home. For me, antiques are comforting and calming. And of course, they add a sense of history, quality craftsmanship, and character.
Q: Any golden rules for when mixing contemporary decor with vintage pieces?
A: It's important to me that an entire home feels cohesive and consistent throughout. So if I'm pulling styles from two different distinct periods in one room, you're likely to find similar juxtapositions in other rooms of the same home as well.
Q: What's your advice for the hesitant or first-time vintage shopper?
A: Trust yourself, and don't worry about the pedigree or designer of the piece too much at first. If it's well made and makes you feel good, put it in your home!
Q: What are your favorite spots (in L.A. or elsewhere) to source vintage pieces?
A: In L.A., there's nothing like JF Chen. It's an absolute wonderland of the most incredibly fine pieces from all different eras. I feel so spoiled to have it nearby. Brenda Antin always has great casual pieces in the perfect larger scale. In New York, I love Emilie Irving's shop, Xenomania, for antique textiles.
Q: Are there any specific antique or vintage items that you always have your eye out for?
A: I am always looking for anything by Jacques Adnet or Anthony Redmile, and lately I am obsessed with 19th-century French tole chandeliers.
Q: What do you recommend people avoid when shopping vintage?
A: Buy one larger quality piece that you can build a room around, such as a great mirror or coffee table. Avoid buying a bunch of smaller pieces that make less of an impact.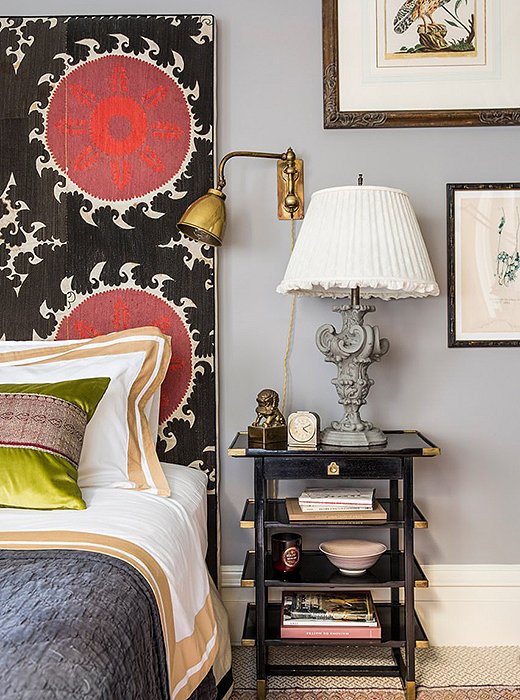 A Parting Piece of Knowledge…
Suzani—the vibrant embroidered textile you've likely spotted in homes all over—has a colorful history that dates back to the 15th century. Derived from the Persian word suzan, which means "needle," these vibrant textiles were originally made by brides or members of her family as part of a wedding dowry and traditionally used as tapestries and blankets. It's thought that women in Central Asia created suzanis to bring beauty to their surroundings, stitching floral motifs to mimic flowers and plants and give life to the barren desert scenery. Medallions, most often made up of flowers, are the most common design, although motifs from ancient iconography, including suns, moons, stars, and pomegranates, also appear. Creating the intricate stitches, some fine and flat, some more three-dimensional in appearance, is a time-consuming process that requires a deft hand. The meticulous craft in itself makes it clear why suzanis are a decorator favorite today for traditional and bohemian interiors alike.