Richly Romantic
A crystalline chandelier ups the glam factor of stained floorboards, while the palest cream wall color keeps the room plenty bright and makes the pure-white crown molding pop. To mirror the palette's open, gracious feel, consider installing French or pocket doors that will increase the flow of light from room to room.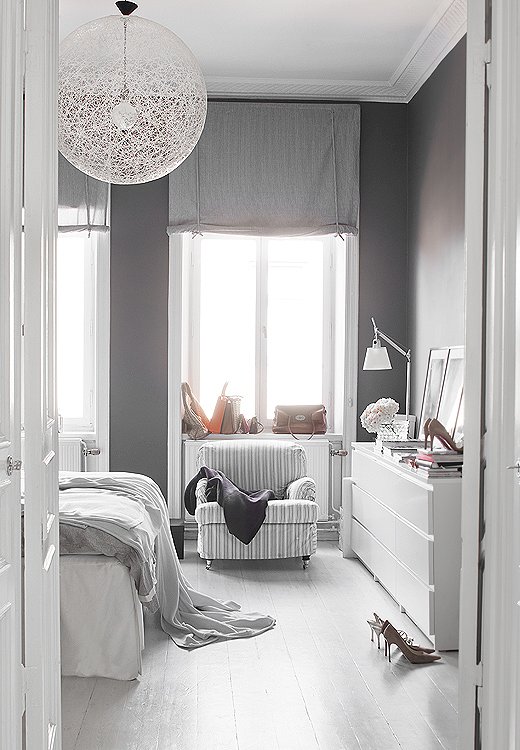 Coolly Contemporary
We love white-on-white-on-white, but there's just something about the dimension that darker walls can bring to a room filled with white furnishings. This combo is such a fresh design choice, imbuing the space with the almost otherworldly quality of a photo negative, where objects in the foreground (here, furniture and accent pieces) stand out in sharp relief from a dark, moody background.
Industrially Spare
There's perhaps no shade better for thoroughly modern rooms than white. Painting the floor, walls, and ceiling the same color gives the room an endless quality, almost as if you're looking out onto the horizon, so that the space appears taller, longer, and wider. White is also a smart way to camouflage unseemly but necessary elements such as beams and old-school radiators. And it provides a clean, gallerylike background for art.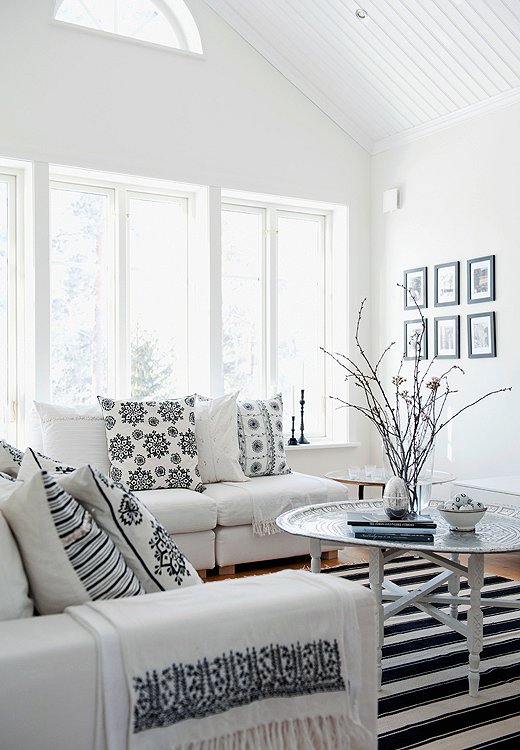 Traditional Warmth
With the right accents, a nearly all-white room (so often equated with sleek and sterile) can look downright warm. Here it's all about the pattern-happy pillows (sticking to black and white keeps the palette tight), the comfy sofas, the bead-board ceiling, and the addition of something organic—think flowers, branches, or driftwood.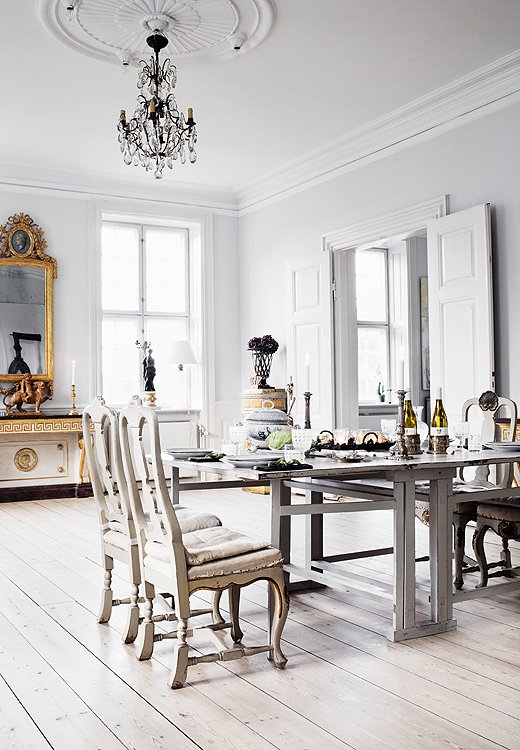 Gustavian Glamour
Whites as powdery as freshly fallen snow, intricately carved wood, gold accents—these are the hallmarks of this 18th-century Swedish style, which was influenced by French Neoclassicism. Dining rooms, inherently one of the most formal spaces in the house, wear it well. So we say bring on the chandeliers and gild the lily-white walls.
Modern Eclectic
If you love a mix-master approach to decorating—pairing a Victorian chesterfield sofa with a midcentury Eames lounge chair—opting to keep them the same color will ensure that space looks thought-out, not thrown together. Designer note: Vintage pieces in black and white always look more timeless than their colored contemporaries.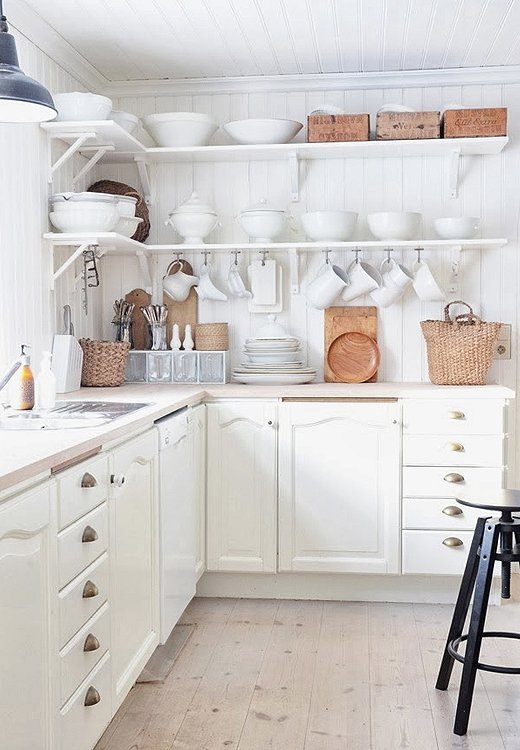 Country Cottage
What could be more charming than white paired with wood and woven fiber? It's crisp and clean yet homey and welcoming. Sticking with white is particularly smart for petite kitchens, as is putting in open shelving, which allows your eyes to reach the outer limits of the wall as opposed to being blocked by space-stealing cabinets. For the neatest, most pulled-together look, adopt an all-white servingware rule too (tell friends and fam so that they'll always have something to get you for your birthday!).
Charmingly Minimal
When extended from room to room, a white palette makes a space look pulled together yet endlessly spacious, which is especially important in historic homes where rooms are less than large. Painting the floorboards not only amplifies this feeling, but lets you salvage original wood floors that might not be in good enough shape for stain alone.
Scandinavian Chic
When it comes to this Nordic style, think northern lights: white walls, pale wood accents, creamy furnishings, and a generous number of light fixtures. Its effortlessly fashionable look is achieved by devil-may-care layering: a hide over here (maybe laid haphazardly over a carpet), sheepskins over there, and art leaned oh-so-casually against the wall. Texture is the easiest way to add interest to a room when you'd prefer not to introduce additional colors.