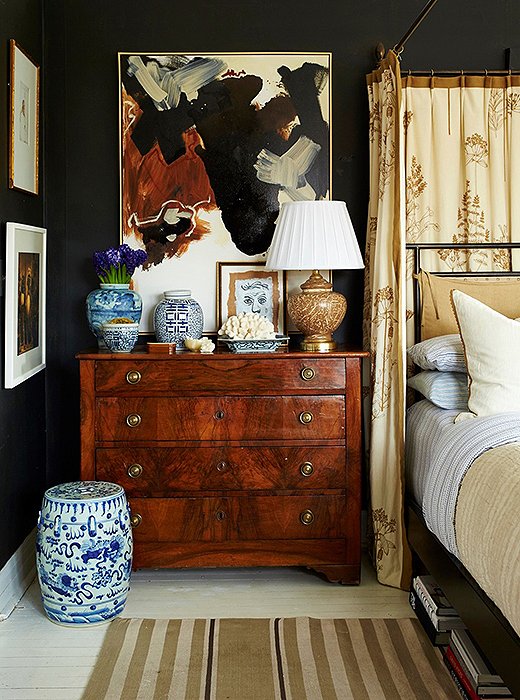 My Style
If you weren't a designer, what would you be?
I would be an artist. I actually quit my job with an architecture firm eight months ago to pursue my other passion, art. It's been really amazing, and I'm so humbled to wake up every morning and be able to do both my passions every day: art and interiors.
What are you most inspired by?
Design books. I don't have a TV or internet, so my living room is stacked with design books. If I'm ever bored, which is rare, or slow down, I love to sit on my sofa with my dog and get lost in a stack of books! There are so many little things on each page that you can miss, even if you have looked at the book 12 times already.
Whose style do you admire?
Gil Schafer for architecture and Daniel Romualdez for interior design. Both are design geniuses!
Who is your ultimate design icon?
I'd have to say Mark D. Sikes. I have yet to see one project I dislike. On top of that he's such a nice guy. These days that's hard to find… seems like a lot of people have a chip on their shoulder. Life is way too short for that!
What's on your nightstand right now?
A lamp I painted; a blue-and-white vase with white peonies; a blue-and-white tray for my wallet, glasses, keys, and the like; a small marble vase my mom gave me (more blue and white), and a glass of red wine… naturally!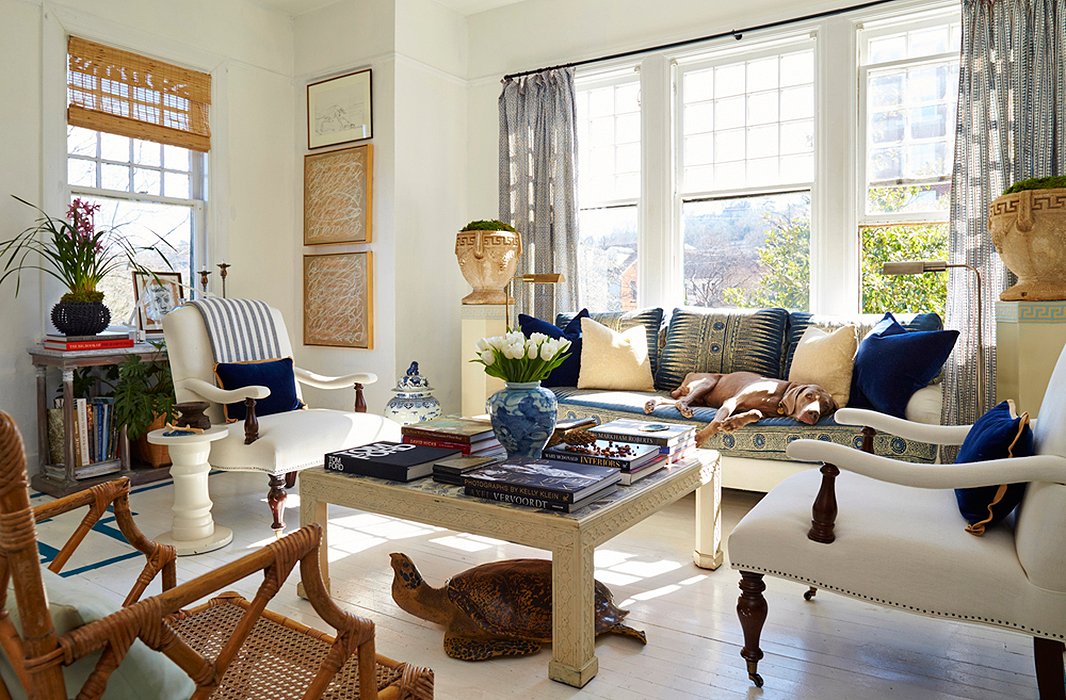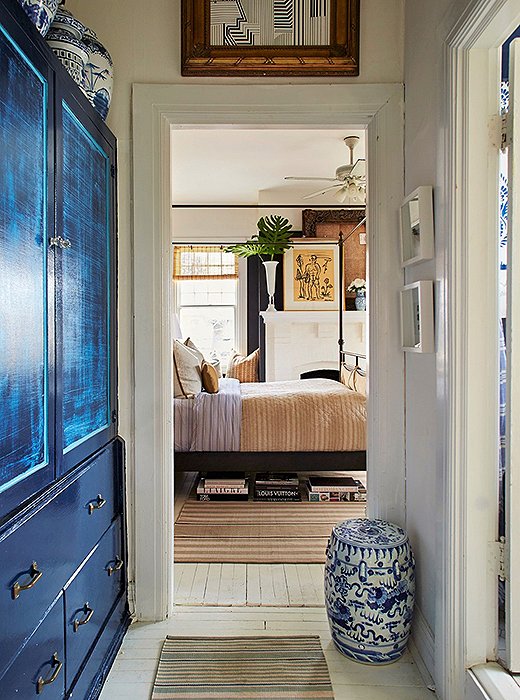 Favorites
A museum you adore?
Hands down, the Metropolitan Museum of Art. It covers almost every end of the spectrum.
What's your go-to hostess gift?
I would have to say a candle. Right now I'm obsessed with the scent Le Long Fond by Maison Louis Marie. It works well with masculine or feminine interiors.
Your favorite restaurants?
Well, anyone who knows me well knows that I love my sides and my carbs! I love macaroni and cheese. Bottega Café in Birmingham has one of the best macaroni and cheeses I've tried so far. Houston's in Atlanta has an amazing veggie burger!
Your favorite hotel?
The Chateau Marmont. It's a beautiful setting and chock-full of great history!
The movie interior you'd move into if you could?
It would have to be the plantation house in the movie The Big Chill. It's gracious without being overbearing, on the water and breezy. At heart I'm a country boy, so I'd love nothing more than to be able to leave the city every day or on the weekends with a big group of my friends and head there.
Your favorite album?
I'm a big Pandora radio fan, so every night I listen to Opera radio to wind down. Madame Butterfly, "Un bel dì vedremo" is one of my favorites.
Your favorite cocktail to whip up?
I'm a very go-with-the-flow guy, so I'll pretty much drink anything. Pinot noir is hands-down my first choice, no matter day or night!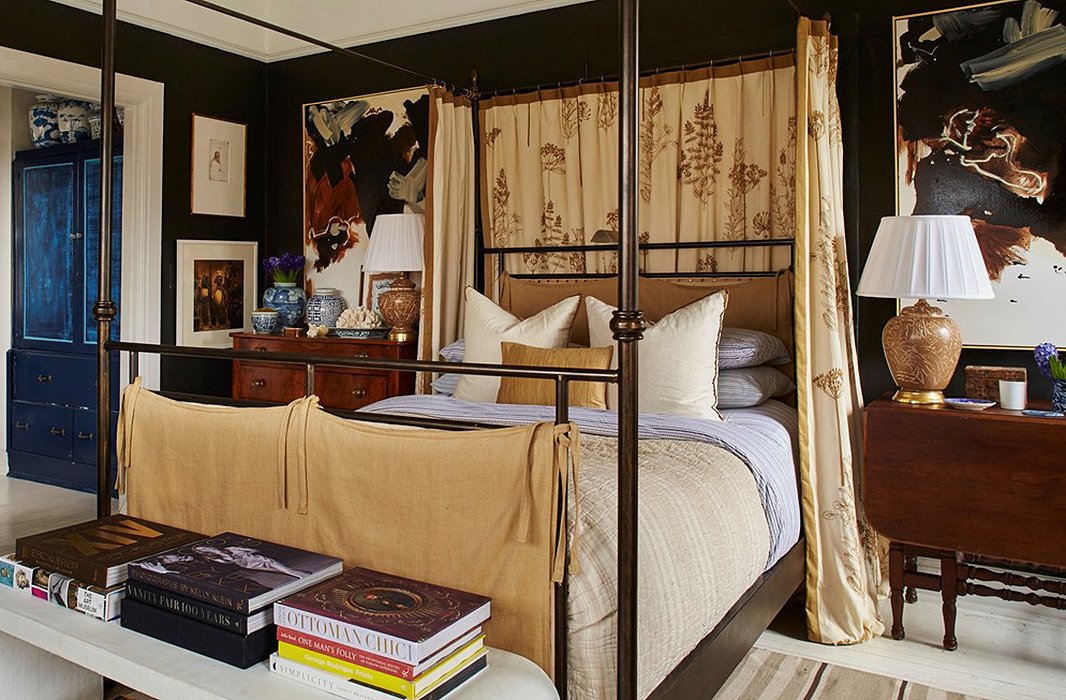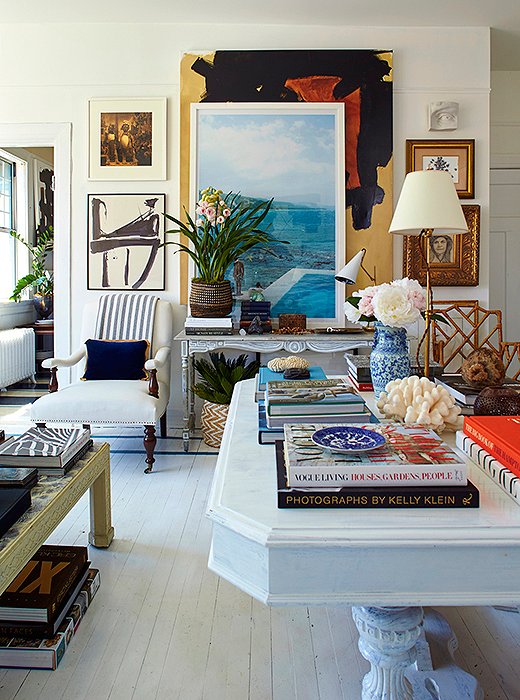 Decorating
What colors are you loving at the moment?
Camels, warm whites, and a hint of black!
What's one thing that every room needs?
At least one floral arrangement. Fresh flowers change the mood of the room and add an ambience your guests will appreciate.
What materials and patterns are you into right now? 
I'm about to redo my living room, and I'm loving Sister Parish's Bolero, Carolina Irving's Patmos, and Miles Redd for Schumacher's The Wave.
Your favorite decorating cheap thrill?
Craigslist antiques. The chest beside my bed I purchased off Craigslist for $175. It's burled walnut with brass hardware. Also, painted floors are a great way to inexpensively change your floors and make them look amazing.
What paint color are you obsessed with?
I love Prussian blue paired with Koala by Pratt & Lambert.
One decorating technique you'd never use?
Hmm… mass-printed, manufactured art.
When decorating, where should people splurge and where should they save?
Splurge on antiques and art. They're an investment. Upholstery is a dime a dozen.
How do you overcome decorator's block?
Oddly enough, I look at Pinterest. It's the people you follow who cultivate what you see.