From freshly cut bundles of sweet pea to potted crocodile ferns, these experts tell you all about the plants and flowers they favor during winter's darker months. No matter if you live in four seasons or just one, these vegetative pick-me-ups are sure to inspire a brighter day.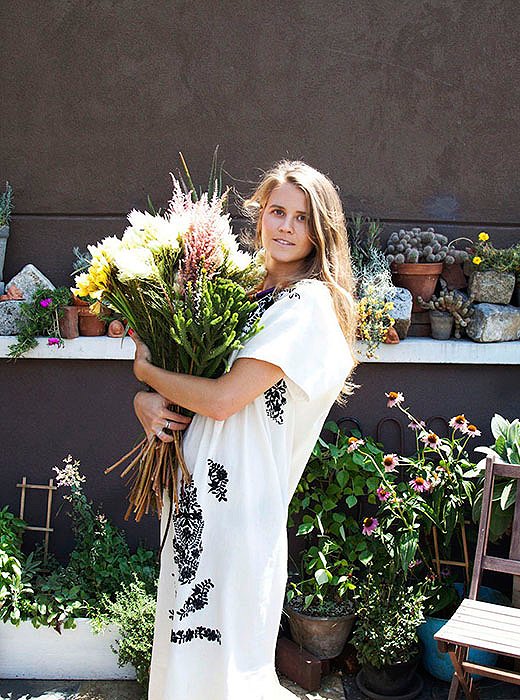 She loves fragrant florals for a cozy, curled-up vibe…

Tuberoses: Taylor is drawn to these feathery night-bloomers for their sweet smell and delicate stem. "Their scent is like something you'd come across in a cozy tearoom," she says. When it comes to display, she prefers "a small bud vase or handmade ceramic… something less elegant and more utilitarian."  
Sweet peas: With petals that drape in orchidlike form, sweet peas were discovered in the 17th century by an Italian monk roving through the Sicilian countryside. Taylor favors them "because they're light and bright." Their ability to perfume a room means they often end up in her bathroom, casually placed in an old glass medicine bottle in lieu of a vase.

Icelandic poppies: Taylor says "go for these if you're looking for something with a bigger bloom." Like tuberoses, they're subtly fragrant and have slim stems that pair perfectly with taller vessels or even an empty bottle of your favorite wine. Their bright color (most are yellow, red, or somewhere in between) makes them a surefire way to perk up a vignette.
She loves a medley of plants, flowers, and branches…
Rex begonias: As we all know, "the cut-flower selection can get a little boring in the winter season," says Jill, "so add to your floral repertoire with indoor plants." She suggests rex begonias as a "fun choice because there are so many striking color-and-texture combinations." She likes to create stunning tablescapes with a "grouping of three to five smaller ones in simple terracotta pots." Once that's done, she notes, you can clip the leaves and use them to complement more-feminine florals in petite arrangements.
Bulbs: If you're looking to get your hands dirty, Jill recommends forcing bulbs such as hyacinths, tulips, muscaris, and narcissi indoors. Achieved by planting the bulbs in gravel or dirt inside a roomy glass cylinder, this method creates a kind of seasonal hourglass—putting the roots on display and allowing you to see how the plant grows with the passing of each winter day.
Branches: For a sculptural display, consider bringing in what Jill calls "special branches" from your very own backyard. "We love using all different kinds… think evergreens with beautiful cones—bare, craggy, and covered with lichen." Keep an eye out for flowering varieties in a state of bud—magnolia, dogwood, and quince "can be brought inside to bloom in the warmth of your home." Before you prune, though, be sure to select a tall vase, "then look for branches that are about twice its height," she suggests. "Something bottle-shape with a wide round bottom and narrow neck works well, especially if the branch is heavy or curved."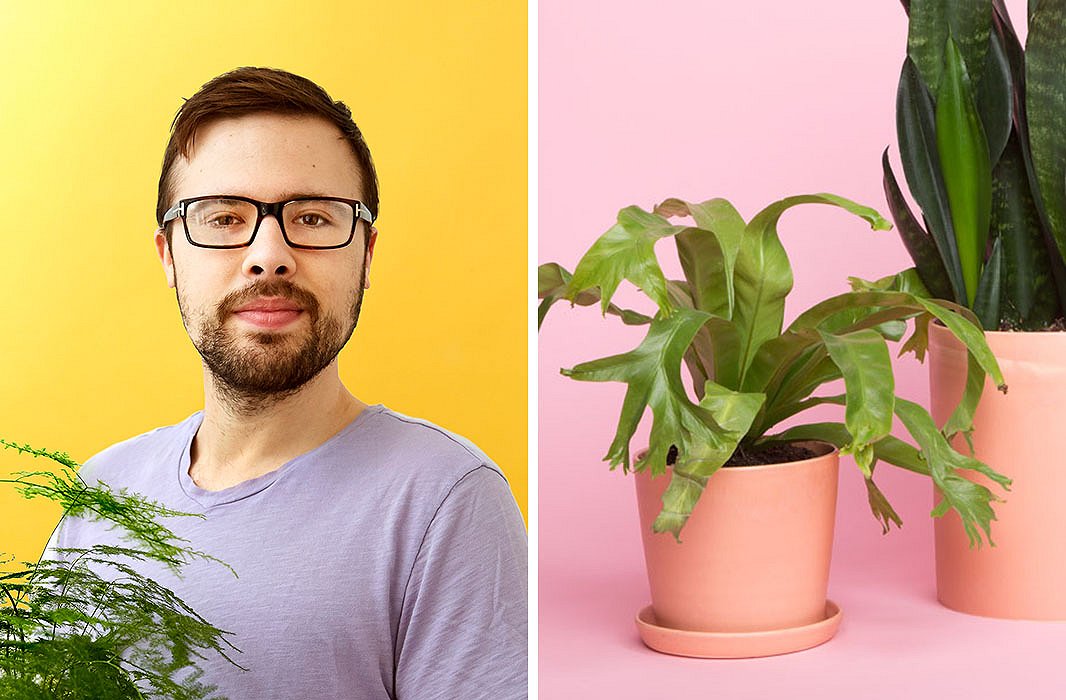 He loves an exotic touch for a variety of spaces…
Bird's nest ferns and crocodile ferns: "During the winter months, a lot of people don't notice that the sun is lower in the sky," says Chris, who says you should take this into consideration when selecting houseplants. A low sun means that the rooms in your home aren't getting as much light as they would in spring or summer, but luckily, "ferns are one of the few plants that will continue to grow indoors during winter, because of their low-light tolerance." Potting them is easy, and maintenance even easier if you line the bottom of your pot with an inch of lava rocks. Their porous composition lends lava rocks a spongelike quality, allowing them to absorb excess water then release it back into the soil over time.
Marimo moss balls: A type of green alga that forms spherical colonies, Marimo balls are considered a national treasure in Japan, where people name them as you would pets. Requiring only an hour or two of sunlight a day, they're the nomadic renter's alternative to Fido. Leave out a glass canister of cold tap water for a few hours to get rid of any chlorine, then simply plop a few of these in for a centerpiece that's sure to spark conversation.

Birds-of-paradise (also known as crane flowers): A good choice for anyone living in warmer parts of the world, these tropical floor plants are a favorite of Chris's because of their resilience. Just make sure to "place them in a window that gets sun for most of the day, then once a week, check that the soil is moist two to three inches below the surface." Doing this will prevent you from overwatering, as the top of the pot is always going to be dryer than what lies beneath.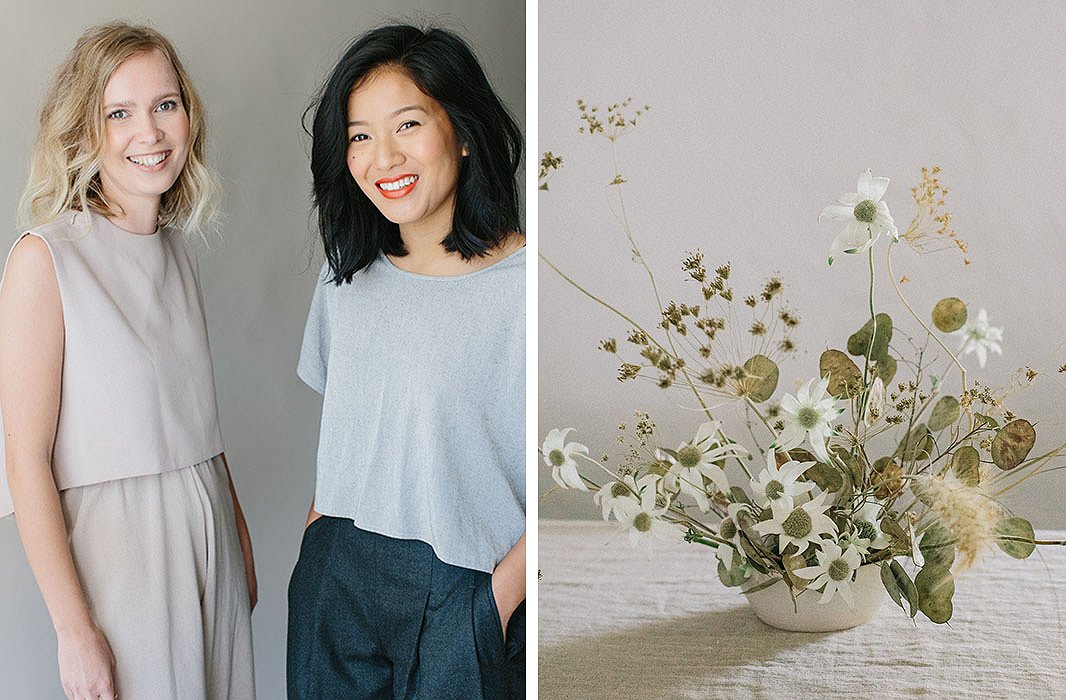 She loves faded beauty, foraged and found…
Lunarias and bark: In winter, Amanda leans "heavily on dried materials for arrangements." Inspired by their soft, muted tones and graceful forms, she and her team will seek out elements such as windfall bark and lunarias on morning hikes.   
Flannel flowers: Native to Australia, these star-shape florals serve as a fresh touch when mixed in with drier counterparts. "The flowers themselves are fuzzy and soft, with a felted texture," says Amanda. "They add a coziness that we adore."
On presentation: "We like to match the unfussy, minimal, and sculptural dried materials of winter with simple hand-thrown ceramics. Arranged in flower frogs and enriched with a few fresh blooms, even the most modest dried ingredients can be showstopping centerpieces."
She loves something special to surprise and delight…
Lilies of the valley: A personal memory makes this dainty plant with bell-shape blooms one of Denise's all-time favorites: "I remember smelling it on my grandmother's block in Queens and was totally captivated. It's scent is so feminine… it's like nothing else." She often places them in a mint julep cup or a petite vase on her bedside table—an aromatic treat reserved just for her.
Kumquats: "This time of year, especially in New York, can be particularly dreary," says Denise, "so anything you can bring home that's brightly colored or fragrant is worth it." Citrus fruits like kumquats, a seasonal offering at the flower markets, are another one of her trusted go-tos. If you don't place them in a tall sleek vase, she suggests incorporating them into place settings or centerpieces for a burst of color and visual intrigue.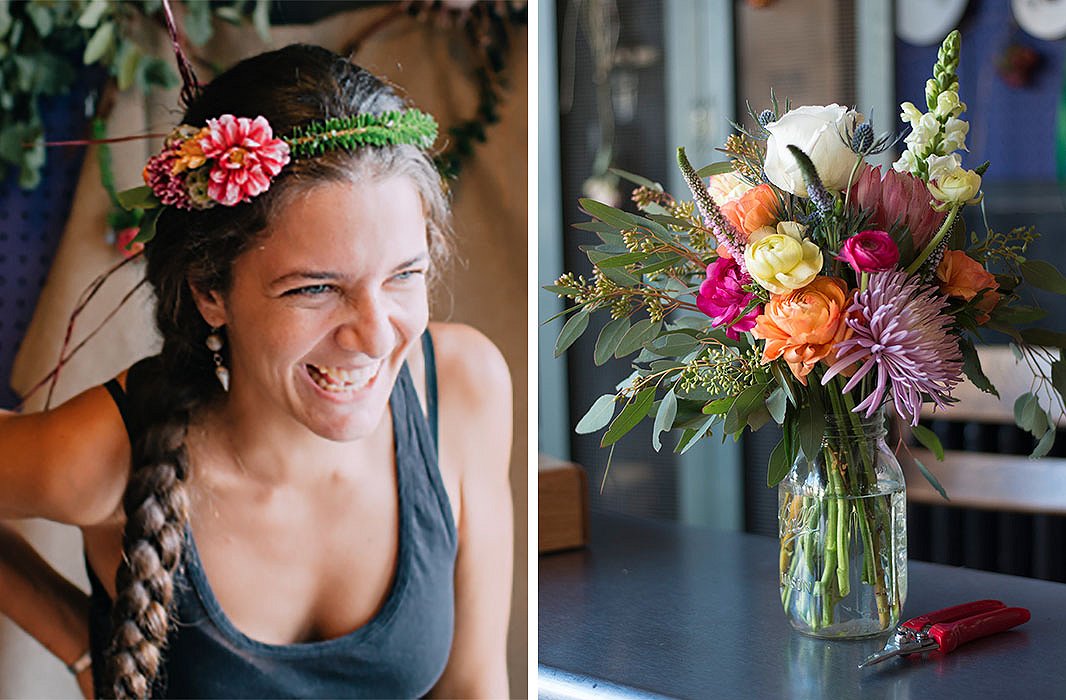 She loves a vibrant trio for added warmth…
Mink proteas: Looking like "a cross between a magical dragon and an underwater coral," these bold blooms are of particular interest to Anait for their signature trait: fire resistance. Endemic to South Africa and volcanic areas, they're a natural barrier against heat and fire. For aesthetic purposes, they add statuesque detail wherever they're put. 
Thistles: "Thistle's longevity and ability to dry out in a beautiful way makes it the ideal bouquet addition," Anait says. Bristly and porcupine-like—and considered a national emblem of Scotland—it's the token "rugged touch" in many of her winter creations. 
Snapdragons: Anait looks to snapdragons for their fanciful form and fresh springlike scent. A contrast to thistle, they're a "wonderful addition for any arrangement needing something softer."

On vessels: "Overall we love using simple vessels, and our arrangements usually come in mason jars or French metal buckets. We love using things like these because of their organic feel. We don't need a vase to be trying too hard—the attention should always be on the flowers!"