If you love design (and you're a tiny bit voyeuristic), this one's for you! We recently partnered up with two cool companies—Taylor Burke Home and Cotton & Quill—to put together a fun decorating challenge for five inspiring design bloggers.
Each of the five picked out one of Taylor Burke's X-benches, worked with Cotton & Quill on the fabrics, and designed a room in their home around it (that's the living room of Waiting on Martha's Mandy Kellogg Rye above). We were thrilled to be involved because X-benches are ridiculously versatile—we actually used different styles of them in two recent makeovers we did for news-anchor Natalie Morales, and the founder of blog Honestly WTF, Erica Chan Coffman. Needless to say, we couldn't wait to get a peek inside the bloggers' homes to see what they dreamt up. And this is the big reveal!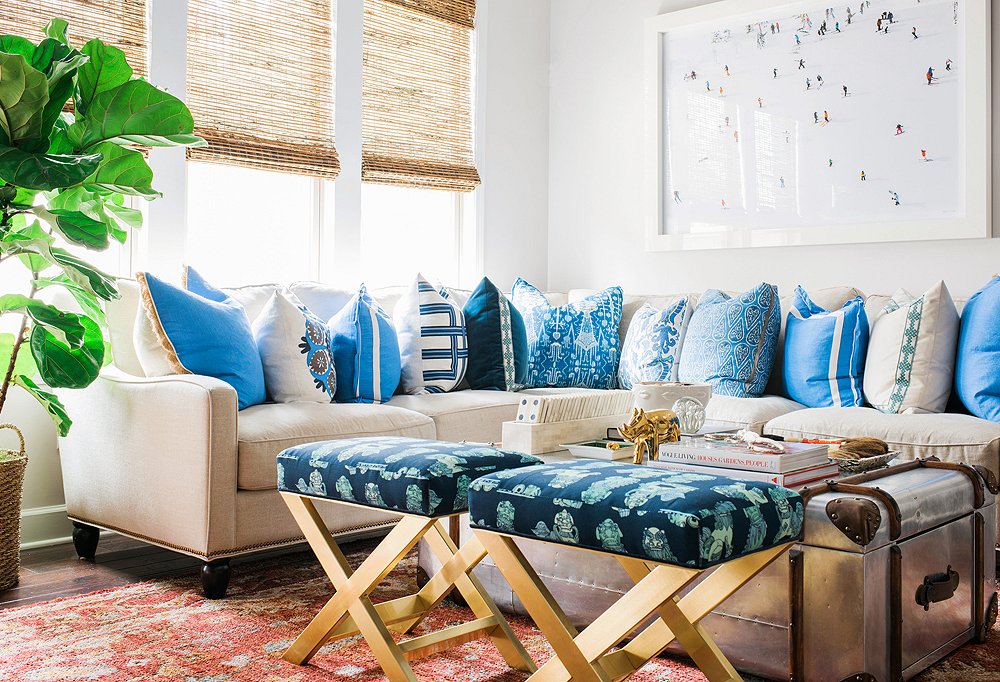 Blogger: Mandy Kellogg Rye of Waiting on Martha
Her Design: For her benches, Mandy jumped at a lively Cotton & Quill foo dog pattern in a bright blue that riffs off her enviable collection of pillows. To draw focus to these anything-but-moody blues, she kept the walls, couch, and window treatments in the neutral family. But when it came to the rug, she took the color wheel for a spin and landed on a burnt orange, which juxtaposes perfectly with blue (they say opposites attract for a reason, right?).
Takeaway Tip: There's power in pairs: Symmetry is one of the quickest routes to a cohesive look, as her duo of benches proves.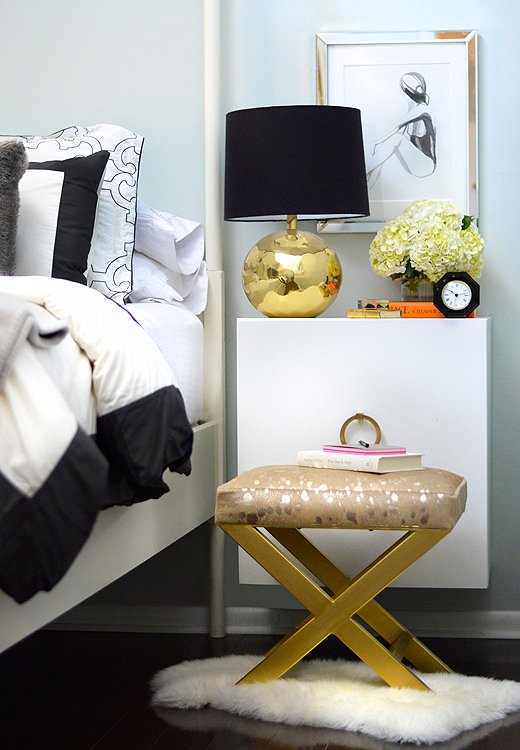 Blogger: Mallory Shaw of Confetti & Stripes
Her Design: A glam gold acid-wash cowhide bench guest stars in this blogger babe's bedroom alongside black and white furnishings and small-but-showy metallic accents—black, white, and gold are an always-chic power trio. A mix of uptown refinement (that elegant painting; those crisp linens) with downtown edge (that boho sheepskin; those hits of black) come together to create a polished vibe with moxie to spare.
Takeaway tip: Setting a stand-alone piece of furniture on an area rug grounds it, making it seem less randomly placed and more purposefully arranged.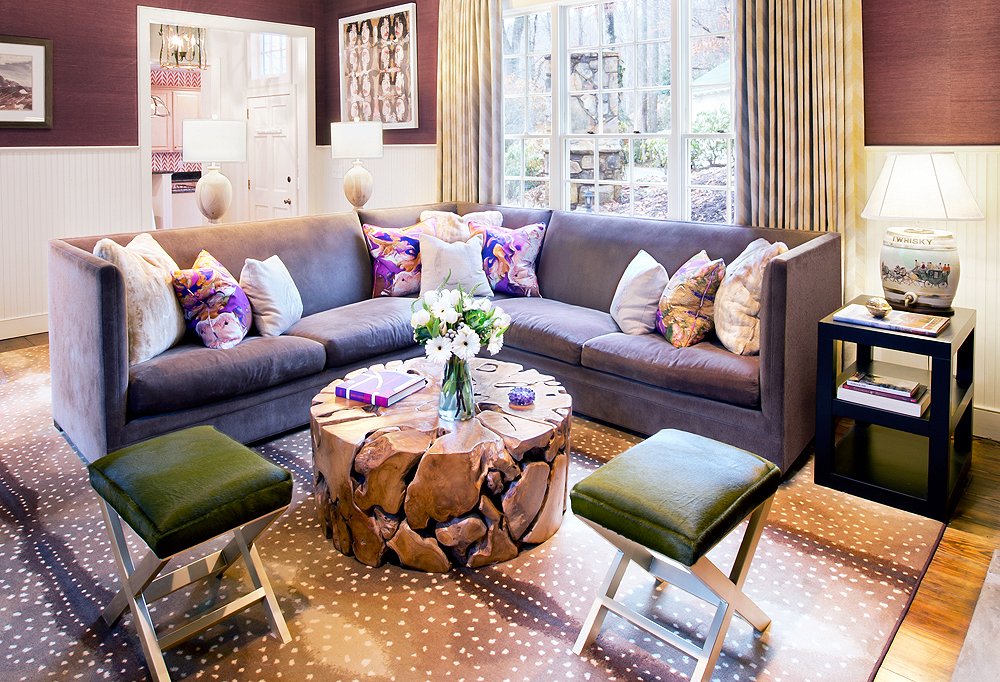 Blogger: Holly Phillips of The English Room
Her Design: This design maven went for major wow factor, working her benches into a living room awash in rich color and plenty of pattern. Against a highly textured coffee table, an antelope-print rug, and a tuxedo sofa layered with pillows created from Cotton & Quill's Purple Orchid fabric, the benches add a lovely moment of visual calm—and a spot to sit when guests are over!
Takeaway Tip: In common areas, benches or ottomans can be multifunctional, standing in as extra seating, side tables, or a spot to stack books or throw blankets.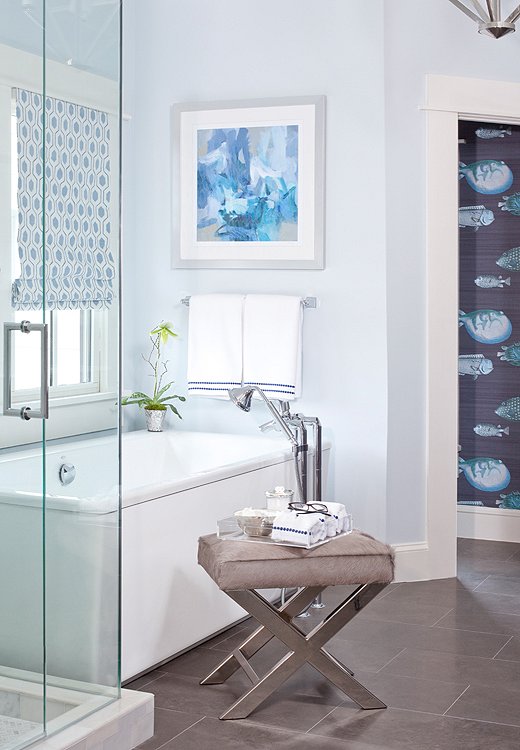 Blogger: Vicki Bolick of The Ace of Space
Her Design: Vicki worked a sleek chrome-and-gray-hide bench into her modern-meets-classic bathroom reno, which she decked out with a marble-tiled shower, blue-and-white Roman shades, and whimsical Fornasetti Acquario wallpaper. We love how the cool shades evoke the sea, and you can just imagine how utterly relaxing it would be to soak in that tub with your towel draped across that bench and a glass of chilled wine in a tray next to your bath salts.
Takeaway Tip: Cowhide makes a great choice for upholstery in bathrooms because it's practically waterproof.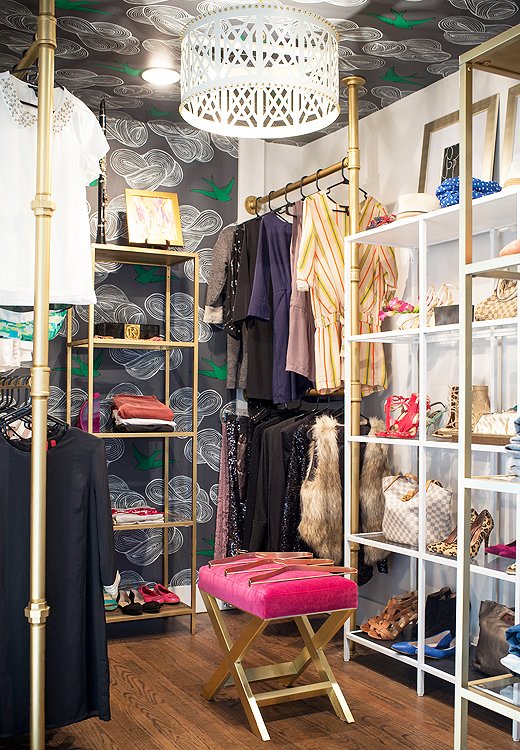 Blogger: Krystine Edwards of Living Pretty Styled
Her Design: In three words? Our dream closet. Krystine had a master closet in need of some TLC, so she completely transformed it with clever (and cheap) DIY shelving, a Don't Fret! pendant from Taylor Burke, Daydream wallpaper from Hygge & West, and an eye-popping pink velvet bench.
Takeaway Tip: If you have the room to swing it, adding seating will take a closet from basic to boudoir.