Scents & Feel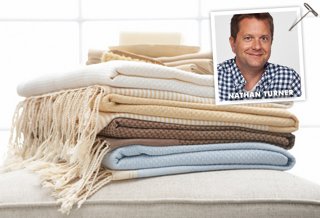 MY GO-TO SOURCE FOR TEXTILES
Scents and Feel
For anyone with a busy schedule and a bustling home, it's nice to have things that not only look beautiful but also can seriously multitask. No matter the room or the function, great-looking Turkish towels from Scents and Feel add global flair and an extra layer of interest to any space.

Here's how I use an armful of these fabulous towels to work overtime in the home.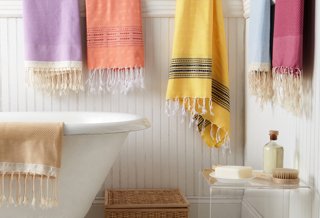 In the Bathroom
Traditional Turkish fouta linens add a different aesthetic that's much more decorative than a traditional hand towel. Hang three or four in the bathroom for guests. The colors and patterns are great, so mix and match hues or blend stripes and solids for a unique bath accessory.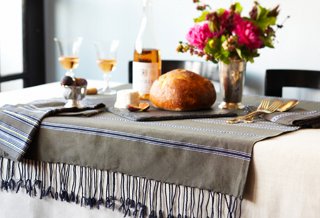 On the Table
I love the details on these towels. Their gentle fringe and subtle pattern are fantastic. For an unexpected, casual table, layer the towels over another tablecloth with the fringe hanging over. It gives you kind of a messy, not-so-perfect look, which I do for lunches.It instantly feels like you are dining in the South of France.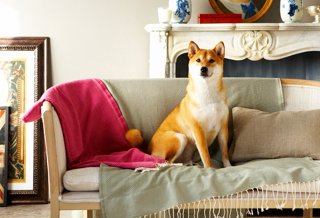 In the Living Room
I love my dogs, Daisy and Nacho, but I know the importance of protecting your furniture from pet hair. The towels are great for draping over a chair, a sofa—anywhere the dogs love to curl up. You can even wrap an entire settee cushion with them. It protects your fabric and changes up the look of the piece.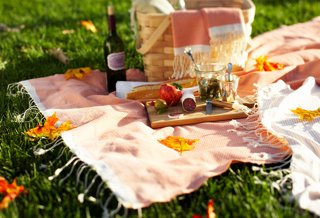 On the Go
I often meet friends for a beach picnic or an outdoor concert. These towels make great picnic blankets. Keep some in your go-to tote to bring along as an al fresco tablecloth or for friends to sit on. They can even serve as chic wraps if an unexpected breeze comes along.
Love Scents and Feel Textiles? Click our Like button for more sales like this. Click Send to email privately to a friend.
}