Bric's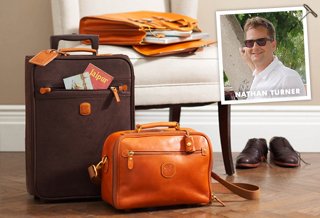 MY GO-TO SOURCE FOR LUGGAGE
Bric's
Traveling is such a huge part of my life. Bric's tried-and-true luggage makes all the hours spent in airports and hotels a pleasure. I love how their pieces hark back to the days of luxury travel while boasting plenty of amenities for the modern traveler.

Here are my must-have pieces and how I like to use them on the road.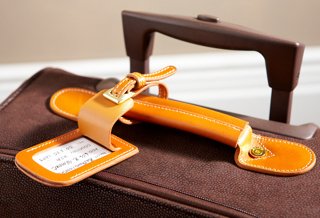 Old World Craftsmanship
I love things that wear really well. Like antiques…the more they age, the better they look and feel. These Italian-made leather bags will last and look even better in 10 years. Though this trolley case can work as a carry-on, its rich details like the stitched handle and the leather ID tag remind me of old steamer trunks.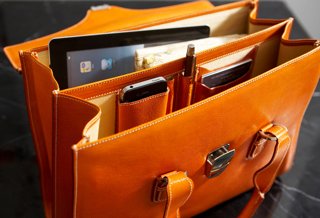 Carry-On Chic
When it comes to my carry-on bag, I'm low maintenance. This sleek accordion-style tote holds everything I need. It neatly stows my iPad (I don't know what I did before this device), phone, passport, and any other in-flight essentials. The cognac leather looks so elegant.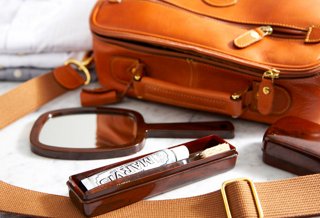 Gentleman's Essentials
I like to have the niceties of home when I am traveling. This great oversize Dopp kit carry-on includes a faux-tortoise soap case, toothbrush holder, and hand mirror. They are perfect for a quick freshening-up on an all-night flight.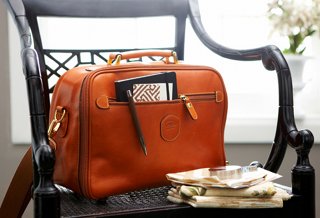 From Carry-On to Carryall
When I land, one of these great carry-on pieces can quickly transform to an essential carryall. Whether I am running around to shops and museums or meeting with clients, it can handle my notebooks, swatches, fabric samples, and tape measure.
My Travel Style
I like to watch on my iPad films that are set in the country I'm traveling to. I was recently in Paris and watched Dangerous Liaisons on my way there.
In addition to the books on my iPad, I always pack an actual book to read.
A passport cover is such a great little luxury. Mine is blue with a white silhouette of the United States and has red stitching.
I always walk around a foreign city at night. You can see inside the homes and get a peek at the way people live. London is great for this because their windows are lower.
My go-to travel camera is a Canon G12. It takes great pictures, but it's still an automatic, so you don't have to deal with changing lenses.
Love these Bric's Travel Accessories? Click our Like button for more sales like this. Click Send to email privately to a friend.
}