The Guest Suite


Five Rooms in Five Days
The Guest Suite
Holiday guests will be arriving before you know it. What better time to give your guest room a five-star makeover? Easy to maintain,versatile, and seasonless, the white towel is an essential element of any well-composed guest bathroom.

Tip: Stack them in piles for a pristine, tailored look, or keep them rolled in a basket for a more casual feel.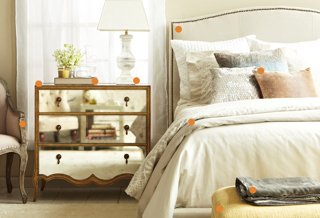 Dreamy Escape
A dreamy bed is a much-appreciated respite for overnight visitors—don't be surprised if they're late for breakfast.

Tip: Choose a headboard that is neither too sweet nor too stately, along with luxurious neutral linens and a mountain of pillows.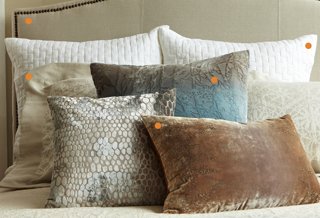 Posh Pillows
Your guest room will see a multitude of personalities; this is not the space to make a dramatic decorating statement.

Tip: Focus on a subdued color scheme and play up the pampering angle with touchable textures like these mohair and velvet pillows.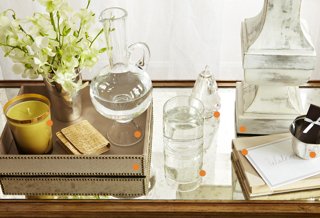 Scents and Sensibilities
Personalizing a space for its occupant is a sign of truly thoughtful hosting. A bouquet of favorite flowers or a delicately scented candle will enhance any room with a subtle, soothing aroma.

Tip: A freshly filled water decanter and a charming welcome note added to the mix are sure to make any guest feel at home.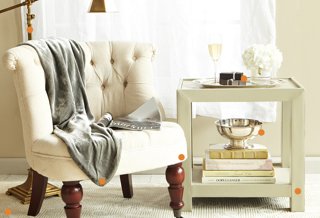 Quiet Comfort
Create a comfortable haven where your guest can relax before dinner with an elegant upholstered chair, some sophisticated accessories, and a sumptuous throw.

Tip: An artful arrangement in soft, serene colors will suit any visitor's style, season after season.
Effortless Additions
A simple and considerate gesture for any guest bathroom: an assortment of luxurious amenities. Place soothing lotions and fragrant soaps within reach to create a pampering retreat. Organize practical accessories on a tray.

Tip: Offering guests a catchall for their jewelry and other essentials is a thoughtful touch that won't go unnoticed.
Love these Guest Room Ideas? Click our Like button for more sales like this.
}