The Home Office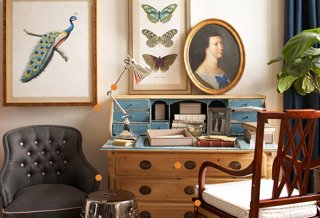 Five Rooms in Five Days
The Home Office
Whether functional or fanciful, a desk and its environs should feed your soul as well as keep the books balanced. Don't expect it to answer your phones, but a chic secretary can hold everything from letters and photo albums to candles and keepsakes.

Tip: Keep it open to display your accessories, or closed to showcase a beautiful piece of furniture.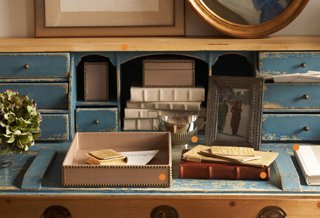 Conversation Pieces
Great accessories make great decor. Keeping them in view in your office opens up the room and adds a sense of personality, history, and visual interest to your space.

Tip: Photos and books can also serve as wonderful conversation pieces when entertaining.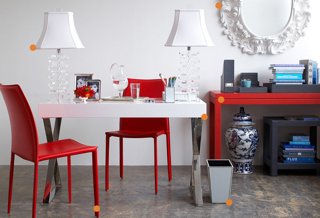 Modern Romance
Bold choices stand out no matter where they are, but a clean environment enhances their beauty tenfold.

Tip: Mix vibrant tones and playful lines with simple, classic pieces for a look that is modern yet romantic.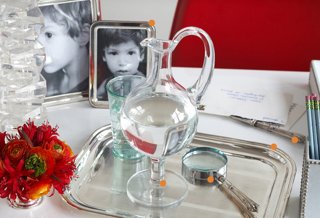 Get Personal
As with any other room in your home, the office is a place to surround yourself with the things you love.

Tip: Ornament your desk with family photos, a decanter, and other treasured (and useful!) objets—like a great magnifying glass or family heirloom.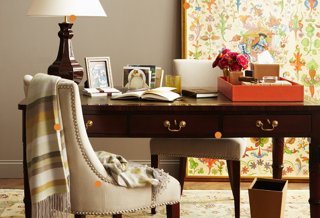 Blending In
A home office this refined can be situated in a more formal space—like your living room. A traditional desk with tailored touches looks even better with glamorous accents including a lacquered lamp, orange leather tray, and silver frames.

Tip: A colorful, framed print provides a beautiful backdrop.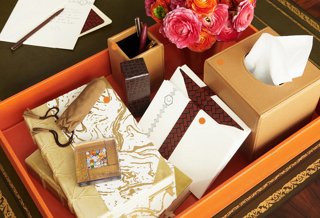 Tray Service
Replace the stapler and paper clips with items that are a little less perfunctory. Corral beautiful objects such as stationery, books, and a keepsake box in a smart textured-leather tray. They'll make the most mundane tasks more enjoyable.

Tip: A leather-covered tissue box and pen cup in camel will work with any palette changes in the office.
Love these Home Office Ideas? Click our Like button for more sales like this.
}