Bathrooms are among the most popular posts on our Instagram feed. Maybe it's because these small spaces, where most of us spend only a few minutes at a time, encourage people to take chances. After all, it's much easier (and more affordable) to repaint a powder room or swap out bathroom lighting than it is to make similar changes in a larger space. 
Below are a half-dozen of the fabulous bathrooms recently shared with us online. You can get more inspiration by following us on Instagram @onekingslane—and feel free to share your own spaces by tagging us with #myOKLstyle.
This might be the most serene bathroom we've ever seen. Designers Elly Poston and Lizzie Cox used touches of pale blue—the ceiling, the floor tiles, the sconce shades—to ensure that this otherwise white bathroom didn't feel clinical and cold. Find a similar sconce here and monogrammed towels here.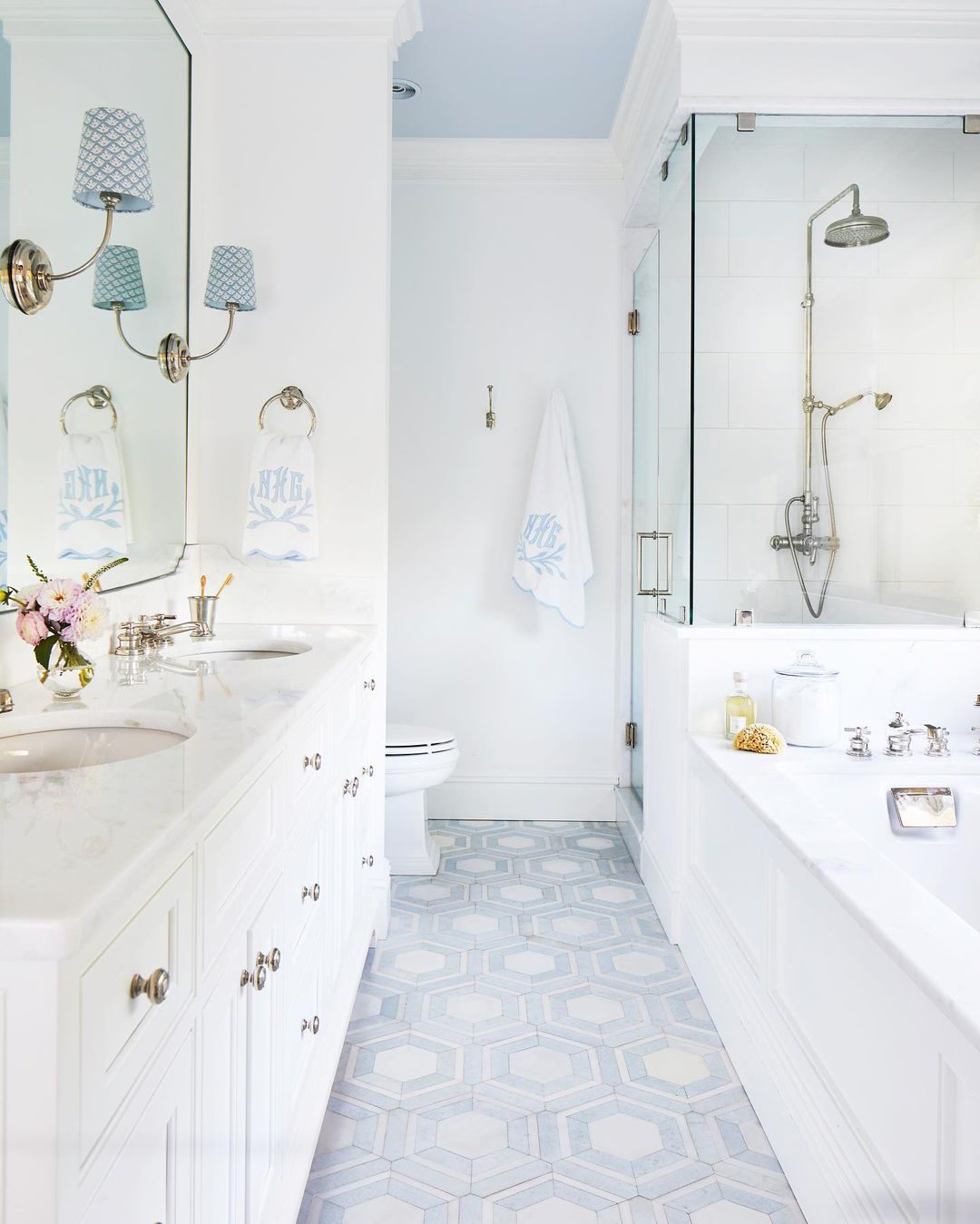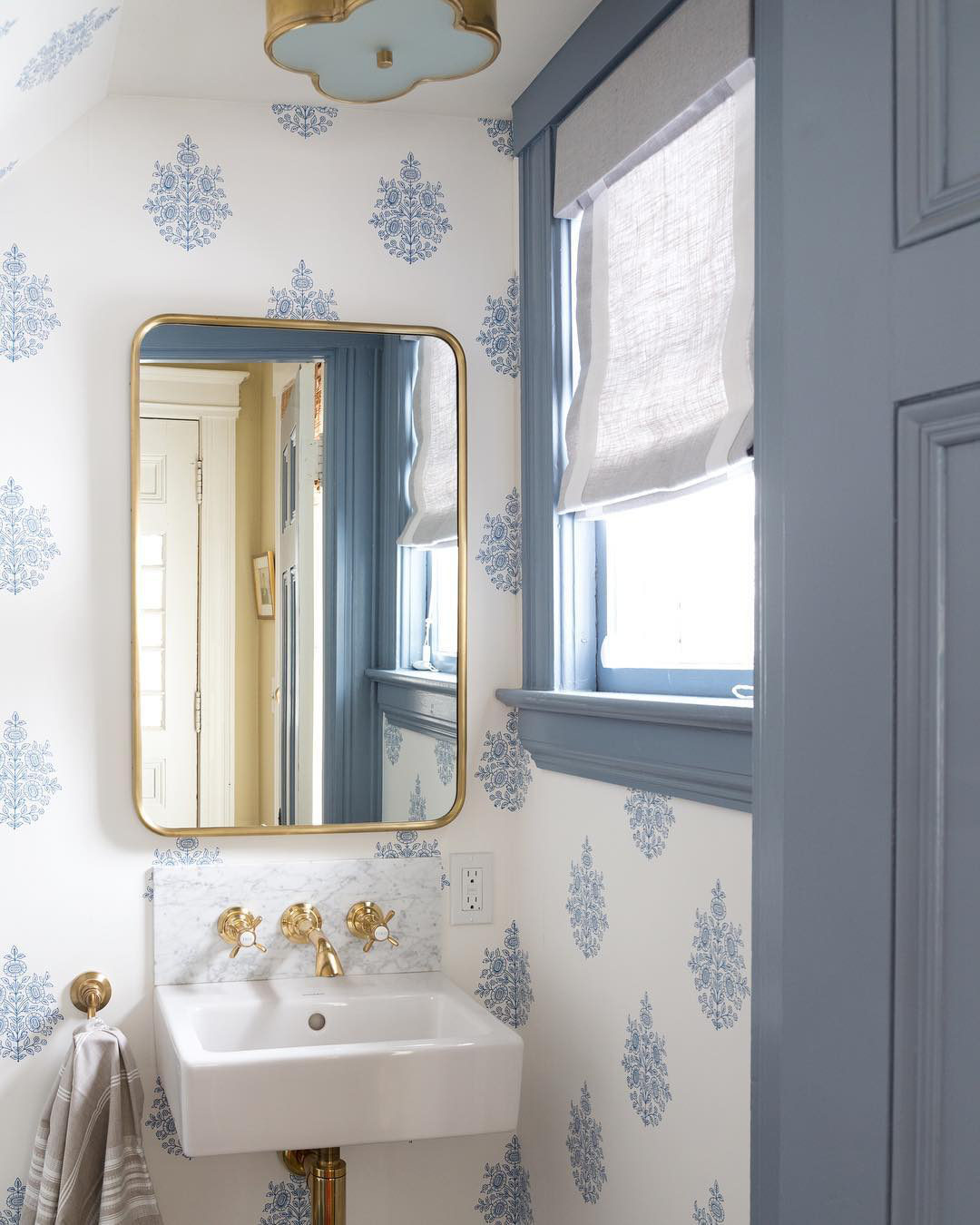 More soft blues and white, courtesy of Elliott|Meyers Design. Also contributing to the restful ambience are details such as the rounded corners of the mirror (find a similar mirror here) and the curves of the Basil Flush Mount light fixture. The wall-mounted faucet and handles are an efficient option for a powder room that can accommodate only the smallest of sinks.
With this bathroom, Hattie Sparks proves that dark walls don't have to feel heavy or masculine. The white floral sconces and the flowers painted on the golden mirror frame definitely lighten and brighten the space. And let's not underestimate the effect of those tulips in the vase. If you don't want to continually deal with falling petals and replacing dead blooms, opt for a faux arrangement instead.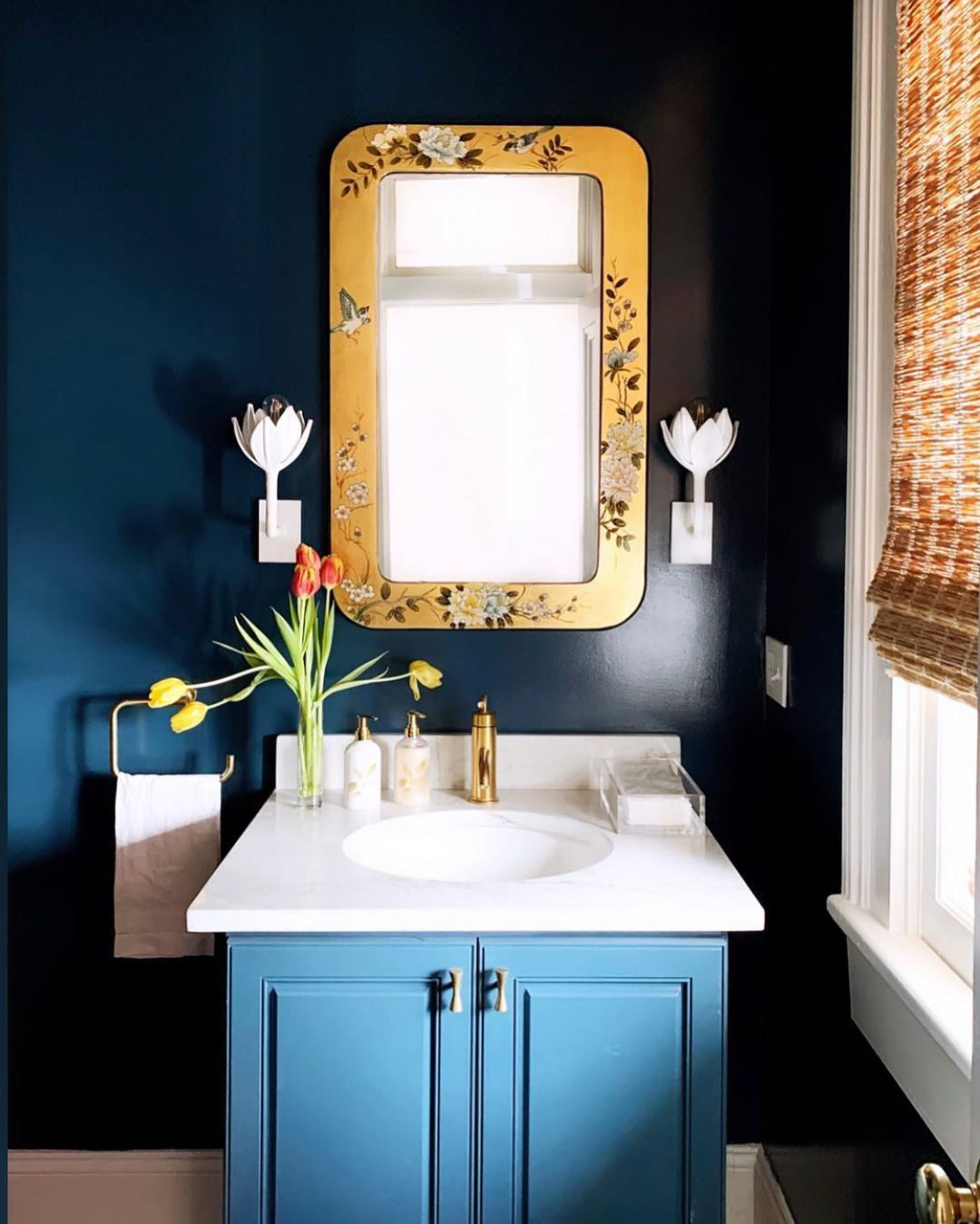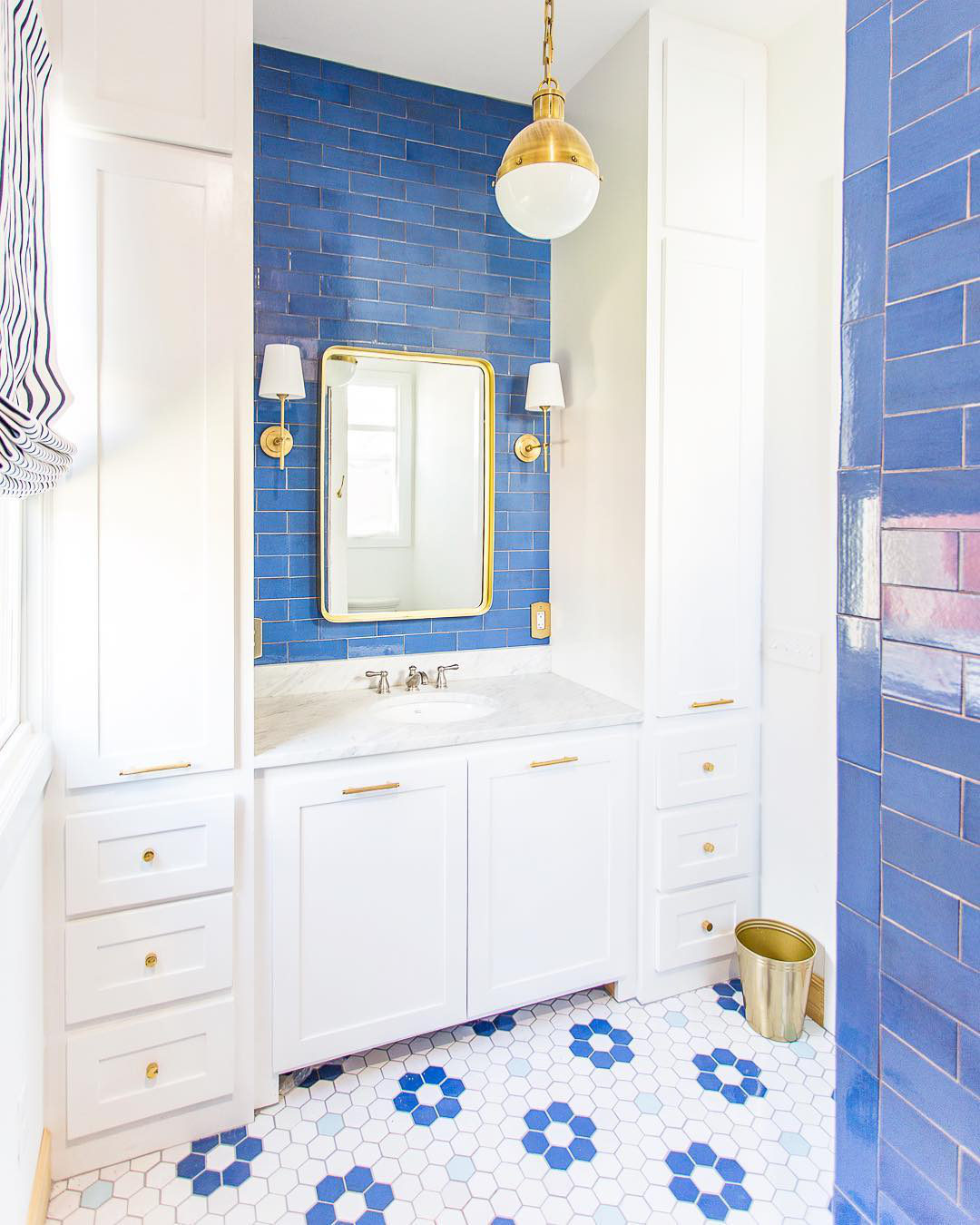 Whimsy is alive and well in this bathroom by Rachel Shingleton, thanks to the daisylike motif of the floor tiles. The golden sconces, ceiling pendant, and drawer and door pulls prevent the vibe from leaning too cute, however. And let's take a moment to admire all that storage flanking the sink: What a great way to use what's too often wasted space.
Who says you can't opt for large patterns in small spaces? Not us—and not designer Julie Donovan Design. The ample wall mirror (find a similar one here) helps make the tiny powder room feel larger, and the golden accents create a sense of luxuriousness without competing for attention with the wallpaper.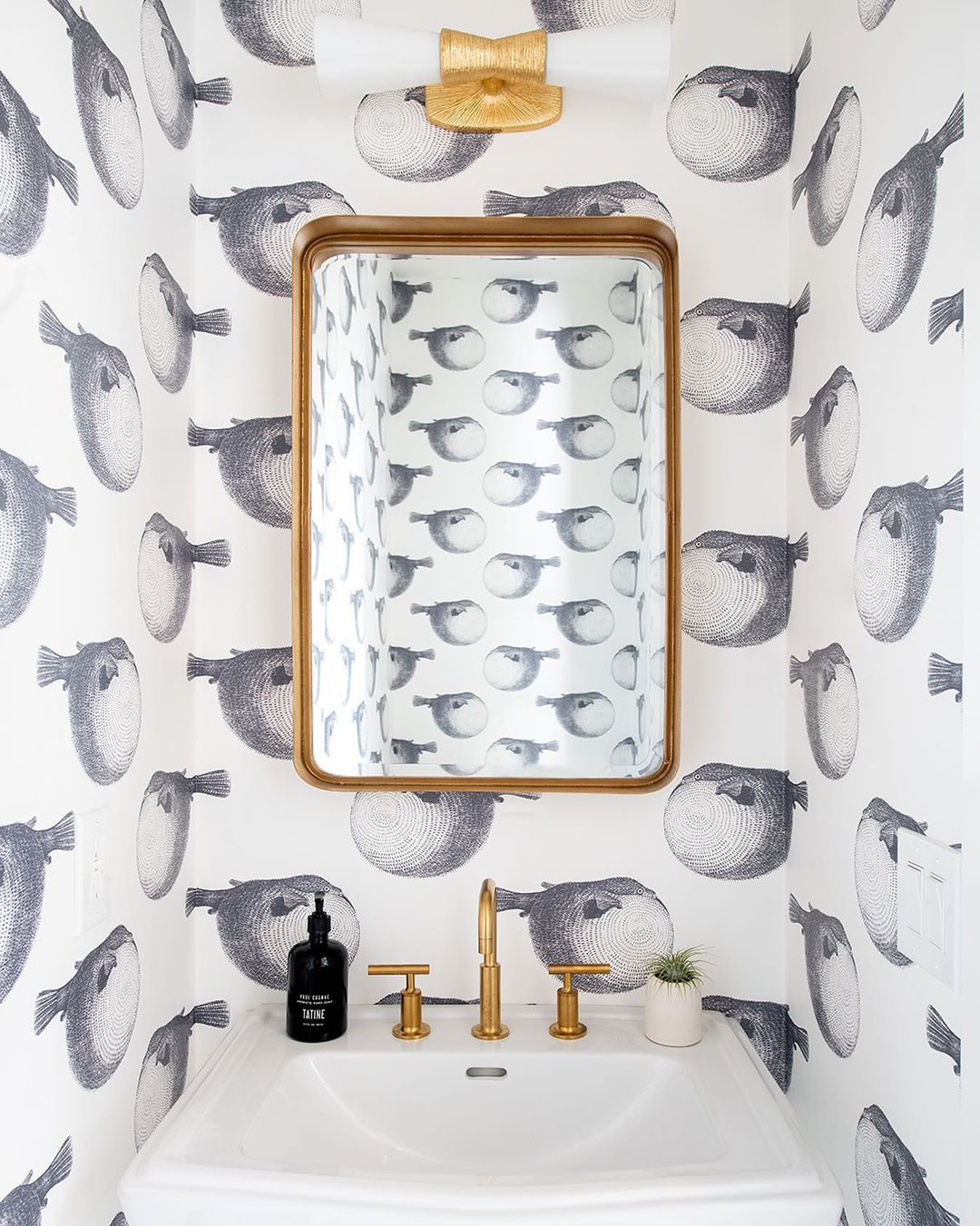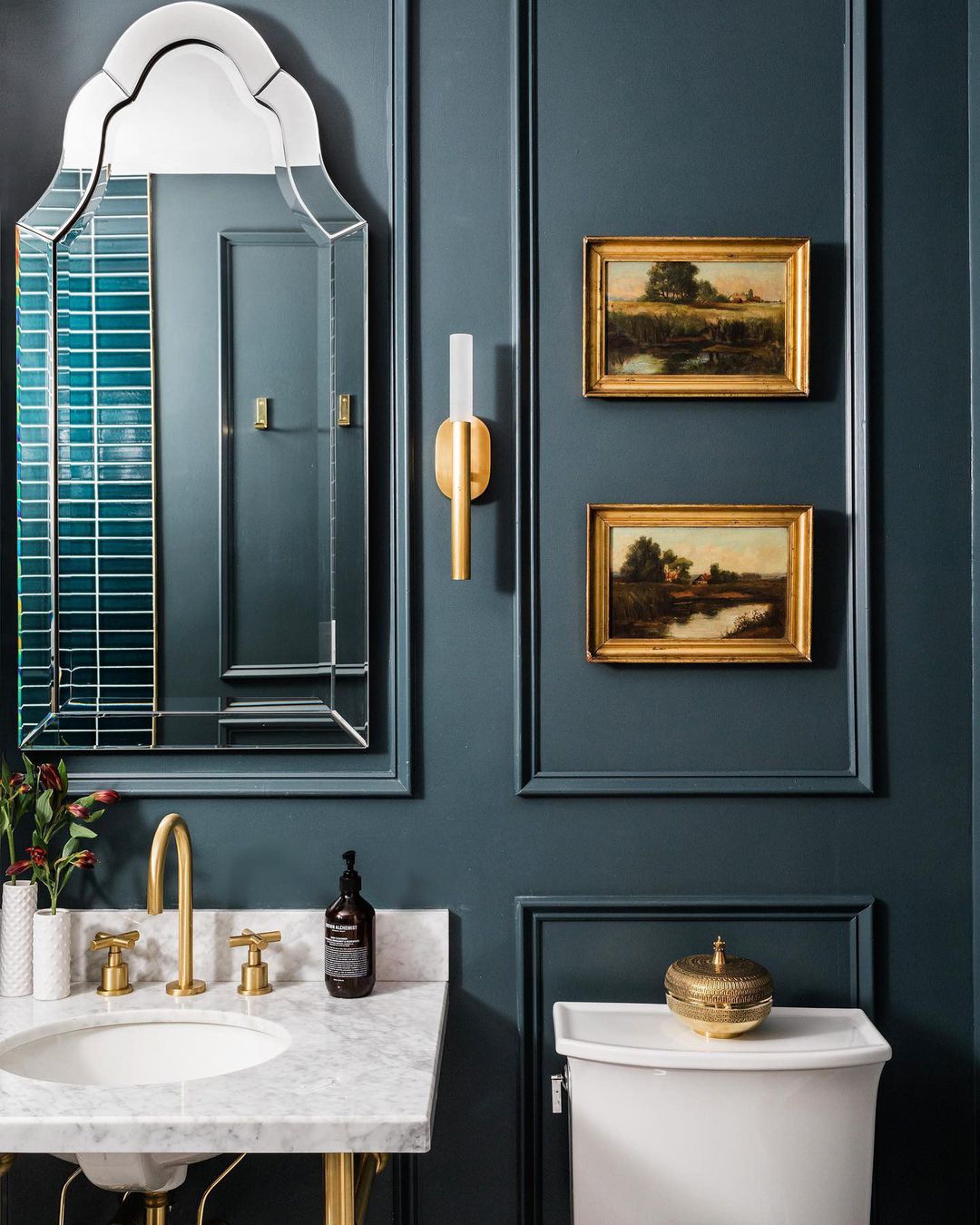 The only drawback to this bathroom by Dana Arazi Levine is that its library-like vibe definitely encourages lingering. The moody green walls, complete with molding, dramatically set off the golden picture frames, sink fittings, and other accents. And the arch of the Nunez Wall Mirror complements that of the faucet while providing a contrast to the room's numerous straight lines.