We stopped by Bunny Williams's chic New York showroom prior to the holiday season. As expected, the holidays extend beyond the home for the celebrated decorator and gracious hostess, who takes to setting a stylish holiday scene each year in her work space. Read on for her genius ideas for wrapping gorgeous gifts, the perfect last-minute presents, and more.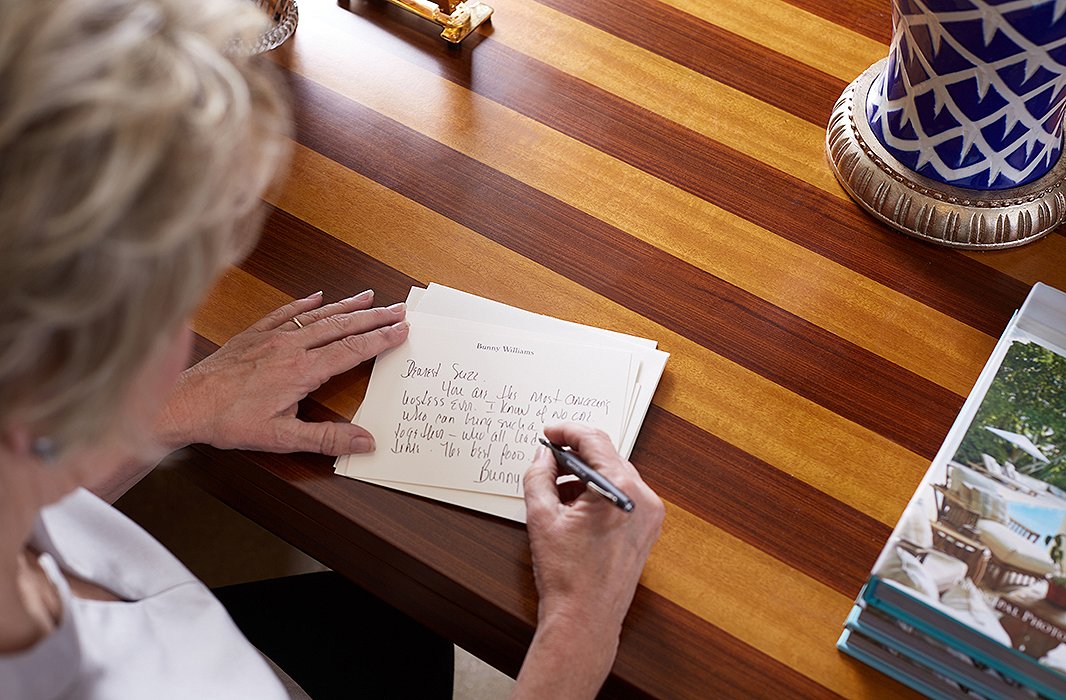 'Tis the Season to… Give Personal Thanks
The holidays are the perfect time to express appreciation with a thank-you note. Bunny stresses the importance of taking the time to put pen to paper. "If someone thought enough to give you a gift, you don't email them a thank-you note," she says.
Holiday thank-you notes are a perfect opportunity to use your stationery, although Bunny also likes to send a card that's personal to the recipient. "When I go to museum shops, I'm always looking for cards that have something fun on them," she explains. "So if I have a friend who loves dogs, I'll send them one with a picture of a dog. I keep a supply of cards that can pertain to somebody's interests."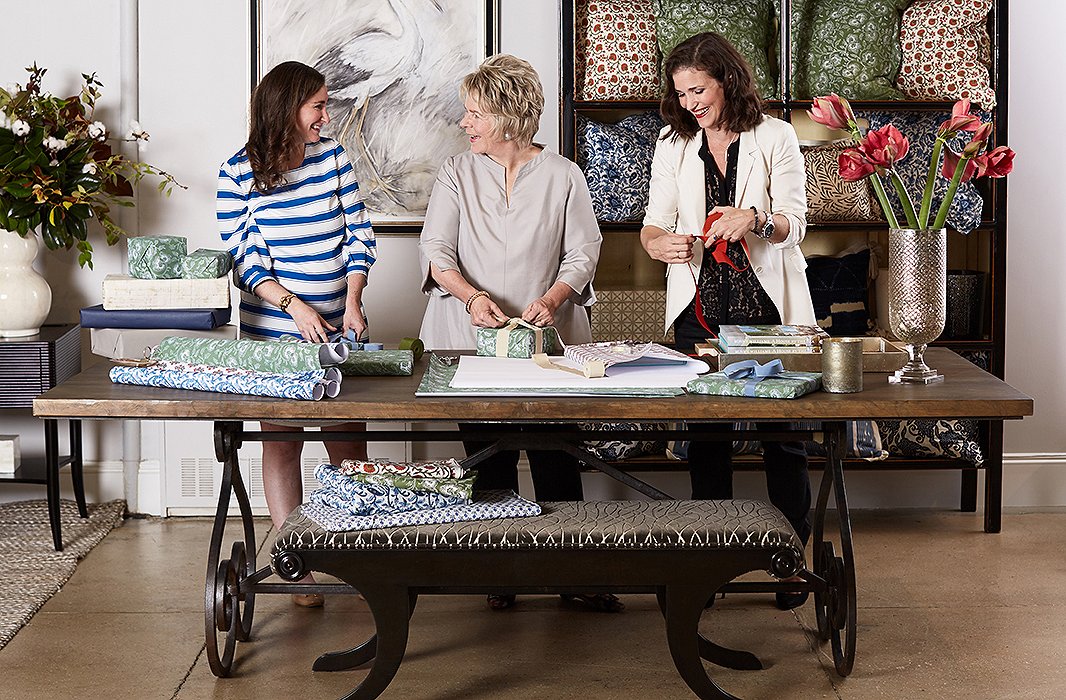 'Tis the Season to… Give Heartfelt Gifts
If you're shopping for people you don't know well, such as acquaintances or co-workers, Bunny recommends choosing things that aren't overly personal. "I like to give people things that are practical," she emphasizes. Some of her favorite go-tos are beautiful candles, notepads, and sets of colored pencils. "I would never buy anything personal for somebody whose taste I didn't know really well. For those people, you're much better off to give them a great book or a wonderful bottle of wine—just something of quality that you like."
For your nearest and dearest, try to find something that speaks to what they love. "If you know the people really well, it's not hard to shop for them," Bunny says. "You figure out what their interests are and what they would really like to have." For instance, she hunts down fishing-themed items or gets a gift card for an outdoors store for her brother, while frequent shopping trips with her friends help her know just the right thing to get them.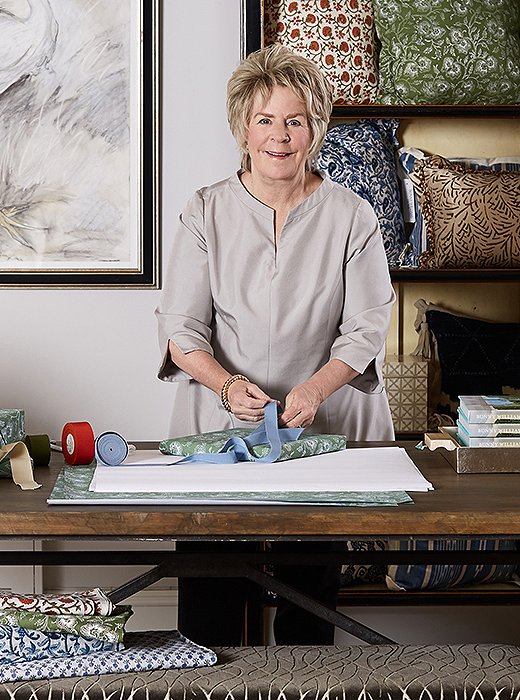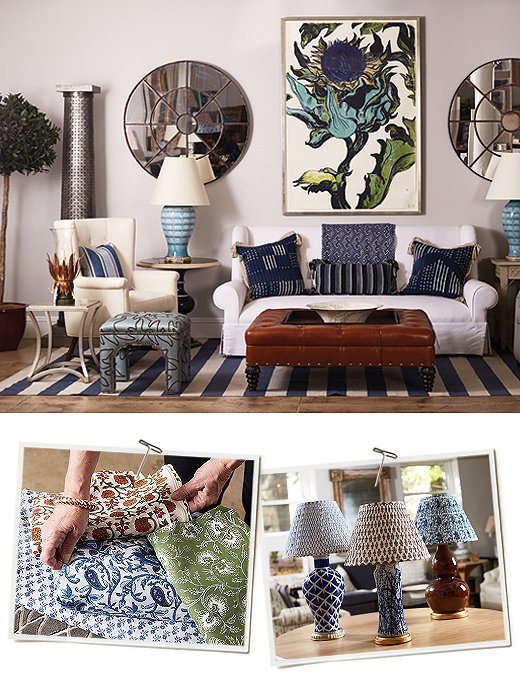 'Tis the Season to… Give In to the Joys of Wrapping
Bunny's favorite part of the holiday season? "I love wrapping presents." The designer stocks up on beautiful papers year-round and keeps them in flat-file cabinet. "I think wrapping a present is like painting a picture," she says. "They should be pretty, and frankly, I think a beautifully wrapped present can be anything."
When it comes to finishing touches, Bunny thinks beyond traditional sources and heads to floral-supply shops. "I can buy big spools of ribbon in the flower district, and it's a lot less expensive than buying a little thing of ribbon in a paper store," she says. She also uses raffia and cotton cord that she finds at the hardware store. "There are a lot of things that make a pretty wrapping."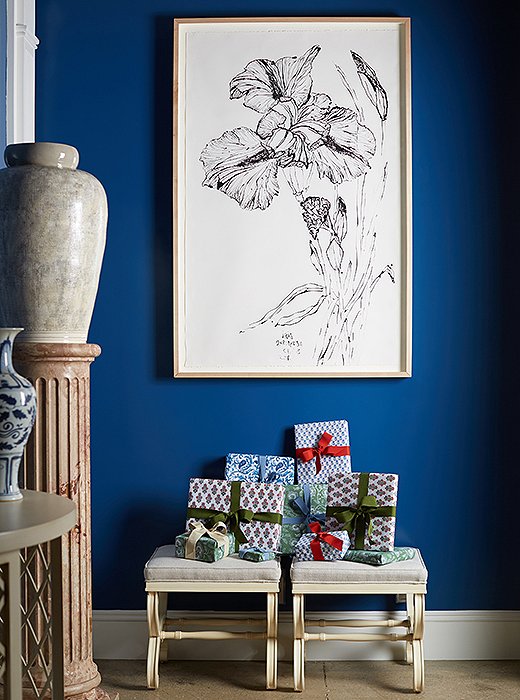 Bunny's Rules for Wrapping
Bunny's passion for wrapping is clear in the exclusive papers she's designed for One Kings Lane. Pick up a few of her time-honored tricks for making wrapping a joy.
Go paperless: For unusually shaped items, Bunny forgoes wrapping paper. "If something's really very oddly shaped, it's almost more interesting to use fabric, like a fun, patterned pillowcase, and tie a big bow on it."
Add a little something extra: Bunny tries to bring in a special finishing touch to her packages. "I often tie a little Christmas tree ball on it or some leaves of holly. It's nice to have a little ornament to go on the top."
Plan ahead: Bunny shops for supplies year-round and keeps her eyes peeled for boxes that can be reused during the holidays. "Whenever I get something in a good box during the year I try to save it, because they're really hard to find."
Make it fun: Some people see wrapping as a chore, but Bunny looks forward to it. "I put on my Christmas music. Everything from Christmas carols to The Messiah. I might have a little eggnog, and I just get out and wrap, wrap, wrap!"
I think wrapping a present is like painting a picture.
Shop Bunny's Exclusive Wrapping Paper Designs