There's nothing like the magic of a cozy fall dinner party where all seems right with the world—the table looks radiant, everyone feels relaxed, and the menu hits on exactly what we crave as the weather cools.
One place that seems to have mastered this just-right kind of evening is New York's Haven's Kitchen, a café and cooking school that has become our culinary mothership. It has the art of the fun, low-fuss, deeply delicious meal nailed—for instance, evening cooking classes begin with a glass of wine and finish with a family-style dinner party. The founder of Haven's Kitchen and mastermind of these meals—Alison Cayne, whose townhouse we toured earlier this year—devotes herself to thinking about the magic of these meals and how to make them easier to pull off. Not only does she have five children to feed nightly, but she regularly hosts dinner parties for a dozen people or more.
We joined Alison and the talented staff at Haven's Kitchen for a beautiful fall gathering and scored Alison's breakdown for how to pull off your own party at home. Get the full guide and lots of down-to-earth advice—and avoid those preparty panic attacks.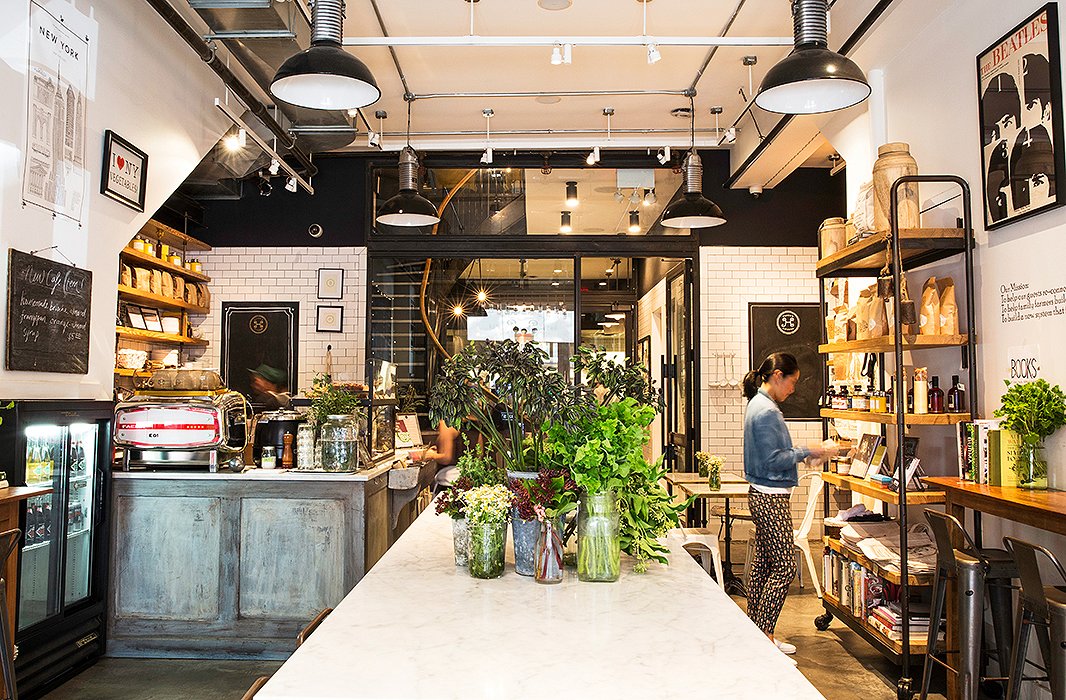 1) Don't Think Menu—Think Market
Rather than reading up on elaborate recipes, see what's looking great at the market. "Food is such a good way to connect to nature and the seasons," Alison says. "As we get into fall, everyone craves root vegetables—turnips, carrots, squash—and darker greens." From there, Alison suggests two directions for the flavoring: "I like to either go into the French world, where it's about rosemary and thyme, or into a more Middle Eastern taste with tahini and parsley." As for the "protein" course, once the grill is stored away for the season, she'll roast or braise the meat. 
This particular dinner featured vegetables galore in the form of a shallot tart tatin, a salad of winter chicories with roasted beets, harissa-roasted carrots, a caldo verde with kale, and roasted cauliflower. When you begin with what's at the market, the vegetables will naturally take a starring role in the menu.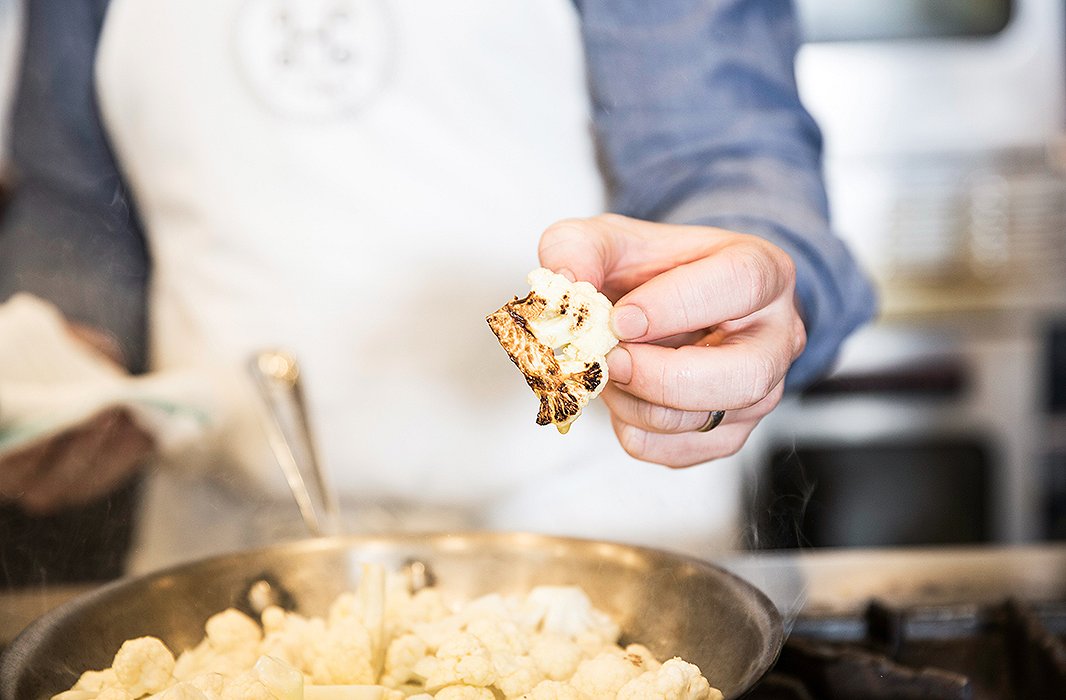 As we get into fall, everyone craves root vegetables—turnips, carrots, squash—and darker greens.
2) Set a Simpler Table
Haven's Kitchen's pared-down approach to table settings is chic yet puts everyone at ease. Bryn Clarke, Haven's Kitchen's expert on tabletop (and an alum of Per Se), gave us the lowdown on what you need to pull off the same look—and keep things simple:
a water glass and one medium-size wineglass at each setting (no need for multiple wineglasses—a midsize one can work for red or white)
a white plate—"food always looks best on a white plate"—topped with a bowl if you're serving soup first
a French bistro napkin folded on the plate—choose a cotton one, since linen often requires ironing
a fork, a knife, and a spoon—though you need the spoon only if you're serving soup. As Bryn points out, "Too many forks and knives can look like you're preparing war with silverware! When you serve dessert, you can bring the dessert spoons or forks in a mason jar."
To make sure that things go smoothly from there, Bryn suggests a restaurant trick that works wonders at home: "I always stand behind each place and make sure guests will feel they have everything they need in an arm's reach—including a water bottle and wine. Guests can feel uncomfortable asking for something they're missing."
Too many forks and knives can look like you're preparing war with silverware! All you really need is a fork and a knife, and a spoon only if you're serving soup.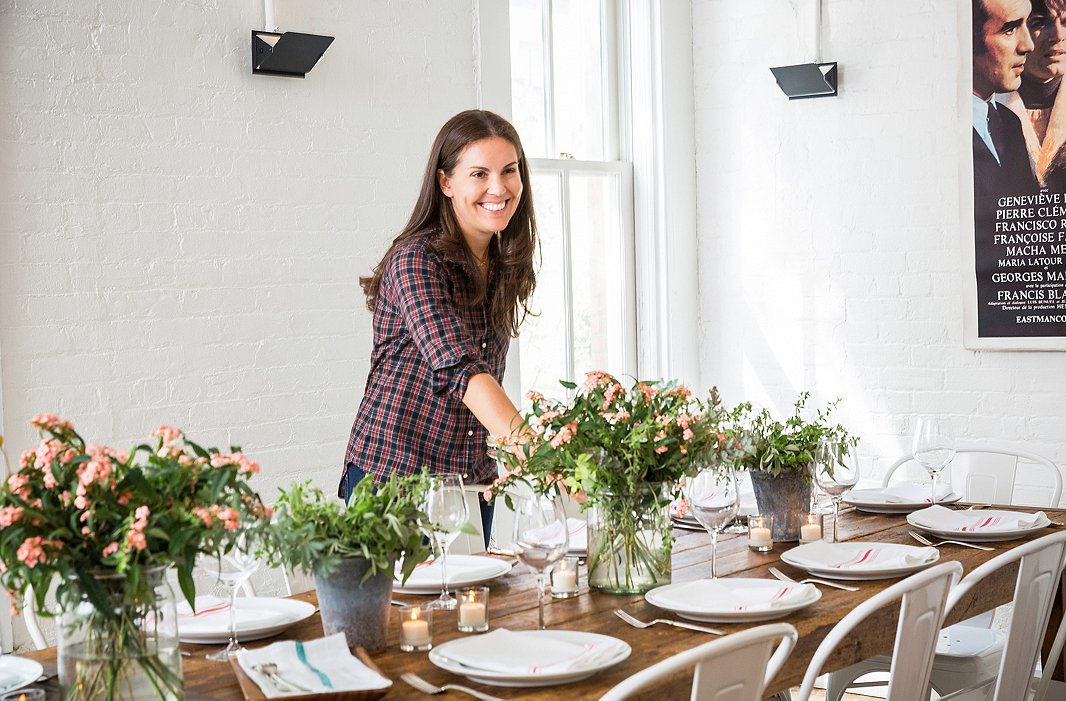 3) Go Heavy on the Herbs
Of course, flowers are lovely, but for casual evenings Alison suggests centerpieces featuring the herbs you use to cook. Alison buys a lot to have on hand before a dinner and uses them for centerpieces, cooking, and cocktails. She loves making little arrangements of sage, thyme, and mint during autumn (basil looks beautiful on a summer table). "They look amazing, smell amazing, and guests can literally eat them off the table! It can be wonderful to have rosemary there when you're serving rosemary potatoes, for instance," says Alison. Plus these arrangements are low enough not to get in the way of good conversation (and by choosing them over flowers, you can keep your party expenses down a tad).
A final note on the table: Alison is a big believer in place cards. Her children like to help make them ahead of time, and then she arranges them so that no one feels the pressure of figuring out where to sit.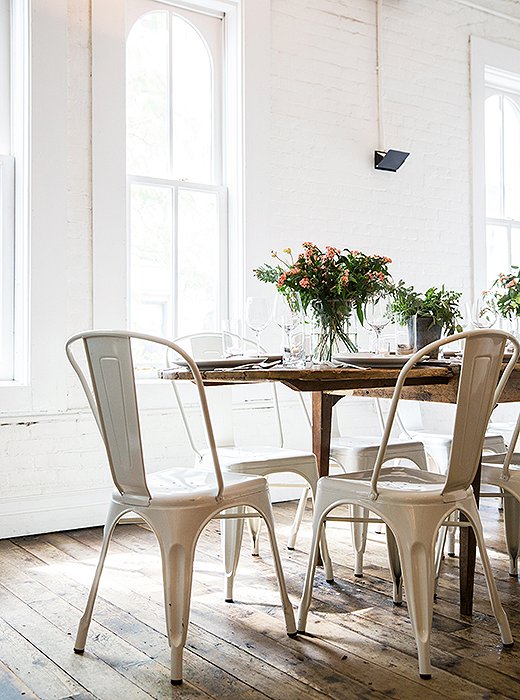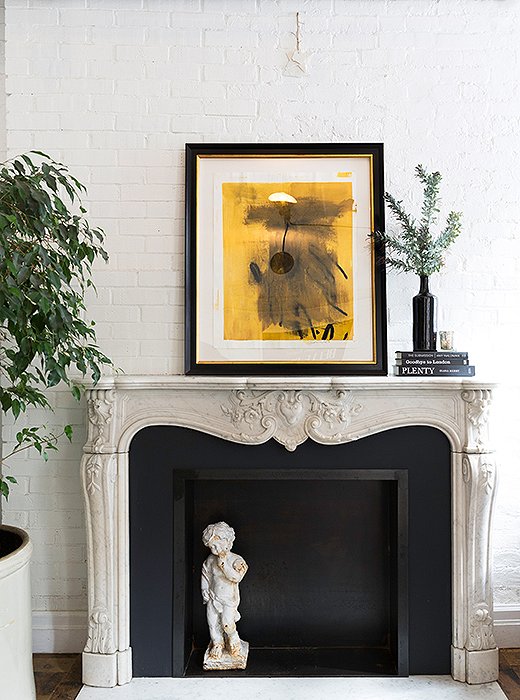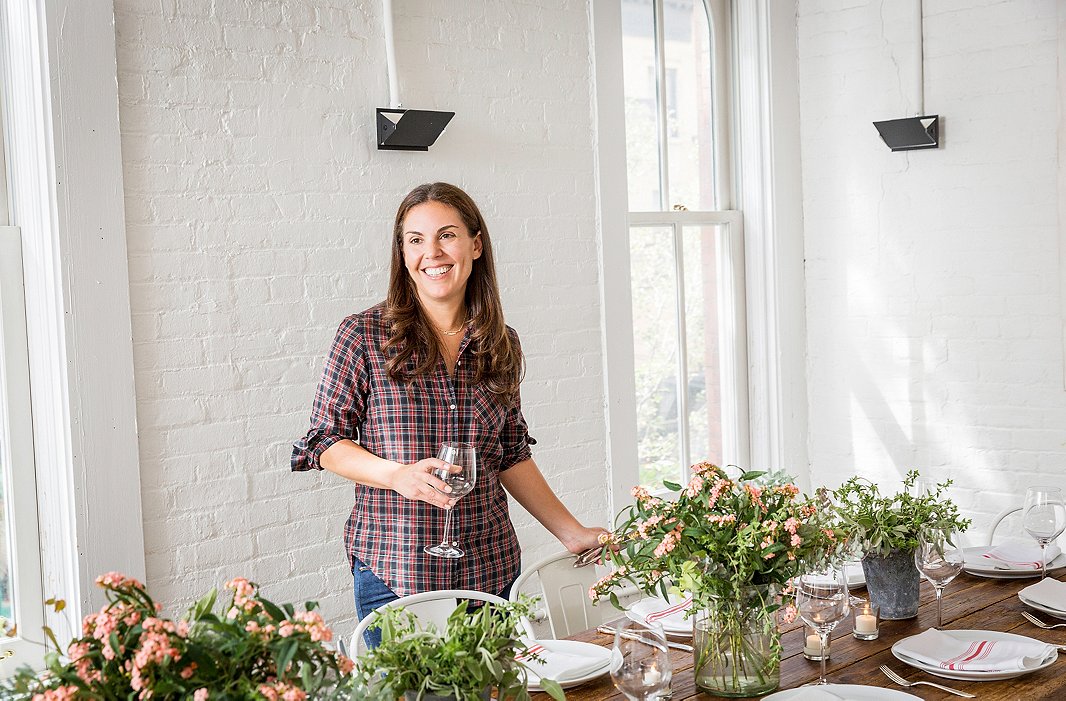 4) Smile and Relax
Yes, having people over and feeding them can be stressful—especially when you hit last-minute hiccups. But Alison says the key is to relax—everyone (you included) will have a much better time. "If you seem stressed, your guests get a message that 'this is a burden.' When you invite people over, your job is to feed them and make them happy and take care of them for a night. So that means even if you're totally stressed out and the chicken is burnt, you welcome them at the door with a smile on your face and make sure they get a drink."
Better yet, avoid the stress in the first place. Here's what Alison has learned from years of hosting dinner parties: "Make something you've already made before, so you don't get too caught up in a recipe. Finish the main cooking before people arrive—let the food rest; nothing has to be piping hot. And identify everything else that's a stressor for you—if you need to give yourself time to shower, to put on the right music, or to have a glass of wine before people come, do it. And then you'll have an amazing night."
Even if you're totally stressed out and the chicken is burnt, you welcome [guests] at the door with a smile on your face and you give them a cocktail.
5) Let Guests Make Their Own Drinks
The DIY cocktail bar might be our favorite of all of Haven's Kitchen's entertaining go-tos. It saves the hosts from the messy multitasking of trying to make drinks, greet other guests, take coats, and so on—and lets guests have fun right off the bat. "People love putting their own spin on their cocktail," Alison says. "It brings out the kid in all of us—like, I put a lemon in mine and lots of blackberries! It's the perfect way to loosen up a party."
Another advantage to cocktails over wine: no possibility of a red-wine spill on the sofa. "There's nothing that kills a party vibe faster than a hostess freaking out about her sofa," Alison says.
People love putting their own spin on their cocktail. It's the perfect way to loosen up a party.
6) Ask for Help
Not only can a few extra hands help with those last-minute finishing touches, but Alison also finds that most guests love to make a small contribution to bringing the meal together. Once guests have a cocktail in hand, Alison might ask them to take on a task—fill bottles with water for the table, dress the salad (since that should always be done at the last moment), light the candles, help carve meat, or bring soup bowls to the table after Alison fills them.
One tip for lighting the candles: Alison suggests lots of votives in glass, and she always puts a few drops of water in each glass before placing the candle. That way, the wax won't stick to the glass, and you avoid the bummer of the after-party wax battle.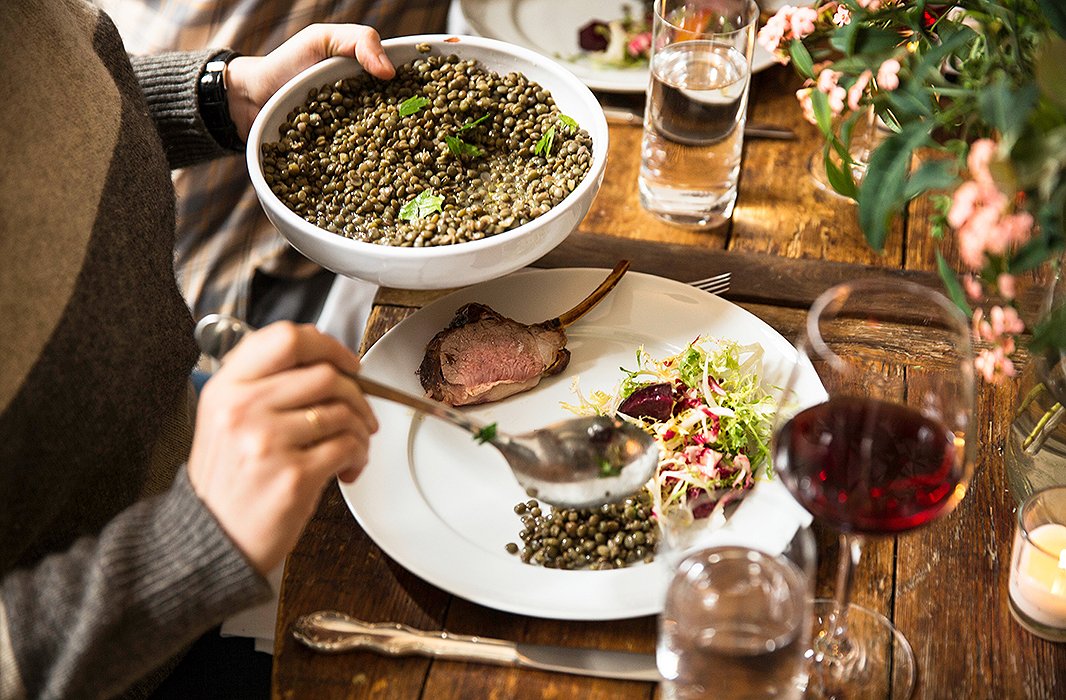 7) Give a Toast and Bask in the Glow
Once everyone's seated and served, kick things off on a high note with a toast. Alison says a blessing when hosting Shabbat dinners and reads a favorite psalm on Thanksgiving, but otherwise, she says, all that matters is taking that moment to mark the meal: "Just toast to whatever you're grateful to. It doesn't have to be something spiritual. It can be to the people at your table, just letting them know you're happy to have them there."
And remember that part of "taking care of your guests for the night" means leading the way, right until the evening is over. If you start to clear plates "it does break things up," so consider plating and serving dessert yourself, and only begin to clear dessert when you feel it's time for the night to wrap up. 
You can literally serve a loaf of bread, a bottle of wine, and if you are genuinely happy and grateful for the people at your table, you will have a great dinner party.