Designers Andrew Fisher and Jeffry Weisman founded their eponymous firm in 2000 and have been creating enchanting interiors with practical appeal ever since. With offices in both San Francisco and San Miguel Allende, Mexico, the duo has a signature style that encompasses a global mix of things old and new, smartly punctuated by custom pieces and luxe accents.
Here, we're touring one of Fisher Weisman's most recent projects, in Palm Springs, CA: a Moroccan-inspired retreat primed for entertaining and relaxation. Jeffry and Andrew worked as a team with Tichenor & Thorp Architects to develop a majestic scheme that spans both the indoor and outdoor areas of the home. From ceilings awash in starry lantern light to horseshoe-arch doorways beckoning visitors from room to room to a central garden that reads like a riad's courtyard, there are magical touches at every turn—and you can see them below.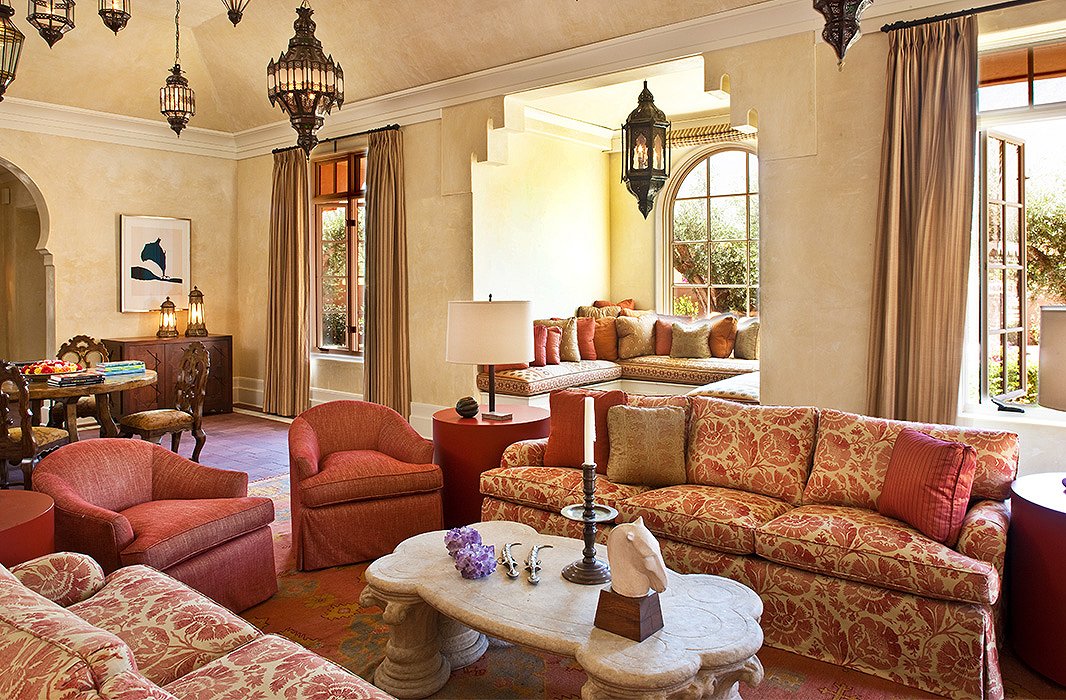 One Kings Lane: What was the goal for this project?
Jeffry Weisman: The clients had been on a trip to Morocco and just loved it, so they had this fantasy of creating a Moroccan-style oasis where they could just be and entertain and have their own little world. We connected with Tichenor & Thorp, who we work with a lot out of Los Angeles, to do both the architecture and the landscape architecture. We wanted to create a sense of magic with a compound where you can just disappear and be completely enveloped. And the way they sited the building and created the gardens, and pools, and water flowing everywhere, to me is magical.
Was there a singular point of inspiration for the interiors?
The one thing we had going in was the giant, magnificent Oushak carpet that's in the living room, and we built the entire scheme around it. Andrew and I love to begin a room with a carpet. In this case, it set the tone and the colors for the rest of the spaces. The clients also went on a shopping trip to Morocco [before construction] and sent us images of all kinds of different things that they felt could work, so we guided them to buy things at the right scale to build the house around.
What's your approach to indoor/outdoor living? Are there any design challenges posed by such a lifestyle?
What's shifted during our careers is that there's very little desire for people to want time in direct sun. So while the pool is in full sun, part of the design plan was to create outdoor living and dining spaces that were under cover as well as a gazebo that has filtered light so that people could enjoy being outside without being overwhelmed by the sun.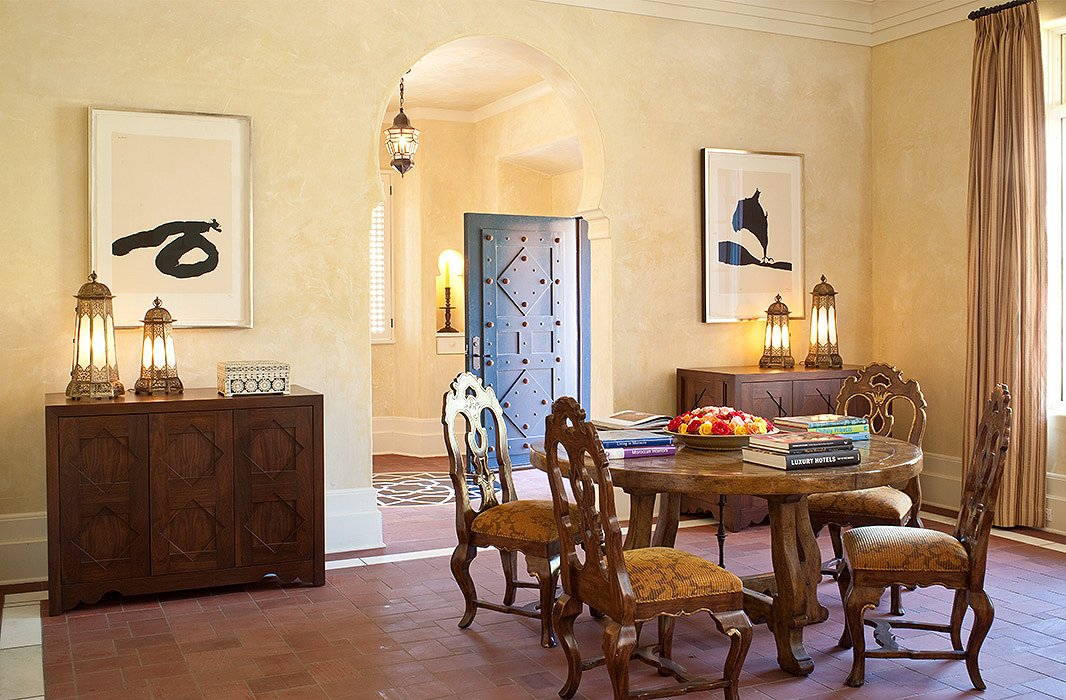 Given the sun and the heat, were you restricted in terms of materials or finishes?
One of the things I'm very conscious of is not to use dark stone or dark paving or materials that are too light in color. Dark paving will absorb the heat, becoming too hot, and light materials will read as too glare-y in the sun. And unfortunately, any painted surface you sign up for is just going to be a lot of maintenance.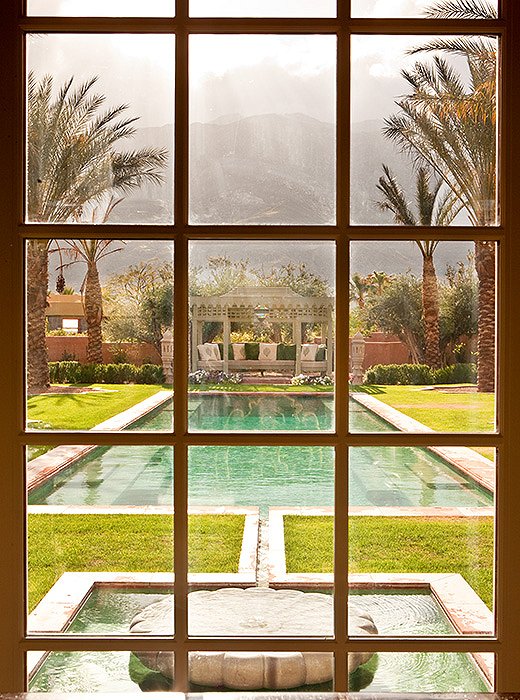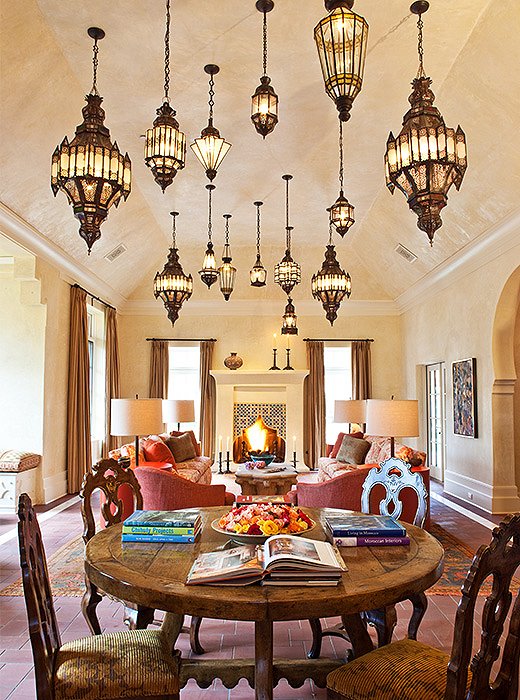 Did the same methodology apply in choosing interior materials?
We went with brick floors to help keep the house cool. Also, the desert is a dusty place in general, so we have to have floors that are easy to keep clean. We limited carpet to area rugs that could be removed and dusted under from time to time. 
Both you and Andrew are fans of custom furniture. What are the advantages of going custom?
In this home we designed a majority of the furnishings, which is typical for us. What we don't like is for our clients to walk into their friends' houses and see a lot of things that they have in their house, so that tends to push us to do a lot of custom work.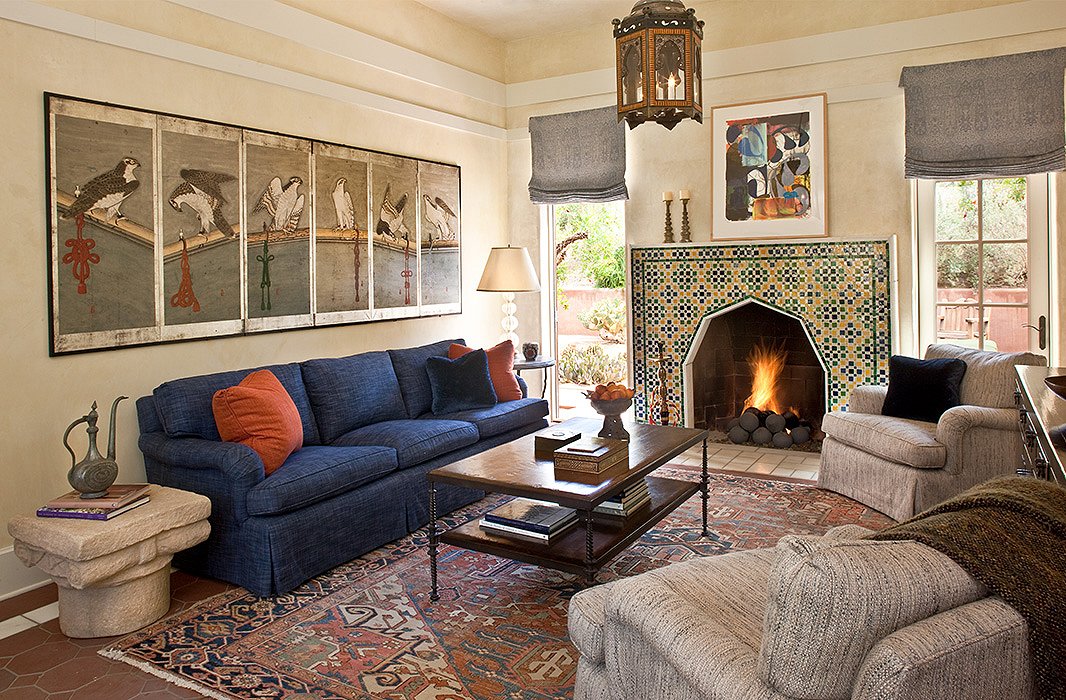 What's one design move you would never do?
There's not a lot I would never do, but I would never have two floor materials in one room. I'm obsessed with working with floor materials to create harmony and flow in a house, and I think one of the biggest mistakes that designers or architects or builders tend to make is varying floor materials way more than is helpful for the overall effect in a house. However, I will say that [Andrew and I] go into a project with the presumption that everything could stay the same, and we work backwards from there.