One Kings Lane style guru (and resident Weekend Decorator) Megan Pflug is back with her latest crazy-cool DIY solution.
Looking for a new way to display your art? Old-school picture-rail moldings might just be the answer—after all, what's old is new again! Typically found in vintage homes with plaster walls, picture rails are thin pieces of molding usually located a foot or two from the ceiling. Although they're often mistaken for decorative details, they possess a very practical use: Picture rails were originally designed to let you hang art without putting holes in your wall.
Many modern homes don't include this fun yet functional feature, but—never fear!—lumber yards still sell the rails, and the install is a snap for even the most rookie DIYer. Simply have your pieces cut to size at the lumberyard, and nail them up using a nail gun or a hammer and a level. After I installed mine, I styled one wall in two very different ways to demonstrate the versatility of this ingenious feature. Read on to see how it turned out and to score my how-to!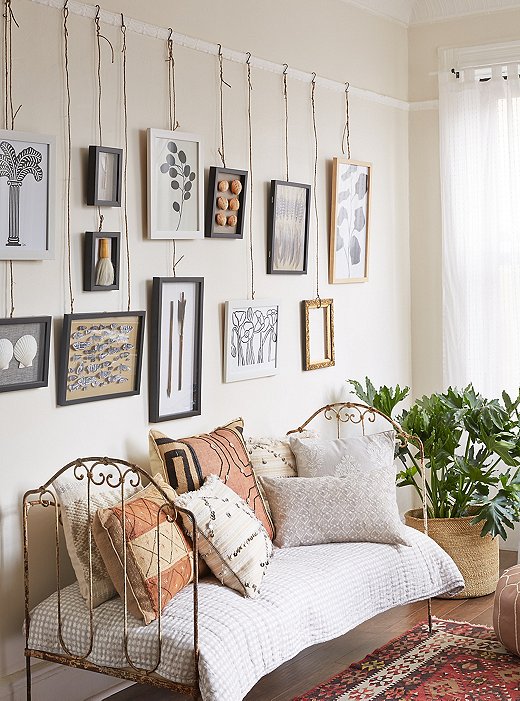 Natural Wonder
To create this vintage-leaning, nature-themed arrangement, I chose a mix of shadow boxes filled with organic elements like seashells and feathers, interspersing these with more-modern black-and-white botanical prints. I hung each piece with an S-shape picture-rail hook and decorative craft wire, which I thought nicely complemented the rustic feel of the art.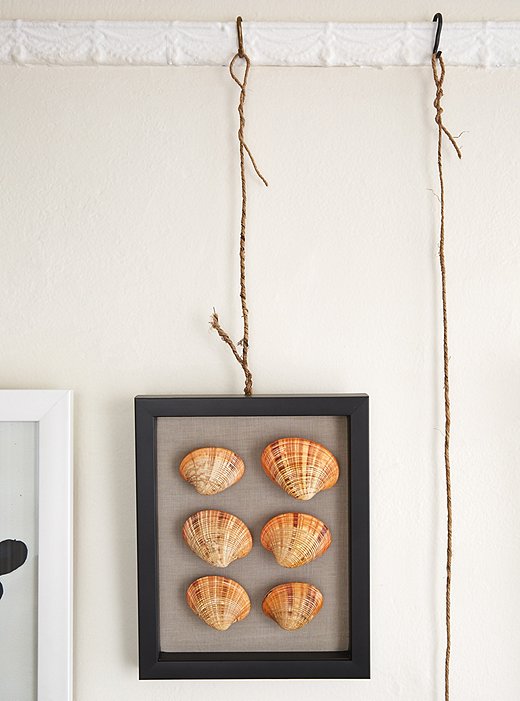 How To
I first laid the art out on the floor to get a rough idea of where I wanted to place the pieces in relation to each other (this technique works for salon-style gallery walls too). Then, for each artwork, I cut a piece of craft wire several inches longer than I needed. I twisted the length of wire into a loop on one end and secured the piece of art to the opposite end at my desired length, leaving the twisted ends of the cord visible for an informal look. To finish, I placed the S hook on the picture rail and slipped the looped end of the wire over it to hang my piece.
Tip: I used a cord with a wired center because it allows you to easily adjust the height of the artworks as needed.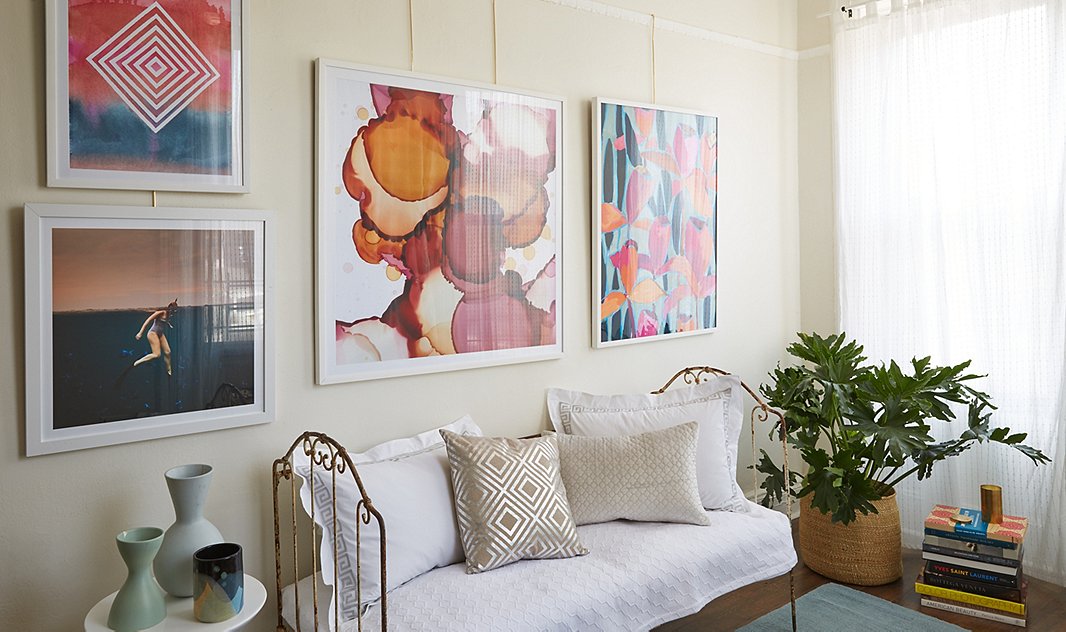 Modern Glam
For an elegantly contemporary feel I used brass French gallery rods to hoist up a combo of large-scale photographs and beyond-bold abstracts. Together the art and the hardware get gold stars for style—brass's inherent glam factor elevates anything and everything it's paired with, especially loud colors and striking shapes.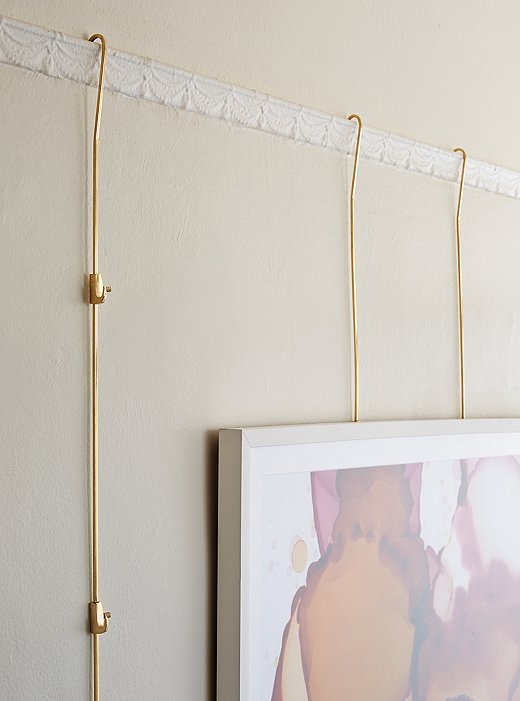 How To
To give the collection a cohesive feel, I made sure to pick artworks that all live in the same color family. Then, same as above, I started by laying out the pieces on the ground to determine their placement. To hang them, I simply hooked one end of the French gallery rod over the picture rail and hung the painting from the second, adjustable hook. Smaller pieces need only one rod, while it's best to use two for larger works to give them extra support.