Haptic refers to the sense of touch, and it's the guiding concept behind Haptic Lab's richly textured quilts and whimsical sailing-ship kites, which have been featured in Martha Stewart Weddings as well as in shops such as Opening Ceremony. "I love the idiosyncratic beauty of handmade things," says founder Emily Fischer, whose elaborate designs are the perfect marriage of art and science. "The quilts are a synthesis of my aesthetic as a craftsman and as an architect, and kite-making has always been a hobby of mine." Here, we talk with Emily about her creative process and inspirations, the nitty-gritty of quilting, and the uncommon craft of kite-making.
Tell us how this all started.
"The quilts were originally inspired by my mother, who was diagnosed with glaucoma about 10 years ago, while I was a grad student. From that, I decided on an academic experiment and made quilted maps to be tactile and way-finding tools for visually impaired children. Almost at the moment I started taking photos of the project, people started saying 'I want that.'"
How do you achieve the intricate details of maps on your quilts?
"The maps are derived from mapping data; I also use satellite imagery and NOAA [National Oceanic and Atmospheric Administration] charts for coastal areas. Each to-scale map is printed and hand-traced in my Brooklyn studio. Then the quilts are hand-stitched using the traced map as a guide. It's a very pure American craft tradition we're riffing on. They're not art objects, but they're not purely craft objects either. It's really a combination of traditional craft technique and complex geospatial information."
How long does it usually take to make a quilt?
"The large custom quilts take about a month and anywhere between 60 and 200 hours to make. We're up to about seven or eight people in our studio, and we work with a small group of artisans in India to make the quilts. Everything is packed and shipped from the Brooklyn studio. I generally like to touch everything before it ships."
What was the inspiration for the Constellation Quilt?
"The inspiration was a famous mural of the night sky—I can't say where—and the Constellation Quilt is about exploring place in a cosmic sense and homesickness. I grew up in rural Wisconsin; you could see the Northern Lights sometimes, and in New York City you don't get that. It's about exploring place in an environment where it's easy to get distracted."
What sets the Constellation Quilt apart from the others?
"It's all embroidered using gold metallic threads, which is no easy task. It's a very nontraditional material to use in quilting, and so I thought it was important to have them here. It's the only unnatural material I've used in my quilts. I think the effect is important for that. The quilt takes about three days to make."
How did the idea for kites come about?
"I'm an architect by trade, and kite-making has always been a hobby of mine. I was in a kite-making contest in 2009 and won second place. Then I did projects with Opening Ceremony and became known more as a kite-maker than a quilter for a while. But I wanted to make kites that last longer than an afternoon, are childlike and whimsical, and become cherished objects. The very first aircrafts were really just giant kites."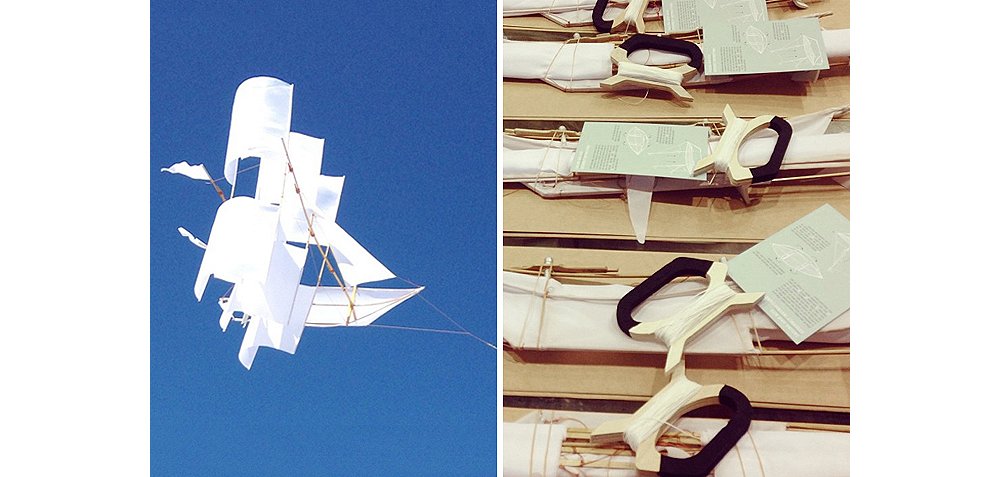 How long does it take to handcraft your kites?
"The hand-painted ship kites take about six hours, and the white ones take an hour or two per kite. The only tools we use are a butane lighter and a utility knife."
What's next on the horizon for you and Haptic Lab?
"We're doing a huge collection of coastal maps—Pentecost Island, Cape Cod, the British Isles. They're going to be made out of gold silk! I'm also looking forward to spring and sitting outside and flying kites. In India and Bali, there are kite festivals where people gather together to ring in spring; it's a social activity. I'm hoping to see some people flying the kites I make."
The quilt projects are about exploring the sense of space and home, and the Constellation Quilt is about exploring place in a cosmic sense.