Using luxe materials such as buttery leather, soft suede, and hammered brass, Kendall Conrad designs timeless, outfit-making bags and jewelry that have a cultlike following of fashion editors, celebs, and other in-the-know stylesetters. Based in Santa Barbara, she embodies effortless Cali cool, pulling as much design inspiration from peeping into the tide pools near her home as she does from artists including Picasso, Jean Cocteau, and Andy Goldsworthy.
We paid a visit to her gorgeous Venice, CA, store to talk about how she got her start (it involves a saddlemaker!), the best business advice she ever received (from her dad, natch), and of course, why she's utterly obsessed with accessories.
Your style in three words?
"Classic with mojo."
When did you start designing?
"In 2000, when I was pregnant with my second child—a very creative time. I couldn't find a bag that I liked, so I took a sketch of a simple design to a local saddlemaker, who made it. Then I sketched another and another, and my company evolved organically."
Why did you decide to focus on accessories?
"I've never been a big clotheshorse. I tend to wear uniforms—I'll buy one piece in all colors. But I love accessories. I consider clothes to be a blank canvas I can jazz up by layering on different accessories. I mean, bags can say a lot about a person. They're expressive!"
Are there any bags from your past you'll never forget?
"I bought a messenger bag when I started modeling to carry my portfolio. It wasn't a famous brand, but I loved it. I had it for years."
I love how a bag alone can transform a pair of jeans.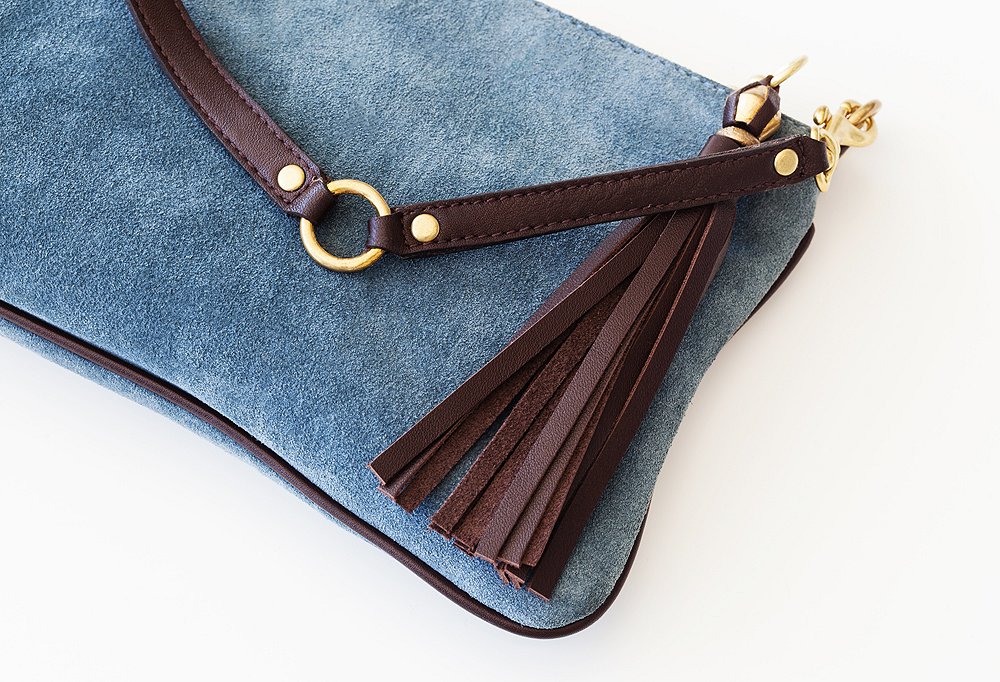 Did anyone share any stellar business advice when you were starting out?
"It's not really business advice, but my father told me some great life advice when I was a kid that I still adhere to: 'Don't ever wish you would've.'"
Do you possess any traits that helped your business become successful?
"I am very organized. I have to have order—if I have order I feel more creative. Being organized definitely helped me get where I am in business."
Are you an early bird or a night owl?
"I'm definitely a morning person. I wake up at 5 a.m. every day and get right to work on my computer."
If you could call out one turning point for your business, what would it be?
"Lisa Love, the West Coast director of Vogue, spotted somebody carrying one of my bags and decided to do a story on me. So I got a page in Vogue, and all of a sudden Barneys was calling!"
It sounds like you blew up pretty quickly—how do you balance family life with owning a business?
"Lists. I'm constantly making lists. And I'm obsessed with multitasking. For example, I'll often pop out at around 5 p.m. to take a quick beach walk with my dogs. While walking I can take a business call, listen to a book on tape, or walk with my husband or a friend and catch up."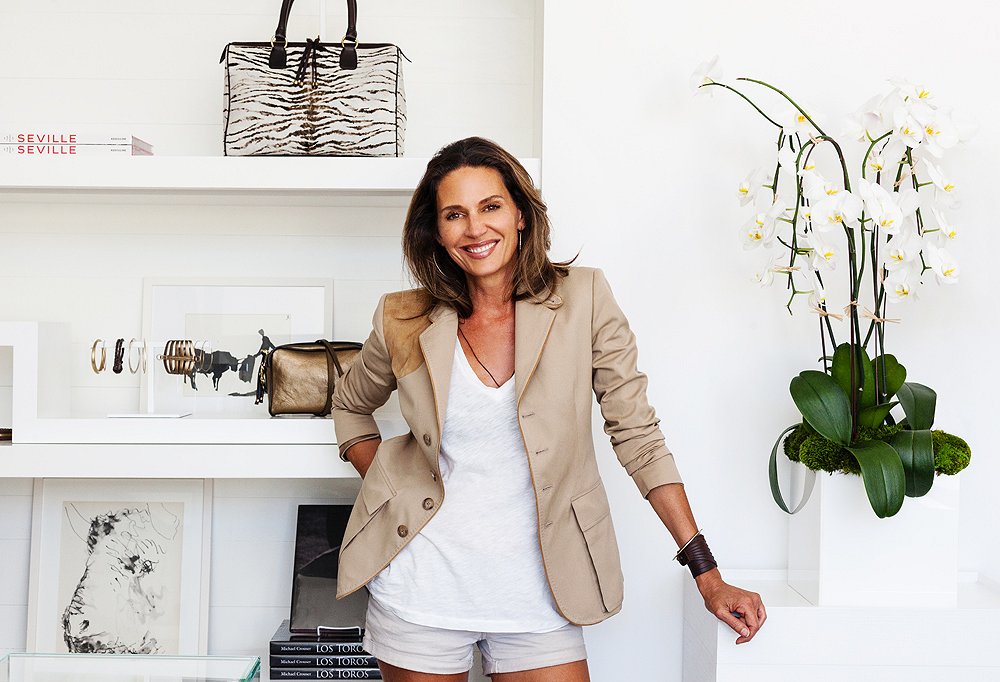 Do you design with a certain woman in mind, like a friend or a relative?
"I design for myself—what I want to wear. I am my customer."
How do you approach shape in your designs?
"Really what determines shapes is function. They have to be useful. I don't like a very tall bag because then you're digging around forever looking for stuff. I tend to lean toward an east-west shape."
And what are you thinking about when it comes to color?
"I look more to nature than, say, a Pantone book. The palette of my collections must tell a story. In 2013, it was all about the beach: aloe, sea rock, seaweed, and sage along the paths to the beach. Fall is burgundy, charcoal, chocolate, and a bit of leopard."
My dad was a bullfighter, so I spent a lot of time in Spain and Mexico growing up. The pageantry of the corrida [the fight] and the gorgeous detailing of the costumes—the hats, the capes, the epaulets of his jacket—they all influence my designs.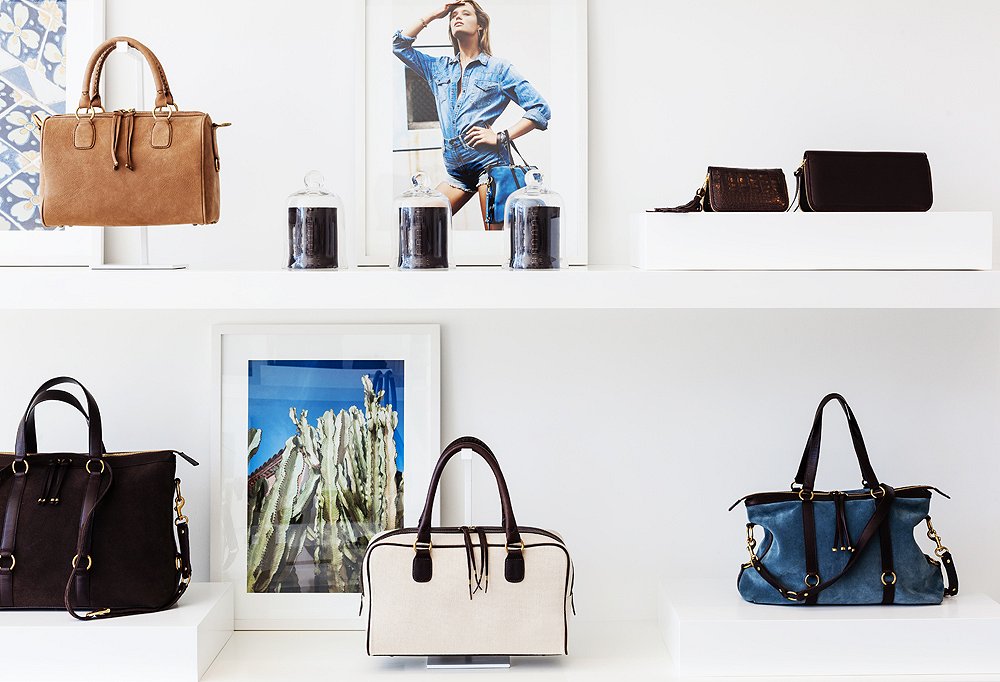 What style are you drawn to for interior design?
"California Spanish. We have a hacienda-like home, while my stores are modern California. We like to stick to a neutral palette—whites, tans, browns—and bring in temporary color with flowers, books, and art."
Your boutiques are so airy and gorgeous. What are you thinking about when designing them?
"My husband, David Cameron, actually does all the interiors. He plays up the natural light, takes an economical approach to storage, trying to get the most out of these small spaces, and then infuses them with a sense of warmth by adding in art, books, and candles. We switch up the boutiques every season to go with the new bags."
Pinterest, Instagram, or Twitter?
"Instagram. It's my mood board. Immediate, visual, and fun. I'm all about images of Picasso days; Vallauris, France; and girl inspirations like Lauren Hutton and Jane Birkin."
On that note, are there any inspiring gals you'd love to see carrying one of your bags?
"The British stylist Clare Richardson. She epitomizes the modern woman. She's very beautiful, very cool, and very intelligent in her approach to fashion, which is clean, minimal, and a little tomboyish."
Of course we have to ask—what do you have in your own bag?
"LaNatura lip balm, Skinfood hand cream, and an essential-oil perfume that my friend Haley, who owns L'Oeil du Vert, mixes for me."
All my go-to outfits involve accessories. Usually it's hoop earrings and a leather cuff.