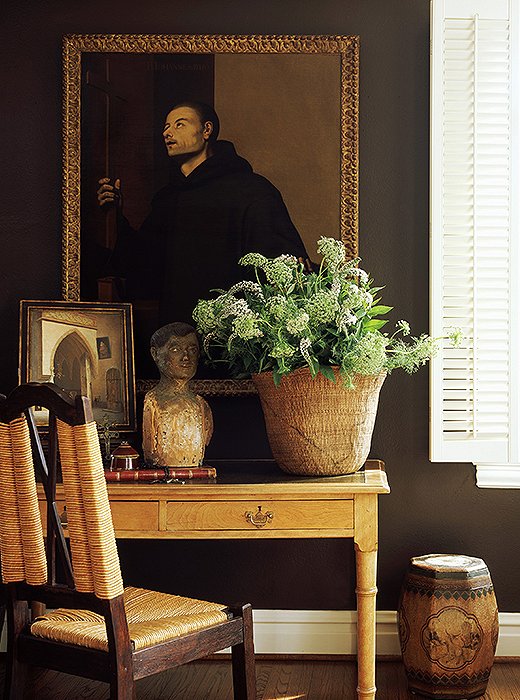 My Style
If you weren't a designer, what would you be? A veterinarian
What are you most inspired by? Nature
Who is your ultimate style icon? Maharani Gayatri Devi
What's your go-to hostess gift? An encrusted mint julep cup
Favorites
What's your favorite movie interior? Jean Cocteau's Beauty and The Beast
Favorite album? Any album from Johnny Cash
Favorite hotel? For a family trip with my four kids, we love going to the Hotel Splendido in Portofino
Favorite restaurant? Nino's on Via Borgognona, Rome
Favorite cocktail? Jack and Coke, I am from Texas after all!
Favorite museum? Museo Nacional del Prado, Madrid
Favorite artist? Cy Twombly
Favorite flower? I love using the tuberose in bunches. Their scent fills a room beyond any other flower.
More is more. Less is never more. Less is obviously less. Who wants less?
Decorating
What paint colors are you obsessed with? Anything from Benjamin Moore
Do you have a decorating cheap thrill? Pulling over for a flea market, any time, anywhere
Are there any decorating tricks you swear by? To enlarge a small space, I will install a pair of false doors and mirror the inset for a touch of instant glamour!
One decorating technique you'd never use? Never say never—check out Tony Duquette's hubcap and egg-crate covered pagoda towers!
When decorating, what should you never skimp on? Art
Resources
What's your favorite place to source fabric? The antique textiles from the Grand Bazaar in Istanbul is where I pull inspiration for my fabric line
Who makes the best bedding? D. Porthault
What's your secret resource for furniture? Serpette Flea Market, Paris