Southwestern style probably conjures up images of terracotta pottery, cowhide rugs, and plenty of earth tones. While those are indeed popular elements of the look, Southwestern decor is more than that: It's a comfortable, understated elegance, rich in natural textures, that can complement just about any space. Even if you're a Curator living in a streamlined high-rise apartment or a New Traditionalist surrounded by chinoiserie, and even if your home has neither a viga ceiling nor a kiva fireplace, you can seamlessly integrate touches of Southwestern warmth into your decor.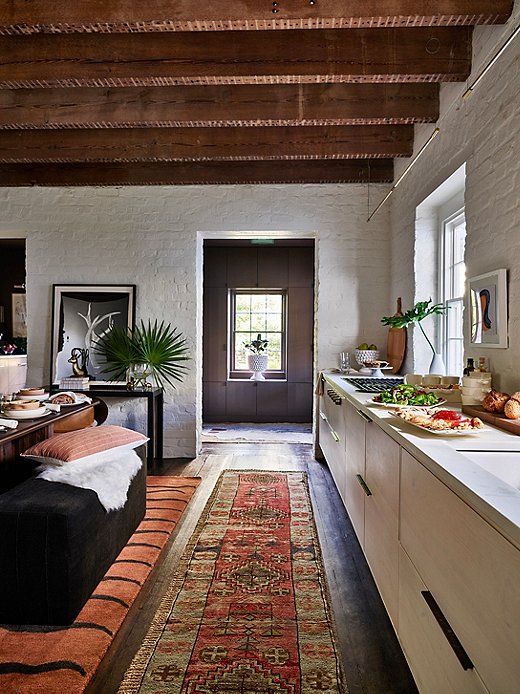 Begin with the Basics
The Southwest's starkly stunning landscape inspired the most distinctive aspect of the style: the palette. Browns, rusts, ambers, and tans dominate, but they're complemented by the pale pinks of sunrises over the mesas and the fiery reds of sunsets over the mountains.
Beyond the palette, other distinguishing features of Southwestern decor include
• clay ceramics. Fun fact: Some historians believe that the pottery of the Hopi, which was golden in color due to the iron-rich clay used, was what gave rise to the myth of the Seven Cities of Gold that spurred 16th-century Spaniards to explore the area. Southwestern-style pottery ranges from unglazed, unadorned earthenware to colorful vessels etched or painted with geometric motifs or depictions of local flora and fauna.
• leather, suede, and hide. There's also plenty of cruelty-free leather and faux hide to consider.
• baskets and bowls tightly woven of natural fibers. While the Indigenous Peoples of the Southwest relied heavily on sumac and yucca, jute and hemp provide a similar rough-hewn texture. If baskets aren't your thing, a natural-fiber rug will provide a similar vibe.
• wrought iron and hammered metals. The Spanish contributed the former to the Southwestern aesthetic; settlers from the East Coast brought the latter. 
• raw or minimally finished wood. You want to be able to see the grain; ideally you'd even be able to feel the natural ridges.
• simple silhouettes. Forget cabriole legs, scrolled aprons, and petite proportions; Southwestern-style furnishings veer toward the functional and the comfortable.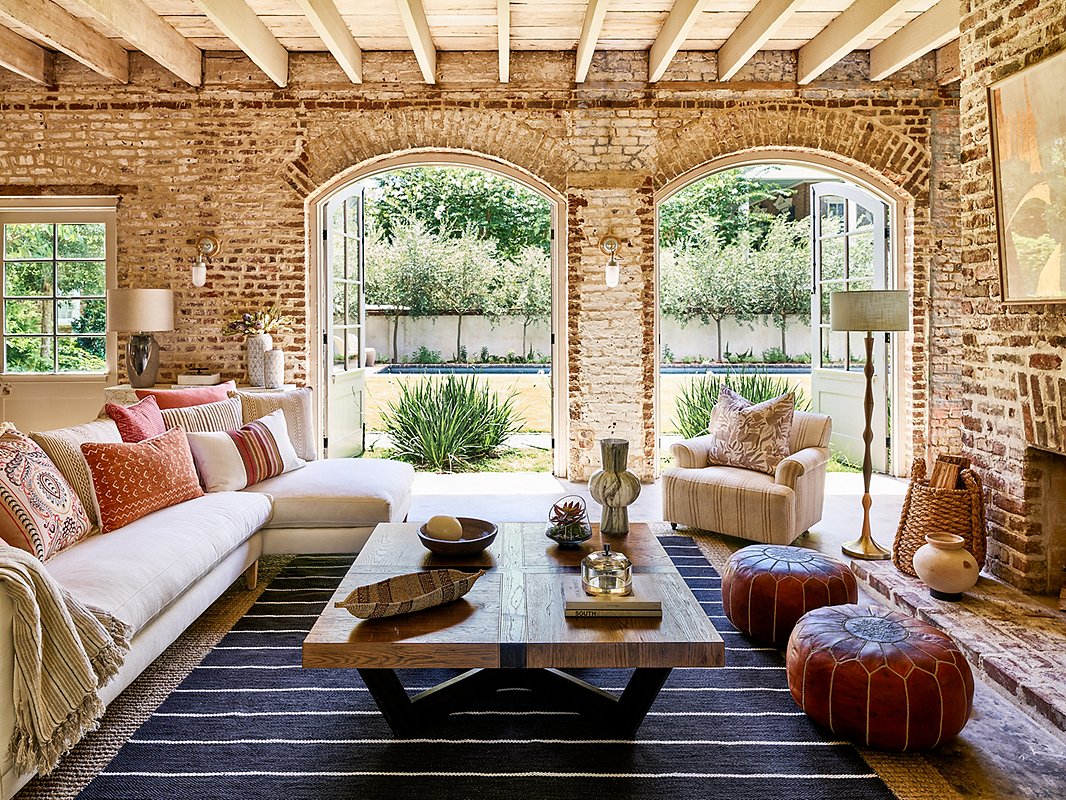 Make It Your Style
Like the idea, and certain aspects, of Southwestern style but don't know how to make it work with what you have? We can help…
• The easiest way for New Traditionalists to introduce Southwestern elements into a room is with the addition of leather, real or faux. It can be a major piece such as a handsome armchair or a clean-lined bed, or it can be several smaller items. Favorite picks include leather-framed mirrors, leather trays, and just about anything from Ralph Lauren Home's Brennan collection. Another effortless option is to place a larger natural-fiber rug below your existing rug. This brings home the earthy vibe on an almost subconscious level while providing extra soundproofing (great if you have neighbors or another room below). Even opting for silver picture frames with a hammered finish can add a refreshing dash of Southwestern allure to a New Traditionalist setting.
• Eclectics will likely gravitate toward the more vibrant aspects of Southwestern ease, such as hide rugs, furniture, and accessories, as well as rugs and textiles with bold patterns inspired by those of Indigenous Peoples. They'll also appreciate unexpected riffs on Southwestern themes: an iron chandelier accented with hammered brass diamonds or one designed to resemble cacti, for instance, or a ceramic stool with a two-tone orange-and-dun glaze. 
• Most Naturalists already have wood, leather, jute, and sisal in their home. Introducing some iron elements can ensure that the aesthetic is Southwestern rather than, say, Danish modern. A wagon-wheel chandelier (like this or this) is shorthand for Southwestern chic. Barstools and counter stools with fuss-free iron bases also get the point across, as does a console with a forged-metal base and a minimalist étagère with wood shelves and an iron frame.
• You might think Curators would find it the most difficult to integrate laid-back Southwestern style into their homes. But you'd be wrong. Leather, hide, and suede speak to the luxe aspect of Curator chic. But instead of a hide rug in the shape of an animal skin, opt for a rug that is a mosaic of hide pieces ; rather than a leather bench, consider one with a hide seat and clear acrylic legs. Gleaming metal accents added to rustic pieces also marry the two styles (gold and silver are organic elements, after all!). Take this wood dining table with a silvery stretcher or the gold bands added to these sustainably sourced horn vessels.