What We Love from Around the Web…
The most inventive DIY we've seen in a while.
What it's actually like to have this sweet dream job.
Breaking down one of the biggest interiors trends in recent history.
Renovating your kitchen or bathroom? Here's what you need to know about white tiles.
We're absolutely swooning over this gorgeous home in the English countryside.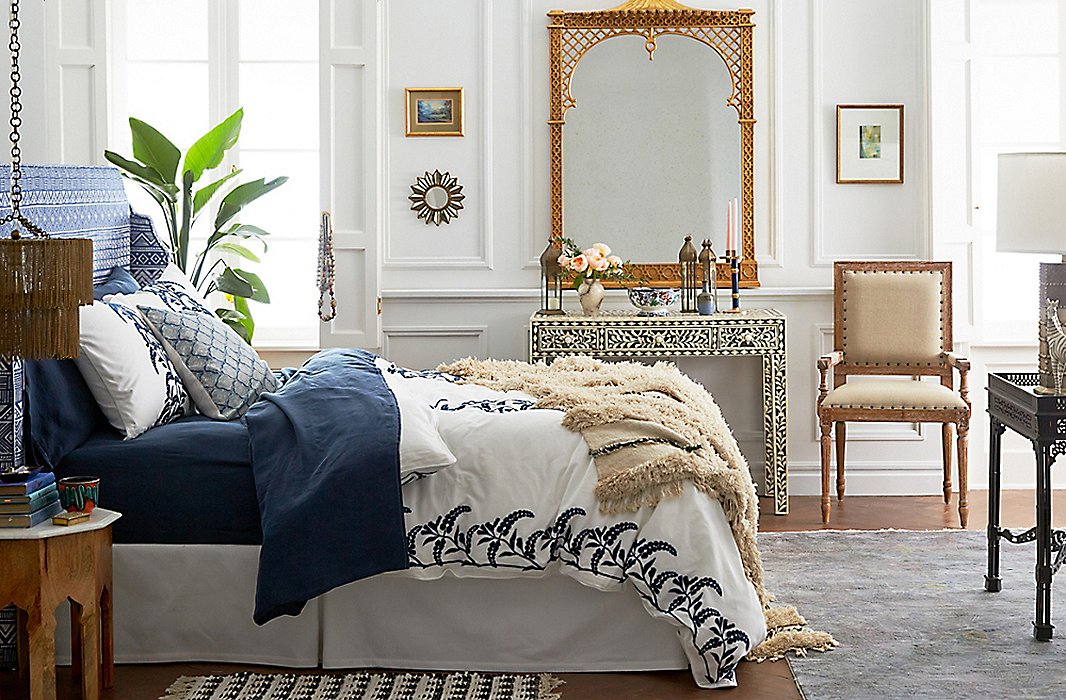 What We've Been Up To…
Though we've recently been in some beautiful homes locally (Kate Rheinstein Brodsky's Manhattan apartment, artist Kate Schelter's loft), we're endlessly inspired by designs from abroad—particularly with European locales.
The first stop on our grand daydream tour? The British Isles for a weekend of Anglocentric antiquing and a stop at a quiet town on the English coast. Next, we'd head east to Copenhagen, delighting in the plethora of midcentury designs found in the Danish capital. Paris follows, where we're smitten with both the Left Bank and the city's Moroccan-inspired notes. The last stop is Italy's Amalfi Coast, with its citrus-scented air and sunny Mediterranean spirit. How's that for a quick getaway?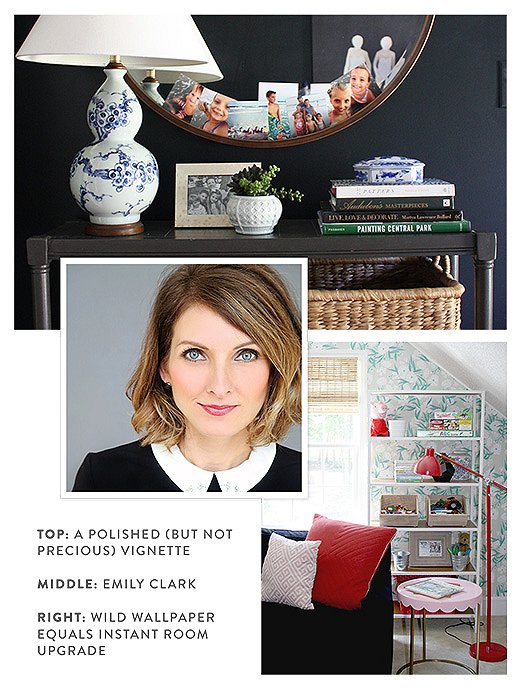 We Caught Up With…
Interior design blogger Emily Clark
Emily Clark is a longtime friend of One Kings Lane, so we were thrilled to catch up with her this past week. She's quite the busy lady, juggling her popular design blog on top of raising five (yes, five!) young kids—all while maintaining a beautiful house. So who better to tap for advice on creating a truly family-friendly home? 
Q: How do you master the balance of creating a home that's safe and comfortable for your kids while remaining stylish?
A: I love pretty things, but in our house, nothing is too precious. We use every room in our home, and I rarely buy anything with the idea that it's going to last "forever" with five kids. I tend to lean toward more durable and functional furniture but will be a little more daring with a wallpaper, for example. They can't tear that off the wall… can they?
Q: What types of furnishings or materials are definite no's when it comes to having a home full of kids?
A: For upholstery, anything you can't easily wipe down or throw in the washer is a definite no-no. I've learned this lesson the hard way. I've also had glass coffee tables in the past, and while I like the lightness, you have to learn to live with fingerprints or you'll forever be wiping them down.
Q: Are there any pieces or materials you turn to that feel especially kid-friendly?
A: Leather is a no-brainer, but I didn't want a leather sofa. (And to be honest, my twins took an ink pen to our only leather chair, so…). We have a navy velvet sectional in our playroom, and it's held up beautifully. I just use a baby wipe or damp rag to wipe off dirty spots. In our living room, I opted for white slipcovers on the sofas. I don't wash them nearly as much as I should, but I could if I were so inclined. I've also found that our chenille jute rug in the living room has been a great investment. It shows nothing and is easy to vacuum.
Q: What's something families might not think about when designing a home with kids?
A: Don't forget to include plenty of closed storage. Baskets and bins are great, but it's also important to have spaces and storage options where toys, crayons, and anything else can be put completely out of sight. And storage can be pretty; I use an antique chest in the kitchen to hold the kids' art supplies. It doesn't have to look "kiddie" to hold their stuff.
Q: You have last-minute guests coming over, but the house is a mess. What are your tips for a quick tidy-up?
A: Close the bedroom doors! I'm not kidding. I find it more manageable to concentrate on just a few key areas—our living room, kitchen, and powder room—wipe those down well, and hide the rest. And I have baskets in almost every room to quickly throw shoes, toys, etc. It may not be organized, but at least it's put away.
Q: What is the most important thing when designing a home for a family?
A: For me, it's important that our home feel comfortable for everyone. We don't really have any spaces that are off-limits or couches you can't sit on—although I beg them to stop eating Pop-Tarts in the living room! It's not perfect, but it's livable for our family. I also love framing the kids' artwork and favorite family pictures and using them around the house as an everyday reminder of our blessings.
A Parting Piece of Knowledge…
Gracing the presence of everything from wallpaper to ottomans to ceramic jars, the toile print is a traditionalist's go-to for incorporating a layer of classic pattern. The print's full name, toile de Jouy, references the Jouy-en-Josas commune in France where it was first produced, in the late 18th century. Toile is characterized by its repeating pattern, usually a black or colored print on a white or off-white background (though today you'll see toile in every color of the rainbow). The subject of the print itself varies, but typically you'll find lighthearted motifs, including pastoral scenes and figures participating in leisurely activities. It remains a decorator favorite, seen in the projects of some of our favorite designers including Darryl Carter, Sheila Bridges, and Jean-Louis Deniot.