What We Love from Around the Web…
Yes, you should have a Sunday routine. Here's how.
Peek inside the homes of Elsa Schiaparelli, Georgia O'Keeffe, and more luminous women in this new book.
Dreamy inspiration to get out into your garden this spring.
The bohemian artist spirit lives on in this Manhattan building.
The best new hotels in our favorite city.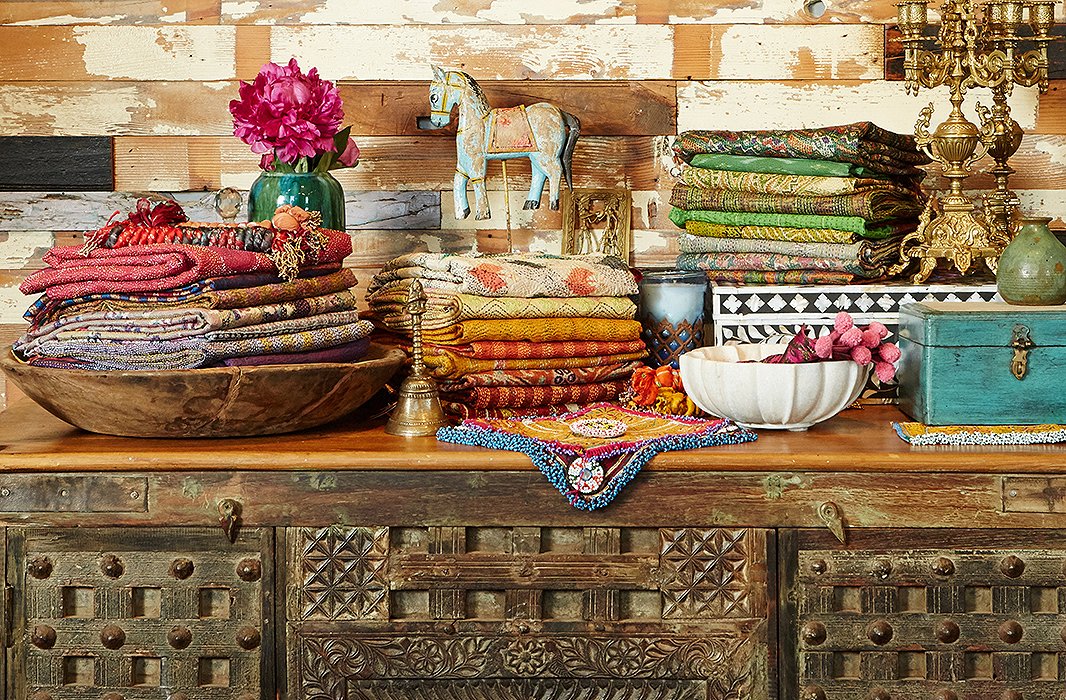 What We've Been Up To…
Bone-inlay furnishings, silk kantha pillows, carved marble accents… we're thrilled to have a treasure trove of vintage finds from De-Cor back on our site. And you can find these pieces only here: Showroom founder Deepali Pareek sourced everything from the Indian subcontinent just for us at One Kings Lane.
If eclectic opulence isn't your cup of tea, fret not. We're also plenty inspired by a lighter aesthetic, such as rustic European romance and linen rugs straight from Belgium. Or a bedroom that mimics the fresh feeling of spring. Or a dining room that brings in the subtle ease of the sea. And if you're a fan of both lightened-up and eclectic design? This clean earthy-meets-modern mix might be just right.
We Caught Up With…
Blogger and entertaining pro Lauren Kelp
With spring fully in swing, we called in an expert for a few tips on how to entertain with ease and style this season: blogger Lauren Kelp, known around the interwebs for her delicious cocktails and stunning soirees. We can't wait to put these tips to use.
Q: What are you buying from the market right now for entertaining?
A: We are currently experiencing a renaissance of spices and herbs in our household, so I am constantly looking for fresh herbs to either grow on our back porch or use in new dishes. Turmeric is the spice of the moment, and it's so easy to work into soups, proteins, and desserts—plus it has amazing dietary benefits, so it's a win-win.
Q: What are three of your go-to recipes for spring?
A: This edible flower salad is absolutely stunning for a spring dinner party and wildly easy to whip up. Whenever I have a big group over, I love making Puerto Rican pulled-pork tacos because it's an easy slow-cooker recipe that packs an amazing flavor punch, and people can dress it up according to their dietary needs. As far as dessert is concerned, the Mary Ann cake is an absolute favorite.
Q: What's your favorite big-batch spring cocktail to serve?
A: Hands down, the clementine-and-rosemary mimosa. You can easily make the rosemary simple syrup ahead of time and add it in when it's time to entertain. It's wildly refreshing, delicate but not sweet, and it couldn't be prettier to serve.
Q: A high-style, low-lift floral arrangement for the table?
A: Flowers are such an easy way to add color and drama to a dinner table, so I love doing a low and long arrangement that can easily be removed if you need more table space for dishes and filling the gaps of the tablescape with little bud vases with a sprig of greenery or something fun and foraged.
Q: Is there a seasonal detail you're adding to your tablescape?
A: Place cards can get a bit stuffy, but I love adding something to the top of a place setting—for me, it's the cherry on top—so I always add a natural element. Maybe a small bundle of herbs, a local flower that is in season, or a cute little fruit I found at the market—something fun and lighthearted. It's like a little gift right when you sit down.
Q: What's on your entertaining playlist?
You can never go wrong with something upbeat like a bossa nova or Spanish guitar. My dinner parties are a "more the merrier" vibe, so we opt for something with Latin roots over the classic candlelit jazz.
Q: You're throwing an impromptu party and your house is a mess. How do you quickly tidy up?
A: Always clean up the bathroom, dining area, and postdinner spot. Stuff everything on the bathroom counter into a drawer, pull the shower curtain closed, light a candle, and you are done. Throw all the clutter and messy items from your dining room into your bedroom and shut the door—no one is going to go in there anyway. As for the postdinner spot, just make sure people have a place to sit and an area to rest their drink. Candles and lighting work wonders, so feel free to dim the lights and embrace the bohemian, wabi-sabi vibe of a well-lived-in home.
Q: What's the key to making a gathering feel personal?
A: Priority number one is making your guests feel at home and comfortable. The more relaxed they feel, the longer they will stay, and the conversation will flow much more easily. If my guests ask to help, I let them do something simple like pour wine—it sets certain people at ease, so embrace that. If you are getting a bunch of new friends together, write down one fun fact about each of them and have everyone else guess. It's a fantastic icebreaker and a quick way to bond—plus you will hear some hilarious stories!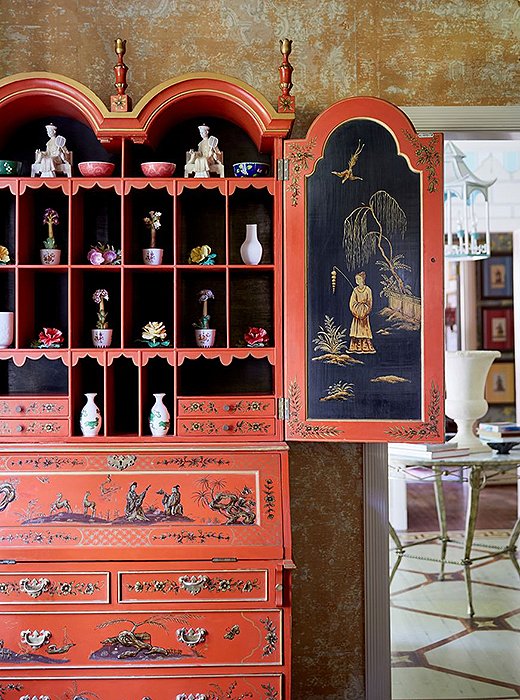 A Parting Piece of Knowledge…
With roots in ancient East Asian design, lacquer has a long and fascinating history when it comes to interiors. It takes its name from the lac insect, which produces a resinous secretion used to create a shiny finish on wood and other materials, though lacquered pieces more commonly received their sheen from treated toxic tree sap. To create a true lacquered piece, a thin layer of lacquer is applied to the surface, and the item is then placed in a warm chamber to dry. This process is repeated (up to 30 times!) to create the desired finish; it's an extremely costly and high-skill task. And often the work doesn't stop there. You'll often find lacquered pieces that are engraved or carved, inlaid with mother-of-pearl, or embellished with painted scenes. Today more-economical techniques are commonly used to recreate lacquer's smooth finish, which, while maybe not original, certainly produces a similarly brilliant sheen.