Thanks largely to the continuing popularity of granny chic—aka grandmillennial style—skirted furniture is once again in demand. This isn't your granny's skirted furniture, though. The fabrics (or fringe, or sometimes rattan and other materials) now used to hide the legs of tables, sofas, benches, and chairs are generally fresher and brighter. Or if they're traditional, they often serve as a winking counterpoint to more-contemporary lines and materials. 
Love the idea of skirted furniture but don't want your home to look like a period piece? Check out the expert advice below.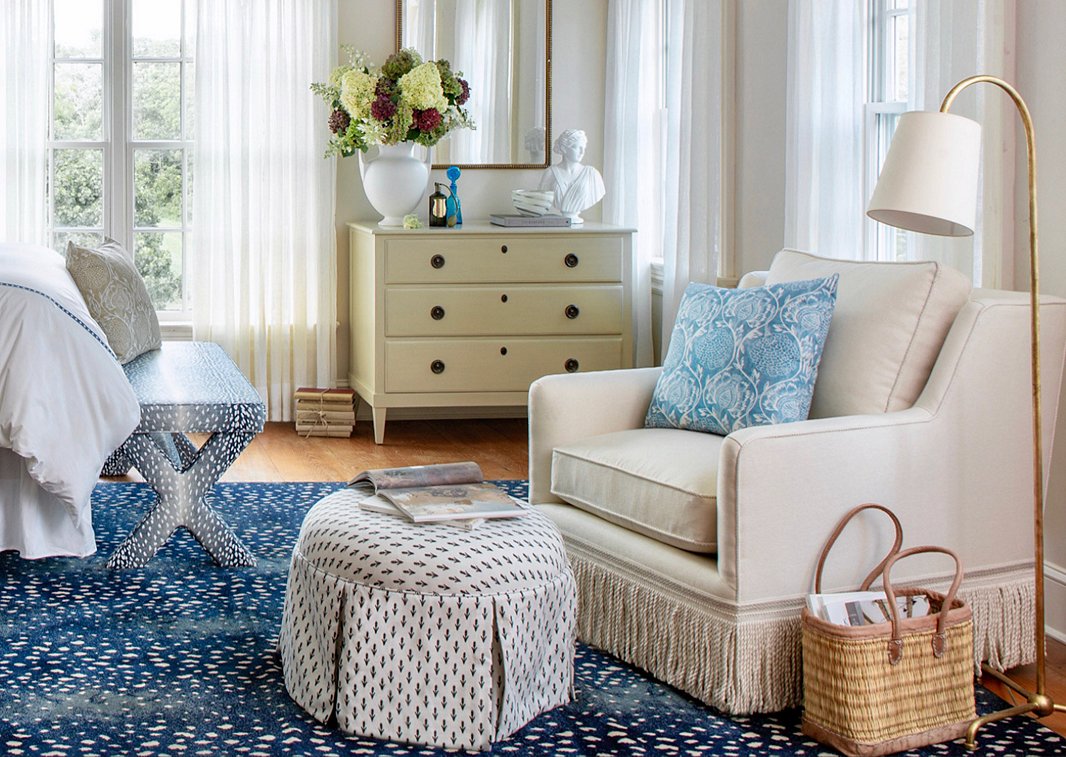 Tricks of the Trade
"Any room can benefit from a skirted piece of furniture, but you'll need to be strategic about it," says Jess Hutchinson, a member of the One Kings Lane Interior Design team. "Make sure to incorporate leggy pieces in the room as well so there is balance." In fact, a skirted piece or two can be an ideal antidote to the common problem of having too many furniture legs in a room, which can make the space feel busy. On the other hand, "adding too many skirted pieces to one room is a quick way to age your room," Jess says. 

That said, there's no rule as to how many or how few skirts a room can chicly accommodate. "Consider the size and scale of the room," advises Jordan Schehr, another One Kings Lane Interior Design team member. "A skirted sofa in a small room works better with a leggier chair to allow visual breathing space. A grand room can handle a pair of skirted chairs and a skirted sofa. Just be sure to balance out all the visual density with some tables and occasional chairs that have a little more space and openness at the foot, leg, and base." 
Of course, the fabric and detailing goes a long way to keeping a room youthful. Love florals but worry that a skirted floral chair might look old-fashioned? Consider an oversize pattern or one in a bold palette. Afraid a skirted table might look stuffy? Try one with lively pompom or woven trim.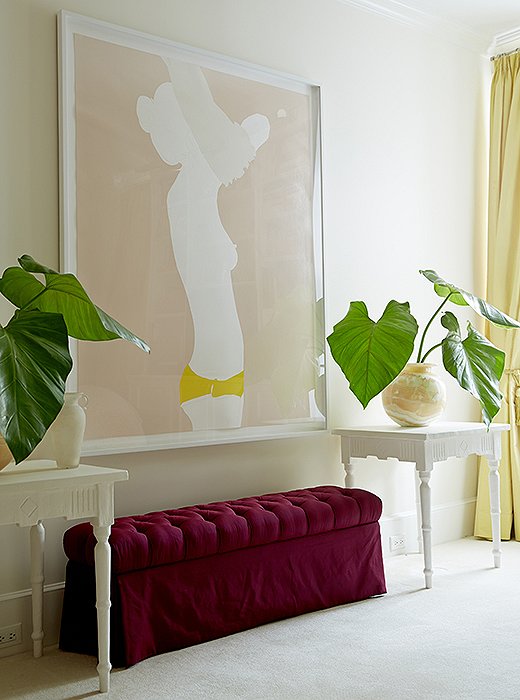 The style of the skirt is also important. "Consider a tailored skirted piece, such as one with a kick pleat, for a more contemporary look," Jordan says. Box pleats—basically kick pleats as viewed from the opposite side—also lean toward the tailored. Looser shirred or ruffled skirts create a more romantic, traditional vibe, while buillion and other fringe can bring formality to an otherwise laid-back room.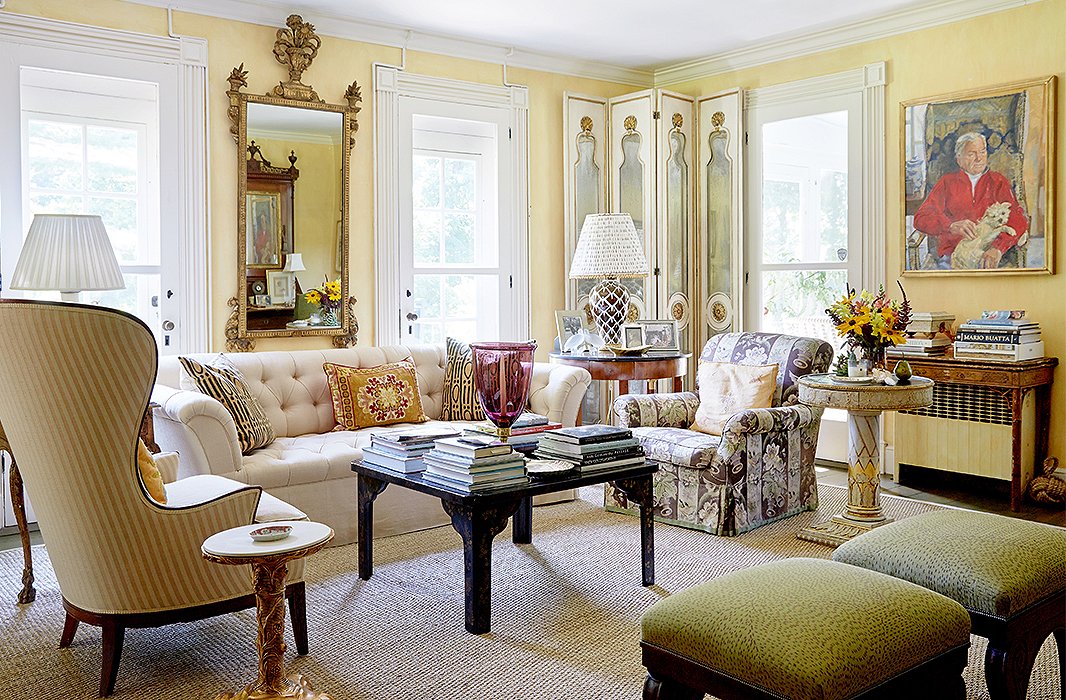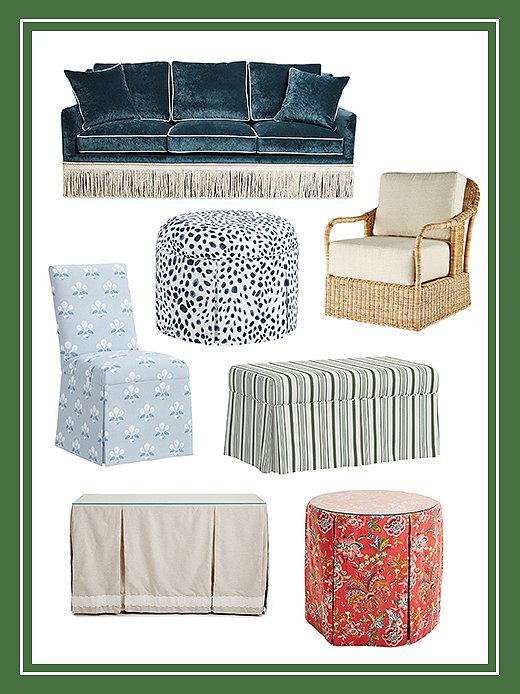 Choice Picks
Clockwise from top left
Portsmouth Sofa, Teal Velvet: We like the contrast welt almost as much as we do the bullion fringe—and it's made in the USA. Part of the One Kings Lane Collection and available only here, it also comes in navy velvet and cream linen and as chairs and ottomans.
Desmona Rattan Lounge Chair: Who says skirts have to be made of fabric? This one, like the rest of the chair frame, is made of rattan.
Hayworth Storage Bench, Luli Stripe in Moss: Another One Kings Lane exclusive, this made-in-the-USA bench comes in dozens of upholstery options. The comfortably padded, hinged top lifts open to reveal always welcome storage.
Eden Skirted Round Table, Coral: Exclusively ours, this vibrant table will brighten any space. It's made in the USA and available in 17 other fabric options.
Eden Skirted Console, Oatmeal/White: We designed this sister piece to the above round table for use in an entry or behind a sofa—or just about anywhere else. It comes in three other fabric options.